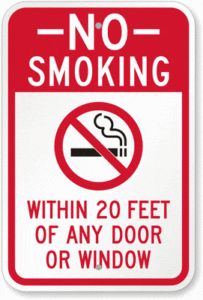 The USVI Department of Health (DOH) officially launched its "Be Smoke-Free Tobacco Campaign" with the posting of billboards in select areas on St. Croix (Hannah's Rest, Villa Lorraine and Sunny Isle Shopping Center). The campaign serves to alert residents and visitors of the dangers of smoking in association with one's health and the dangers of secondhand smoke — especially its impact on children's health.
The campaign incorporates video PSAs that will be aired on television and during the previews at the movie theaters (in both districts), radio PSAs, billboards placed throughout the territory and promotions on social media. The goals of the campaign are to discourage tobacco use among our youth and young adults, promote quitting among smokers, eliminate exposure to second-hand smoke, increase awareness of the dangers of tobacco use, and to bring awareness to the Smoke-free law.
Effective February 2011, the Virgin Islands Smoke-free Act prohibits smoking in virtually all areas open to the public and protects individuals from involuntary exposure to tobacco smoke. Smoking is prohibited in the following: any enclosed/ exposed public areas such as health care facilities, restaurants, bars, hotels and resorts, beaches, parks, educational facilities, etc. and any outdoors services such as restaurants on the boardwalk/water front on St. Croix and/or businesses/restaurants on Main Street/Red Hook, St. Thomas) or waiting line (i.e. food vans).
Smokers must be at least 20 feet away from any opening of an establishment (windows, doors, ventilation systems). If a person witnesses violations of the smoke-free law, please make a report by calling the Tobacco Complaint Line at 712-6230.
Tobacco use is the leading cause of various preventable chronic disease, disability and death in the United States. Smoking can lead to heart disease, lung diseases, cancer, chronic obstructive pulmonary disease (COPD), diabetes and stroke. Tobacco products and tobacco smoke contain many harmful chemicals such as acetone, ammonia, arsenic, benzene, cadmium, formaldehyde, lead, mercury and nicotine.
There are many different forms of tobacco use; however, the most common in the territory are cigarettes, cigars, hookahs and fanta/funta. It is important to note that fanta/funta leaves are tobacco leaves, and the mixing of tobacco or tobacco leaves with any other product such as cannabis is likely to produce similar harmful effects on the body.
The Be Smoke-Free Tobacco Campaign will also promote smoking cessation among smokers via assistance from health care providers and the national quit line (1-800-QUIT-NOW). If a person is a tobacco user and wants to quit, they should speak to a health care provider and call the national quit line (1-800-784-8669). The quit line is free, it is confidential and it works!
The DOH's Smoke-Free campaign's timeframe:
Billboards and flyers posted along roadway

Croix: July 27 for 3 months
Thomas: July 28 for 3 months

Caribbean Cinemas: information table and outreach

Thomas: July 28 at 6 p.m.
Croix: July 30 at 4 p.m.

Video PSAs aired during movie previews at Caribbean Cinemas

Start Date on St. Thomas: July 28 for one month
Start Date on St. Croix: July 30 for one month

Radio Ads

Air Date: July 31 for one month

TV PSA to be aired