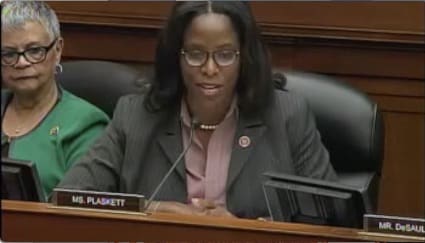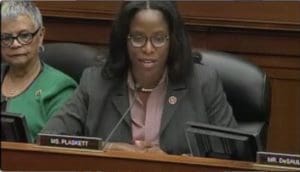 Delegate to Congress Stacey Plaskett is back in the U.S. Virgin Islands as Congress takes its August recess, and wants to hear from her constituents.
"I am going to be here between the three island for most of the month of August," Plaskett said, "I wanted to start off by talking with you all to get a sense of what you're interested in and what issues are important to the people of the Virgin Islands."
Plaskett held a news conference Wednesday at her district office in Frederiksted to meet with local media, sharing what she thought were the high points and risks to the territory of President Donald Trump's proposed budget.
On the downside, she said, the proposed budget would "reduce Education Department investments by $9 billion."
This includes pre-school and after school programs. The budget would also have a great effect on low-income housing, in the V.I. by cutting the loans used for single family housing. The budget also would cut agriculture research funds by $328 million.
On a positive note, she said, the budget would allow for increased funds to the Insular Affairs Office, Homeland Security and FEMA.
"The proposed increase for Insular Affairs is about 10 percent, which is about $200,000, Plaskett said. "In Homeland Security and FEMA, the increase would be seen there as well."
This would mean the Coast Guard and Homeland Security would have an increased budget to help secure the territory's borders and reduce smuggling of black market firearms and drugs into the Virgin Islands.
"We are planning in November for members of Congress to come to the Virgin Islands and look at the border issues that we have," Plaskett said.
The delegate will be on all three island at various to meet with constituents, answering questions and learning what issues are important to them.
"People can come out and participate if they are interested," said Plaskett.
She will hold constituent office hours by appointment from 9 a.m. to 11 a.m. Thursday, Aug, 3, at her St. Thomas district office. Later in the day she will hold a community meeting with officials of the National Park Service from 6 to 7:30 p.m. at the Cleone H. Creque Legislative Conference Room on St. John.
Monday, Aug. 7 she will hold another community meeting with National Park Service officials, this one from 6 to 7:30 p.m. at the Danish West India & Guinea Co. Warehouse, across from the Steeple Building in Christiansted on St. Croix.
Information on the proposed budget, as well as information about where and when to find Delegate Plaskett are online at her official website.
She can be reached by phone at 340-778-5900.