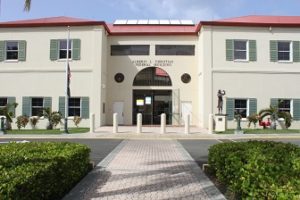 Celeste P. Bermudez, who in April pleaded guilty to theft of federal program funds and making and subscribing a false tax return, was sentenced Tuesday to 30 months in prison and ordered to pay restitution.
Bermudez is a 42-year-old former resident of St. Croix who was living in Methuen, Massachusetts, when she was arrested in February and charged with embezzling grant funds that had been awarded to a program treating and caring for AIDS patients.
According to Acting United States Attorney Joycelyn Hewlett, District Court Judge Curtis V. Gomez also ordered her to three years of supervised release pay, a $100 special assessment and to perform 350 hours of community service.
Bermudez was ordered to pay the following restitution: $321,961.29 to the U.S. Department of Housing and Urban Development, $137,983.41 to the U.S. Department of Health and Human Services, and $50,592 to the Virgin Islands Bureau of Internal Revenue.
According to the plea agreement, Bermudez was the finance director of the Virgin Islands Community AIDS Resource & Education, Inc., known as VICARE, a nonprofit organization dedicated to promoting HIV-AIDS education and support services to individuals living with HIV-AIDS. In 2011, HUD approved approximately $1.3 million in grant funds to VICARE. During the period July 1, 2011, through June 30, 2014, HHS Centers for Disease Control and Prevention awarded VICARE approximately $627,365 in grant funds. Bermudez admitted to embezzling more than $5,000 of the grant funds during the period January 2012 through December 2013. Bermudez also admitted to making and subscribing a false 2011 income tax return, in which Bermudez failed to report approximately $135,503.61 in 2011 income from VICARE.
The case was investigated by HUD Office of Inspector General, HHS Office of Inspector General, and the Internal Revenue Service, Criminal Investigations. It was prosecuted by Assistant U.S. Attorneys Kim L. Chisholm and Meredith Edwards.