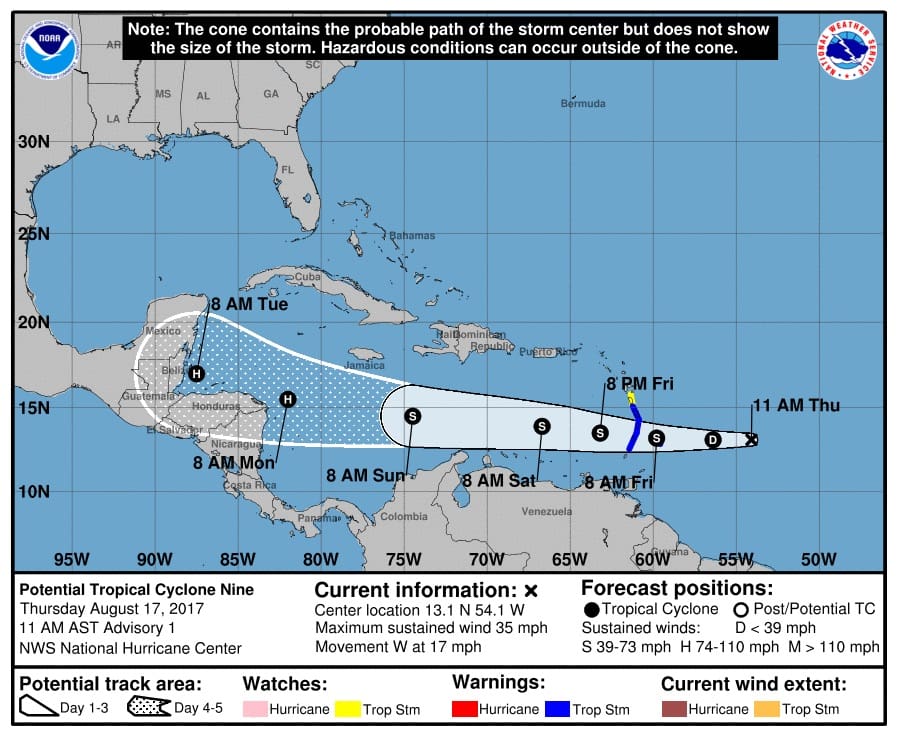 A disorganized weather disturbance moving westward across the southern Atlantic became Tropical Depression Nine Thursday and is moving westward toward the Lesser Antilles, but the National Weather Service predicts it will remain well south of the U.S. Virgin Islands.
The system is expected to produce no local effects except for some locally high seas.
As of Thursday evening the low pressure system was traveling at 17 miles per hour with maximum sustained winds of 35 miles per hour.
According to the National Hurricane Center, Thursday morning satellite imagery shows the low pressure system, centered at about 550 miles east of the Lesser Antilles, had become better organized. Buoy data also indicated that the circulation was becoming better defined and environmental conditions appeared generally conducive for development.
A tropical storm warning was in effect for Martinique, St. Lucia, Barbados, St. Vincent and the Grenadines. A tropical storm watch is in effect for Dominica.
An Air Force Reserve Hurricane Hunter aircraft was scheduled to investigate the disturbance Thursday afternoon.
Two other weather systems with potential to develop into storms are moving in behind Tropical Depression Nine. One, named, Invest 92 L, is expected to pass just north of the USVI by Sunday. The strongest winds are north side of the system, according to forecasters.
A tropical wave over the far eastern Atlantic Ocean, near the Cabo Verde Islands, is producing disorganized showers and thunderstorms. According to the National Hurricane Center, gradual development of this system is possible during the next several days while it moves westward to west-northwestward at about 15 miles per hour.
VITEMA Director Mona Barnes is encouraging the community to closely monitor weather reports as the 2017 Atlantic Hurricane Season kicks into high gear.
"The 2017 hurricane season is forecasted to be a very active one and we can't afford to be complacent," Barnes said. "I ask that you remain vigilant and prepared as we ride out the peak of the season."
Barnes added that now is the time to "stock up on emergency supplies, make sure everyone in your home knows what to do in an emergency, and stay informed about the weather."
More information on hurricane preparation is online at www.Ready.gov. Those interested can register for instant alerts, including storm warnings, from the National Weather Service and VITEMA at www.VIAlert.gov.