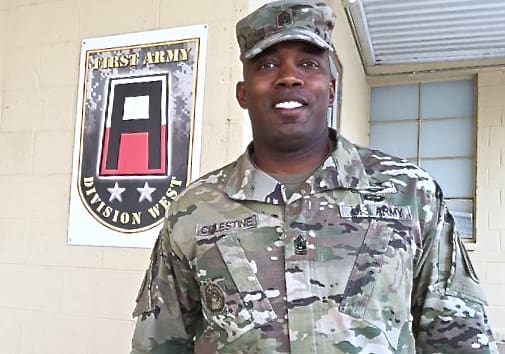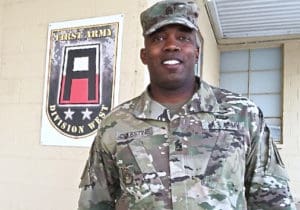 A Virgin Islander who has earned the reputation as one of the U.S. Army's top trainers will soon take over as the senior enlisted leader with the Army's Infantry School at Fort Benning, Georgia.
Command Sgt. Maj. Martin Celestine, Jr., a 42-year-old native of St. Thomas, has been the senior enlisted leader with the 5th Armored Brigade, Division West, First Army for the past five months at Fort Bliss, Texas. This is a training unit that readies National Guard and Reserve troops and units for deployment.
Celestine relinquished that post on Aug. 18 and will assume his new duties on Sept. 22.
Celestine told the El Paso Times newspaper called the promotion a "dream job," saying that he "never, ever imagined in my wildest dreams I would ascend to such a position."
Considered the consummate trainer and molder of younger soldiers, Celestine was the top enlisted soldier with Fort Bliss' 1st Brigade from March 2015 to December 2016 and helped lead the Ready First Brigade on three rotations to combat training center during an 18-month period.
The U.S. Infantry School offers a wide range of courses, educational programs and schools designed to reach infantry soldiers throughout the ranks. The infantry school oversees Ranger school, sniper school, airborne school, basic training for infantry soldiers and a host of other professional development programs.
"It is the place to be," Celestine told the El Paso newspaper. "I tell you: I am humbled by such an opportunity, to have the opportunity to continue to make a difference and serve."
Celestine and his wife, Madeline, are also well-known for coaching the Special Olympics team at Fort Bliss over the past two years. Celestine also was stationed at Fort Bliss when he attended the U.S. Army Sergeants Major Academy from 2009-2010.
Celestine holds a bachelor's degree in criminal justice from Troy University. He is the father of two daughters, Tiara Smith, 16, Danica Celestine, 11. His military awards include the Legion of Merit, the Bronze Star, Meritorious Service Medal (with five oak leaf clusters,) and the Army Commendation Medal (six oak leaf clusters.)