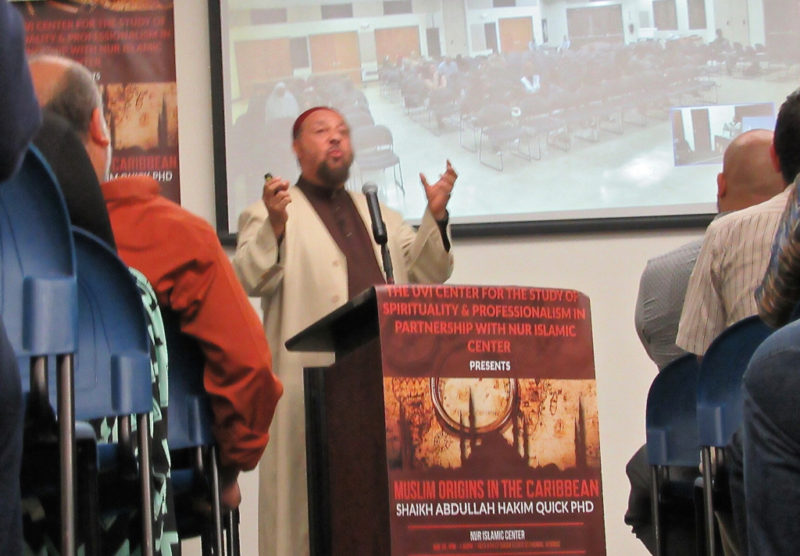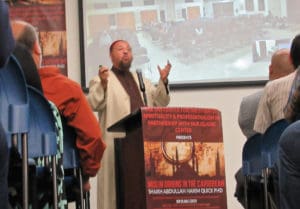 The historic roots of the Islamic Caribbean community were explored in a lecture given at the University of the Virgin Islands, the first in a three-part series hosted by the UVI Center for Spirituality and Professionalism.
In his presentation Friday, Sheikh Abdullah Hakim Quick, senior lecturer and resident scholar at the Islamic Institute of Toronto, gave the audience historical accounts of westward journeys across the Atlantic that established an Islamic presence prior to the arrival of Columbus in 1492.
Some of those accounts were supported by historic documents and artifacts bearing evidence of Islamic influence.
Specifically, Quick pointed to a 14th century ruler from the West African nation of Mali, Abu Bakr II. Documents said Bakr left his throne to explore the limits of the ocean. Those explorations led to the identification of ocean currents that carried ships from West Africa into the Caribbean, Central and South America, according to Quick.
The journey of 2,000 ships came in an age from 622 to 1492 CE. In that time frame, according to the documents, explorers from majority Muslim nations reached China, Russia and the Atlantic Coast.
The Canadian scholar also pointed to maps of Guyana and South America found in Turkey, believed to date back to 1517, and Islamic inscriptions found in Mexico, Honduras, Brazil, Guatemala and Panama.
The information shared at the Friday presentation was not intended to discount the explorations of Columbus and other Europeans, Quick said, but to put them into perspective.
"When Columbus came, if I had a chance to write history — I would say Columbus was discovered in 1492," he said.
The lecture at the Administration and Conference building offered a glimpse of the diverse group of people who follow Islam in the Virgin Islands. It was also an opportunity for UVI students and faculty to share a cultural moment with their Muslim neighbors.
Which, according to moderator Edney Freeman and CSAP Director Wendy Coram Vialet, was the whole idea.
"My task tonight is to put a face on the Muslim community in the Virgin Islands," Freeman said.
In the Virgin Islands Muslims hail from the Middle East, Africa, Asia and the Persian Gulf.
Freeman, former principal and current consultant to IQRA Academy on St. Croix, began with a profile. Today's Caribbean Muslim – about 1.2 million — lives throughout the region, from the Bahamas to Mexico and the coastal nations of South America. The average Muslim is a 35-year-old woman with children, speaking Dutch.
Coram offered greetings to the audience and explained the goals of CSAP. Among those goals, she said, is to "inspire and strengthen ethical and responsible behavior" among the territory's diverse cultures.
The lecture was one in a series of three presentations sponsored by UVI and the Masjid Nur Islamic Center between Friday and Saturday. The Saturday talk was held on a development site in Sugar Estate where the Islamic community plans to build a new house of worship.