The National Hurricane Center has designated Jose as a Category 3 "major hurricane," with an established eye and winds of 120 miles an hour.
The designation was announced in the NHC's 5 p.m. Thursday update. Just hours earlier, at the 11 a.m. update, Jose had only just been elevated from tropical storm to hurricane.
"Jose has continued to develop a well-defined eye on satellite imagery this afternoon, with the eye now established in the center of a ring of strong convection," the forecasters reported. "In the near-term, most factors appear aligned for continued intensification."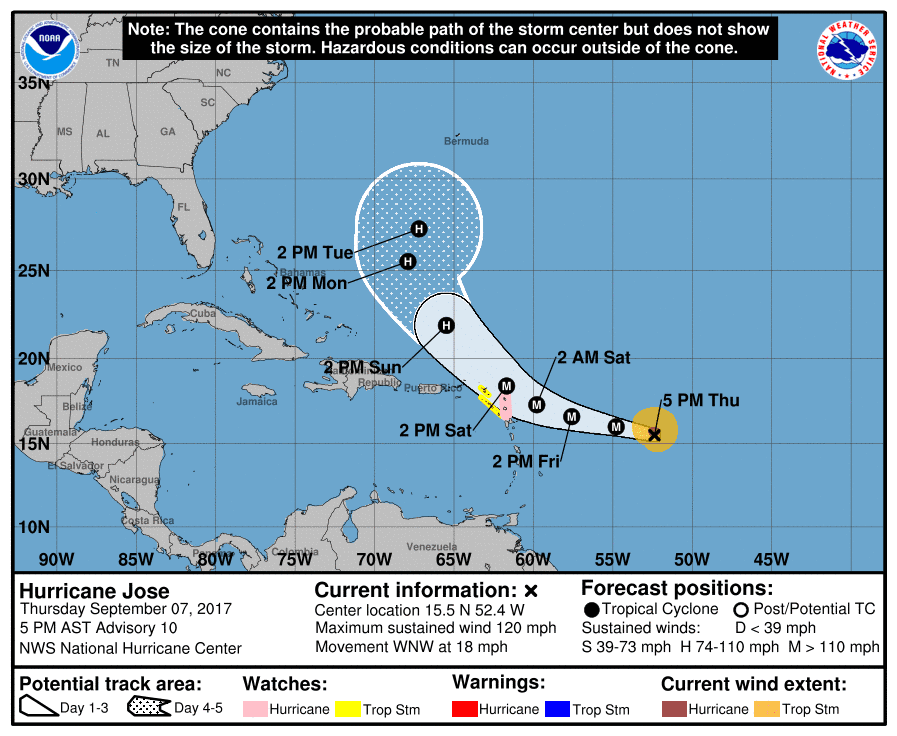 The forecast predicted the storm may reach 120 knots (138 mph) within 24 hours, but notes that, "After that, a gradual decrease in intensity is shown, in line with most intensity guidance."
Jose is the third major hurricane in the 2017 Atlantic hurricane season, following Harvey and Irma.
"It also means we have two major hurricanes simultaneously in the Atlantic basin, which is not too common, especially in such close proximity," the NHC said. "The last time this happened was in 2010 when Igor and Julia were both major hurricanes on September 15-16, and then Igor and Karl were both major hurricanes briefly on Sept. 17.
The track for Jose resembles that of Irma, but shits slightly to the north, cutting across the northeast corner of the Antilles and those islands which were severely hit by Irma – St. Bart's, Anguilla and others. However, the map released at 5 p.m. Thursday shows a predicted path that continues northwest, sparing the Virgin Islands the bulk of its power.