A weather system dubbed Tropical Depression 15 is moving west across the Atlantic with a good chance of developing into a hurricane and passing between St. Croix and St. Thomas on Wednesday, according to the National Hurricane Center.
As of the NHC's 11 a.m. Saturday update, Tropical Depression 15 was 755 miles east-southeast of the Lesser Antilles, or about 1,022 miles southeast of the Virgin Islands. Top winds were at 35 miles per hour with higher gusts.
Tropical storm watches have been issued for much of the Lesser Antilles: St. Lucia, Martinique, Guadeloupe, Barbados and Dominica.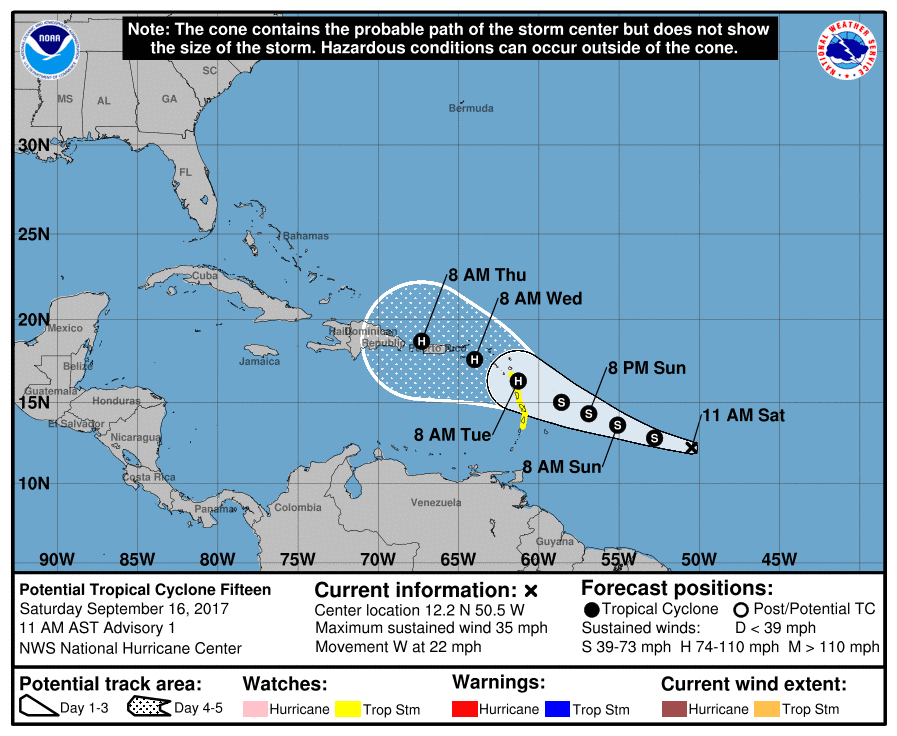 Additional intensification is forecast over the next two days. The depression is expected to become a tropical storm later Saturday and could be near hurricane strength when it approaches the Leeward Islands on Monday. The weather system is moving to the west at 22 miles per hour. A slower west-northwest motion is expected during the next couple of days.
At least two of the more reliable forecast models forecast the system will pass over or close to the northern Lesser Antilles on Tuesday, between St. Croix and St. Thomas on Wednesday, and be near or across Puerto Rico on Wednesday night. The NHC urged everyone in the Virgin Islands to closely monitor the progress of this weather system.
Based on the 11 a.m. advisory the center of the weather system would pass within ten miles of St. Croix at 1 p.m. Wednesday and be about 22 miles south-southwest of St. Thomas at 4 p.m. Wednesday. At the time the weather system passes near the Virgin Islands, it is forecast to be a Category One hurricane with 90 mile per hour winds while moving west-northwest at 10 miles per hour.
Tropical Storm Lee formed this morning out of a tropical depression, but is not of concern to the Virgin Islands. On its projected track, Lee should remain and pass to the northeast of the Virgin Islands.