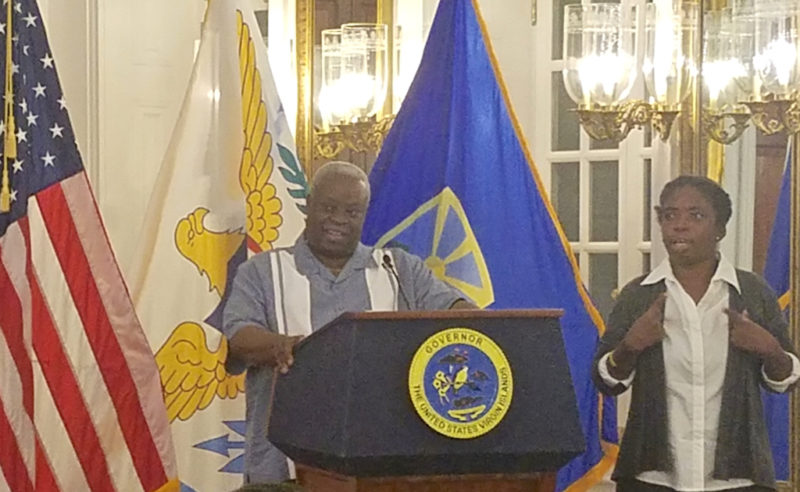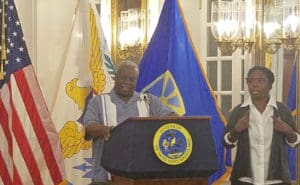 Cyril E. King Airport on St. Thomas will reopen for commercial flights on Thursday and St. Croix's Henry E. Rohlsen Airport may open next week, Gov. Kenneth Mapp said Monday in his daily news conference updating the progress on hurricane recovery.
St. Croix will continue to be under curfew for the immediate future, he added.
The Blue Roof Project is underway, the target being a dry secure house, but Mapp said, "There are not as many roofs as the contractor was supposed to deliver." Mapp said work is being done to rectify tarpaulin shortage.There also will be programs in place to help renters who sustained home damage outside of property owners.
Starting Thursday, commercial flights will start leaving the Cyril E. King airport. Due to construction at the airport, Mapp urged passengers to get to the airport four hours ahead of the flight to give airlines enough time to process all passengers. Passengers going to the U.S. mainland will not go through customs at this time, he said, but will have to go through customs when they reach their destination.
Mapp is hopeful that flights will be up and running on St. Croix next week. Private aid aircraft and chartered aircraft has been coming to the territory through the St. Croix airport.
As more residents clean up their homes, Roger Merritt, executive director of the V.I. Waste Management Authority, said "There has been four to five times more waste" than before the hurricane.
Mapp urged islanders not to take vegetation, siding or other debris to bin sites. He promised to have specifics as to where those items may be taken later this week.
Asked if diesel gas was in short supply in the territory, Mapp responded that an agreement with Limetree Bay Terminals LLC enabled the territory to have enough gas delivered. Limetree also stores enough gas if more is necessary.
Mapp also announced that all executive branch government employees must check in in person with their agency heads in their respective district by the end of the week or this Friday will be their last day of pay. They cannot text, email or call in their status but they must physically be in the territory in order to be on payroll, he said. This is being done to alleviate some issues with personnel deficiencies in departments like the Department of Justice due to employees leaving the territory before Hurricane Maria hit.
Payroll will be made to all government employees this Thursday, but due to the agencies not being able to enter overtime hours into the online system due to internet issues, no overtime will be paid on this pay period but will be rolled into the next period.
The governor had some good news, as the owners and technicians of the cell towers in the territories will be on island this weekend. Mapp made it clear that he doesn't want to be where we were with communications before Hurricane Maria came to the territory but "We want to get to where we belong."
The White House is also reaching out to the CEO of AT&T in order facilitate with improving the communication systems in the territory, especially where dead spots are concerned.
Mapp also reiterated that the Department of Education is working on a plan for children to get back to school. Asked as to whether curfew could be adjusted for private schools that have generators, Mapp said that right now that is not possible as the roads are not safe for people getting around for school buses to get through.
The government is also set up to help V.I. residents with insurance claims. On St. Thomas, the Nisky Center will be open from 10 a.m. to the end of curfew to help individuals with insurance claims and on St. Croix, individuals can go to the Lieutenant Governor's building during non-curfew hours.
Mapp said the territory is moving into recovery mode, and he wants the residents to become less reliant on distribution sites. All distribution points will be closed Wednesday in order to ensure that there are enough supplies when they are needed.
Curfew, a topic of great contention since the storms hit, will remain standard for St. Croix from 4 p.m. to noon until the governor announces different hours. Those will most likely not change soon unless greater improvements are made to clearing roads and power, he said. St. Thomas, St. John and Water Island now have curfew of 6 p.m. to 9 a.m.
In terms of security, Mapp promised that within 24 hours, 100 military police will be on the ground in the territory. In addition, 30 police officers from New York are expected.
Commissioner of Property and Procurement Lloyd Bough Jr. solicited companies licensed in the Virgin Islands that have heavy equipment to assist with roadside clearance and debris removal. Those interested can come to Government House on St. Croix to receive a contract to assist with recovery. Applicants should come with all their corporate paperwork to Government House between the hours of noon and and 3:30 p.m.
WAPA Commissioner Julio Rhymer Sr. reported that on St. Thomas, work was being done to restore power to mid-island to the West End. On St. Croix, downtown Christiansted has been restored and work is being done to continue the restoration of downtown Frederiksted. Tomorrow, WAPA expects a shipment of poles and wires in order to have enough supplies to restore power to all the islands in the territory.
Health Commissioner Michelle Davis reported that 102 patients have been transported off the island and an additional 20 companions have been transported with them. Disaster help lines also have been set up. Those in need of counseling can call 1-800-985-5990 and press two for Spanish. There is also a text number, 1-212-461-4635. Text "Talkwithus" for English and "Hablamos" for Spanish. All these numbers will provide immediate counseling.
According to Davis, the following pharmacies are open on St. Croix: Mt. Welcome East across from the Canageta ballpark, Diamond Pharmacy in mid-island and Neighborhood Pharmacy in Frederiksted.
The FEMA individual assistance phone number is 800-621-3362. Aid also can be found online at DisasterAssistance.gov.