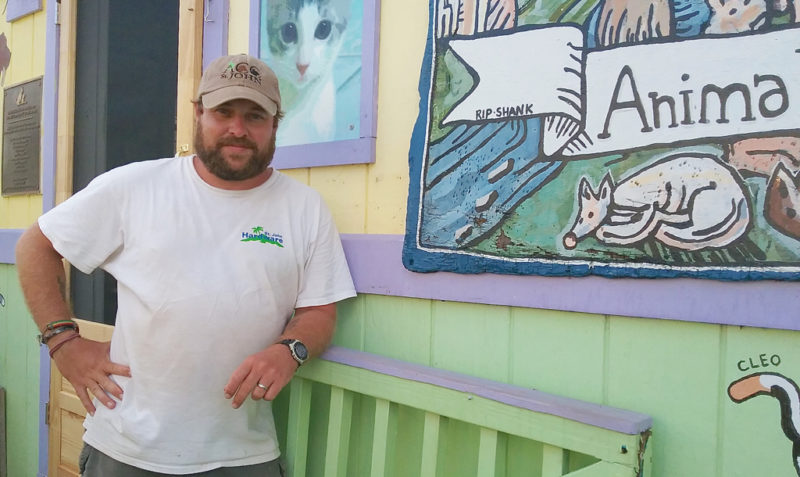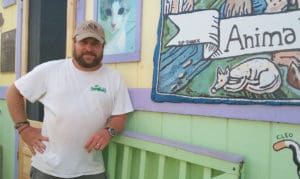 A little after 9 a.m. on Wednesday, a sense of calm wafted through the Animal Care Center on St. John. The chorus of barking that regularly comes from the kennels was gone.
Instead, a handful of cats quietly enjoy their space. One sits contentedly in the bathroom sink while another curls up on a counter top.
Then there's Betty Boop, a black and white female named after the 1930s cartoon character with a beauty mark by her lip. Betty Boop sits behind a closed kennel gate, peering out on the world. Beside her is a mellow black cat lounging in a canvas hammock.
ACC volunteer Asya Simons said that a few hours earlier, when dozens of animals were being packed into crates for a trip to the States, Betty Boop wasn't having the whole get-into-the-crate thing.
So she stayed behind, in the calm. Simons said the shelter had quieted down a few moments earlier after volunteers from ACC, a local veterinarian and the International Fund for Animal Welfare put their shelter pet show on the road.
ACC shelter manager Ryan Moore described the task at hand the day before as he waited for off island visitors to drop off shipping crates.
"It's been almost a month but we're here. We're taking care of the animals we have in house, as well as animals who have been abandoned or surrendered. This wonderful organization here, the International Fund for Animal Rescue, has come down to help us, to relive us of excess animals so that we can keep facilitating the island as a shelter," Moore said.
Counted in the number of excess animals were dogs and cats that were wards of the ACC before the storms, as well as those whose families fled the island afterward.
As they left, officials told residents they could travel with their pets on a case-by-case basis, depending on the willingness of the transporter taking them off island. Those pets that didn't make the trip, Moore said, wound up at ACC, at Canine, Cats and Critters or being cared for by their owners' friends and neighbors."
A number of people either evacuated and couldn't bring their animals, or were off island when the hurricanes hit, so they were stuck with their animals being looked after by someone else," said Andrew Krebs from IFAW.
There were also those who were left behind. Krebs said his team was visiting east St. John after the packing and shipping was done to retrieve pets found in a home where a man died in an accident around Sept. 30.
There were also deliveries of feed for pets whose families remained.
On their first visit, IFAW delivered 2,000 pounds of pet food. This week, they were delivering feed to the Department of Agriculture in Coral Bay for livestock owners.
"We're going over to Coral Bay with some dog and cat food, and with some goat and chicken food," Krebs said.
As a disaster response coordinator for IFAW, based in Canada, Krebs said his group has also sent volunteers to disaster zones in Texas and Florida, following the passage of Hurricanes Harvey and Irma. IFAW volunteers are also currently in Mexico, lending a hand in the aftermath of a recent earthquake.
When the transferred pets make it to New Hampshire, Moore said, they would be met by volunteers from the Massachusetts Society for the Prevention of Cruelty To Animals and owners standing by to meet them. Other owners, he said, would travel to the state to reunite with their furry friends.