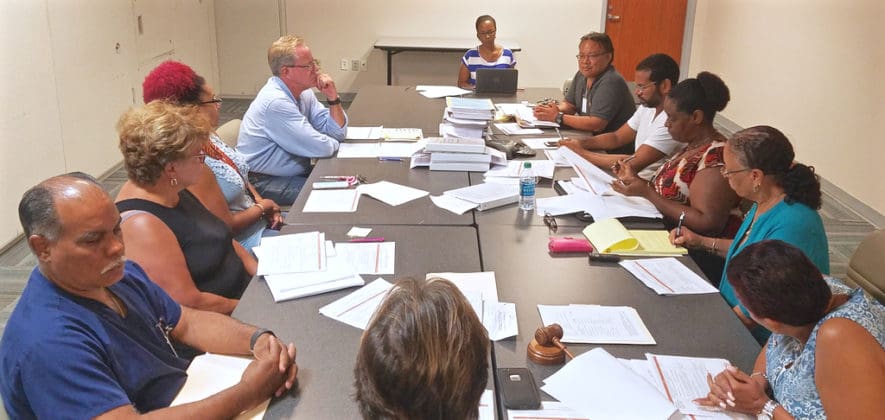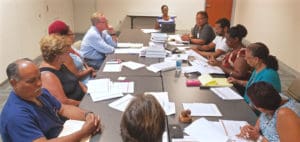 The Department of Defense on Monday was setting up a tent structure in the north parking lot of the V.I. Cardiac Center at the Juan F. Luis Memorial Hospital to act as a temporary facility to the hospital until a more permanent structure can be erected.
At the first board meeting since Hurricane Maria, Richard Evangelista, JFL's acting chief executive officer, commended the management and staff of JFL who worked 12-hour shifts, before, during and after Hurricane Maria.
"I want to thank each and every one of these persons who came out and sacrificed," he said.
All the patients on the third floor of the Juan F. Luis Memorial Hospital were relocated from the third to the second floor during Hurricane Maria, allowing the staff to properly clean up the area as the roof failed, the board was told.
As the roof was being blown away by hurricane winds from Maria, having the patients moved to the second floor of the facility enabled staff to mop and vacuum the water as it came in so that it didn't have a more negative impact on the rest of the facility.
Evangelista said that before the hurricane, JFL prepared for the impending emergency situation. Certain patients were evacuated with the assistance of the Federal Emergency Management Agency and the DOD. All dialysis and critical patients were evacuated from the territory as soon as the storm was over in preparation for post-Maria victims that needed medical care. Family members and staff are in communication with those were transferred out of the territory.
As the hurricane ripped the roof off the building, "our patients received the care that they deserved," Evangelista said. As a result of the damage, the DOD is now setting up a temporary tent structure north of the hospital property and JFL is in talks with the owners of the property to the south of the JFL facility to have the land donated so that the hospital can use it to erect a more permanent hospital structure while JFL is being repaired.
Chief Nursing Officer Wanda Ruben reported that JFL is redeploying staff. The emergency room is currently in operation with the surgical suite being used for emergency procedures. As Hurricane Maria had damaged the operating rooms, the board discussed using Plessen Healthcare in the near future to fill this need.
As to those personnel who were being reassigned, there was a demand for the personnel at other facilities on St. Croix. Commissioner of Health Michelle Davis requested assistance with clinic functions. There was an assurance that those employees who are reassigned will be reassigned per their collective bargaining agreement.
Ruben said that the goal of the hospital is to staff the emergency room first, and then to deploy overflow staff to other facilities such as the Frederiksted Clinics on St. Croix.