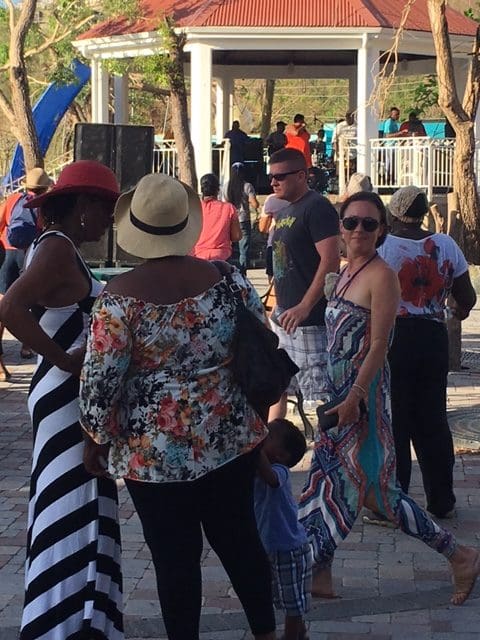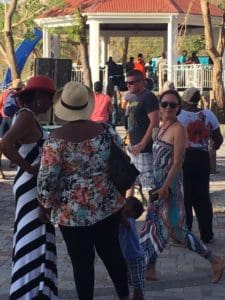 There isn't a lick of electricity produced by the Water and Power Authority on St. John, not a spark, but that isn't stopping the recovery effort. Generators are arriving in record numbers – carried as luggage on airplanes, carted over by barge from St. Thomas, or shipped in bulk in containers.
Everywhere people are hard at work, putting storm debris into manageable piles, planting new utility poles, and tearing down the old and broken to make room for the new and intact.
Nature itself is leading the recovery. Bleak, brown hillsides are beginning to look furry and green. Frangipani, pink cedar, and spider lilies are blossoming in unexpected places following two days of heavy showers on Sept. 29 and 30.
On Oct. 1, the sun rose in a perfect blue Sunday sky and VITEMA's Irvin Mason declared it was time to let go of stress. The community came together to hold an afternoon party in Frank Powell Park in Cruz Bay.
St. John's Cool Sessions provided the music, and St. John Brewers handed out cold beer and soft drinks, donating all the dollars collected to the band. At 5:40 p.m., the generator was cut and the music stopped so that everyone could get home before the 6 p.m. curfew fell.
Sunday's perfect weather, although it didn't last, set an optimistic tone for the week that included numerous improvements. What follows is an ABC of upgrades to the island's infrastructure and services that occurred during the first week in October.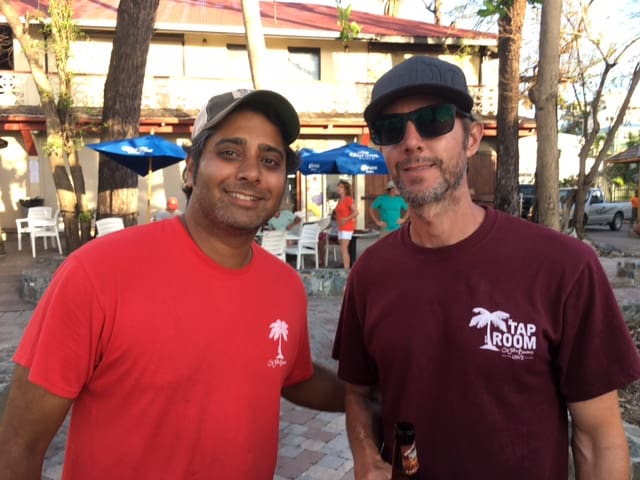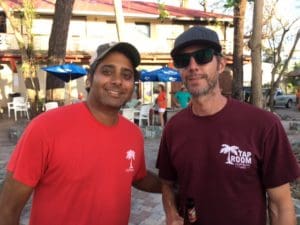 – Animals: More than 90 pets left behind by residents were flown to New England on Oct. 3 to be reunited with their owners or put up for adoption in shelters. The airlift was sponsored by the International Federation of Animal Welfare, the "FEMA for animals," and volunteers from the Animal Care Center and Canines, Cats and Critters.
– Banks: FirstBank completed its first uninterrupted day of service on Oct. 2, and operated smoothly all week. The bank, located at the Marketplace, is open from 9:30 a.m. until 1:30 pm. Monday through Friday. No other bank is currently operational.
– Barges: Two barge companies are operating from the Creek in Cruz Bay beginning at 6:15 a.m. on a "fill up and go" basis.
– Concrete: St. John Concrete announced Oct. 5 it was ready to pour concrete. The company is focusing first on providing concrete for homes that were damaged.
– Counseling: The U.S. Public Health Service has a team on island to provide counseling services and to help people find ways to pace themselves in the frenzy to rebuild. They're available to give mini-workshops on stress reduction to businesses, agencies, and individuals. They can be contacted at the Morris DeCastro Clinic or at locations where Disaster Survivor Assistance is being offered.
– Credit Cards: The use of credit cards is wishful thinking in most retail establishments, although the situation could change momentarily. Local checks are accepted by some merchants, but in general "cash only" rules.
– Debris: The Bloomberg Response Group is working with VITEMA, the Waste Management Authority, the Department of Public Works, and local contractors to develop short and long-term plans for debris removal. The Susannaberg Transfer station was closed for two days to reorganize and create space to accept debris from individual property owners. Residents are asked to pile up the storm-related debris near the roadside for collection as the plans are implemented. Residents are asked to do what they can to clear debris from natural ghuts to prevent flooding and further erosion.
– D.I.R.T.: That's Global Disaster Immediate Response Team, an NGO which has been on island since the day after Irma working with St. John Rescue and other first responders. D.I.R.T. is working with local tech experts to expand internet connectivity and conduct an island-wide, door-to-door assessment of damage.
– FEMA: In addition to working with VITEMA to provide critical services, FEMA is now offering Disaster Survivor Assistance in the form of grants. FEMA staff members are meeting on weekdays with residents at the pavilion next to National Park headquarters and at the Fire Station in Coral Bay from 9 a.m. until 4:30 p.m. The process is "smooth," according to one resident. As many as 150 applications were processed in one day, according to officials.
– Ferries: Ferry service is expanding as curfew hours are shortened. Service from St. John begins at 6 a.m. in Cruz Bay and from 6:30 a.m. in Red Hook. During morning and evening commuting hours, ferries run hourly, but they run less frequently at midday to conserve fuel. Last week the last run has been at 6 p.m. or 6:30 p.m., but the schedule is subject to change. Inter-Island Boat Services is making one run from the Creek in Cruz Bay to Crown Bay at 6:15 a.m. The return trip is at 4 p.m.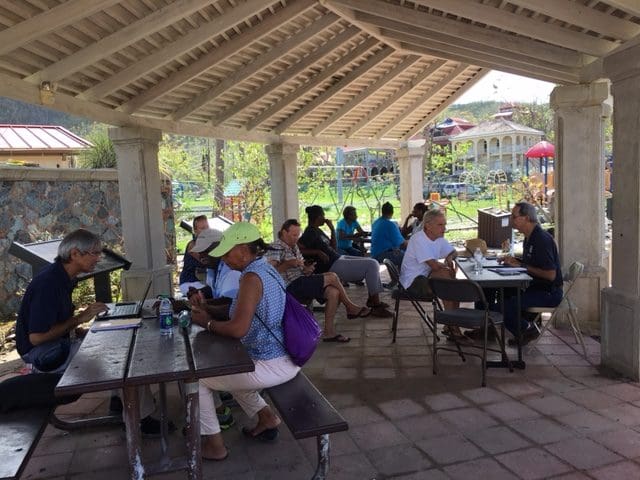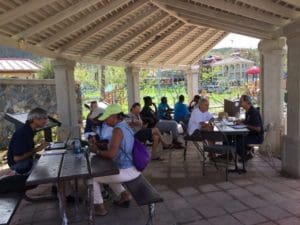 – Food: FEMA and VITEMA announced that food security is not an issue on St. John. Four markets in Cruz Bay and two in Coral Bay continue to receive trailer loads of fresh food. FEMA and VITEMA have an adequate supply of Meals Ready to Eat (MRE's) and drinking water to last through another hurricane.
– Free lunch: The Red Cross continues to provide two free meals a day at two St. John restaurants. Cruz Bay Landing ended its free meal service Tuesday but is expected to re-open as a regular restaurant by Thursday. Free meals will continue to be served at Longboard throughout the week. Two restaurants, 420 to Center in Cruz Bay and Indigo Grill in Coral Bay, are providing free meals through donations.
– Fuel: With a steady supply of fuel from St. Thomas, the worst of the diesel fuel crisis seems to have passed. Fuel is now available at E&C Service Station, Racetrack Gas, and the Caneel Bay boatyard, although quantities may be limited.
– Garbage: Household garbage is still piling up in places, but contractors are now taking trailer loads of garbage over to the Bovoni landfill starting a 5 a.m. each day.
– Generators: As more generators arrive on the island, FEMA officials warn residents to follow basic safety rules. Never re-fuel the generator when it's running or hot. Don't connect your generator to the circuitry in your house until the wiring has been checked by a qualified electrician, even if you have the equipment to switch between WAPA power and generated power. The danger is that electricity could feed back into WAPA lines and electrocute someone down the line. Homes with solar power can also endanger others by feeding electricity through downed lines.
– Internet: Internet service using the VINGN-Free Public Access System continues to fluctuate, but the system is being upgraded. Information technology experts have acquired sites at Sirenusa, Ditleff Point, and Concordia to bring free Wi-Fi access to Coral Bay, possibly sometime next week. Hotspots include Ronnie's Pizza, the BMV/tennis court parking lot, Connections, and the third floor of the Marketplace.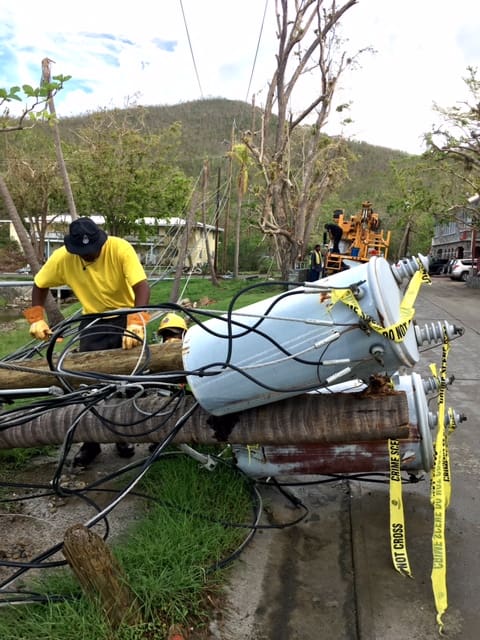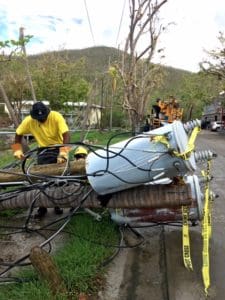 – Kenny Chesney: Behind the scene, Kenny Chesney's Consultants are contributing to the island's recovery in numerous ways, clearing debris, helping local businesses rebuild, and arranging transport for medications that require refrigeration.
– Law Enforcement: A team of more than 30 New York State Troopers is assisting the Virgin Islands Police Department with 24-hour patrols. A contingent of New Jersey State Police is assisting with emergency medical services.
– Laundry Services. Ain' none. Two Cruz Bay laundries are awaiting generators.
– Meetings: The FEMA-VITEMA 7:30 a.m. briefings at the National Park Service headquarters have been reduced to a Monday, Wednesday and Friday schedule. The 10 a.m. town meetings at Mongoose Junction and the noon meetings at the Ford Building in Coral Bay will continue to be held on week days.
– National Park: V.I. National Park officials have said that the park remains closed. The water at the beaches has not been tested. Swim at your own risk.
– Post Office: Postal employees are handing out mail from tables and distributing packages from trucks from 10 a.m. until 2 p.m. They are accepting outgoing mail that is properly addressed and stamped.
– Red Cross: Only 14 people remain at the Bethany Moravian Church shelter. The shelter at the Julius E. Sprauve School has been closed and the school is being repaired.
– Resorts: The Westin announced it was canceling all reservations until June 2018. While some employees are being offered positions at other properties, many others are being laid off. Caneel Bay traditionally closes every September and October, but employees have received notice that the resort did not expect to reopen "in the foreseeable future."
– Schools: During two weeks of operations, enrollment at the Gifft Hill School has grown from 31 students to 130 students. Fees are being deferred for now. The pre-school has now reached capacity, but parents may still come to the Lower Campus at 8:30 a.m. to enroll children in other grades. The Christian Academy opened its doors on Oct. 2. Public schools were scheduled to open Oct. 10, but the Sprauve School in Cruz Bay may not open until Oct. 16.
– Shuttles: The Bloomberg group is sponsoring free shuttle service between the ferry dock at Cruz Bay and the fire station in Coral Bay. The purpose is to minimize traffic on the Centerline Road, which has suffered landslides and washouts. Shuttles run from each point of departure in the mornings at 7, 8, 9, and 10, and in the afternoons at 12, 3, 5, and 6.
– Scams: FEMA officials continue to warn residents about scams. FEMA does not charge for its services, so beware of anyone who claims to represent FEMA and asks for money. All FEMA personnel carry ID's, and residents should always ask to see them.
– Roofs: Inspectors from the U.S. Army Corps of Engineers are on island and are now beginning to inspect residences with damaged roofs under the Blue Roof Program. FEMA personnel are taking applications for that program at Connections in Cruz Bay and the Fire Station in Coral Bay.
– Tarps: Residents whose roofs have been severely damaged can apply to VITEMA for free tarps.
– Unemployment: The Department of Labor is processing unemployment applications at the Legislature's Annex in Cruz Bay from 10 a.m. until 3 p,m, on Monday, Wednesday and Friday.
– WAPA: WAPA crews are working hard to replace broken poles and downed wires. WAPA has set a target date of energizing Cruz Bay by mid-October and the rest of the island by Christmas. Gov. Kenneth Mapp announced that 240 linemen from the States will arrive in the territory in the next several weeks. However, a member of the Bloomberg group said the 35 additional linemen designated for St. John are insufficient to meet the governor's deadlines.