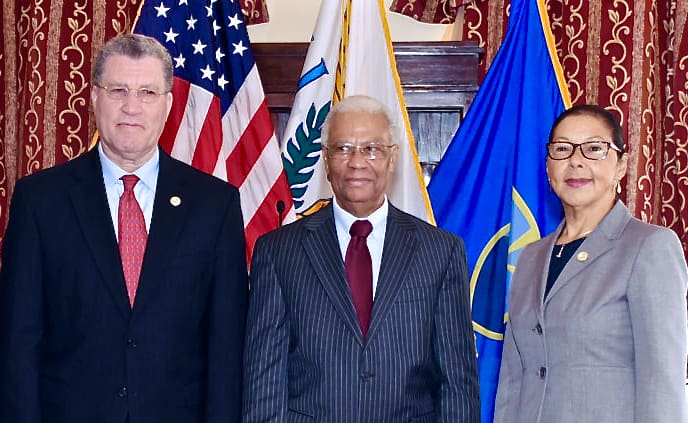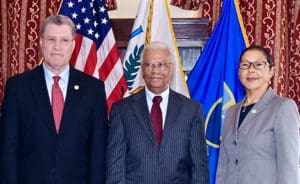 Knocked askew by September's super storms, the judicial system in the Virgin Islands is beginning to right itself, though it is not fully back to normal operations.
In a statement issued late Friday, Supreme Court Chief Justice Rhys Hodge announced the "resumption of full operations" effective Monday. That announcement pertains to both the Superior Court and the Supreme Court on St. Thomas and St. Croix.
Physical damage and communications problems continue to plague the system.
The lack of computer and internet access compounded by the lack of electricity, prompted Hodge to suspend Rule 40, which requires electronic filing of motions and all other court proceedings, immediately after Hurricane Irma.
The suspension is still in effect. According to Friday's press release, paper filings will be accepted at the Supreme Court Clerk's offices at No. 18 Strand Street, Frederiksted, and No. 161 B Crown Bay, St. Thomas, during normal working hours.
Phone service is also spotty. To contact the Supreme Court on St. Croix, people are advised to use the number 340-778-0613. If the regular lines for the Supreme Court on St. Thomas are not operable, people with court business can call Veronica Handy, clerk of the court, at 340-642-8826, or for information regarding bar admission matters, contact Elsie-Mae King, director of Bar Admissions, at 340-244-9280.
For Superior Court, all the St. Thomas regular telephone numbers are operating. But on St. Croix, people are asked to call the St. Thomas office for assistance or send email to Lisa.Davis@vicourts.org.
"While the judicial branch facilities continue to experience limitations due to absence of generator power or internet or telephone services, alternative arrangement have been made to facilitate performance of all duties," the news release concluded.
Regina Petersen, administrator of courts, expanded on that theme in a brief interview.
"We're going to make it work, because we're not extending the order," she said. The order extended deadlines for filings for 41 days, from Sept. 5 to Oct. 15.
Petersen said the St. Thomas facilities were hard hit and will require major repairs.
"There was significant damage to the roof," she said. Several areas were affected, including three court rooms.
"On St. Croix, we got moisture," she said, but professional cleaners were hired and the building was dried out and the court rooms are functional.
Several court employees suffered major losses to their homes, she added, and that has also had an impact.
"We're only as good as our employees," she said.
It's unclear how much the hurricanes will slow the processing of cases. Petersen said each judicial officer will handle his own calendar of cases.
The District Court also is dealing with hurricane-related problems.
District Court Chief Judge Wilma Lewis had issued an order continuing all civil and criminal cases from Sept. 5 to Oct. 29, and that remains in effect. However, Glenda Lake, clerk of the District Court, said while proceedings may be suspended, "We're still working. Cases are being reviewed."
In fact, she said, District Court on St. Thomas opened early this week and is accepting and processing filings.
"We're available to serve regular hours, 8 to 5," she said. Via telephone, the St. Thomas offices are also serving people on St. Croix, where District Court remains closed.
Lake said there were areas of isolated damage to the St. Thomas facility.
"On St. Croix, we had a lot more water," she said.
Lake was unable to discuss the damage on St. Croix because, she said, the General Services Administration has not completed its assessment.
Electronic filings are still the rule at District Court.
"We file through a case management system that's still up," Lake explained.