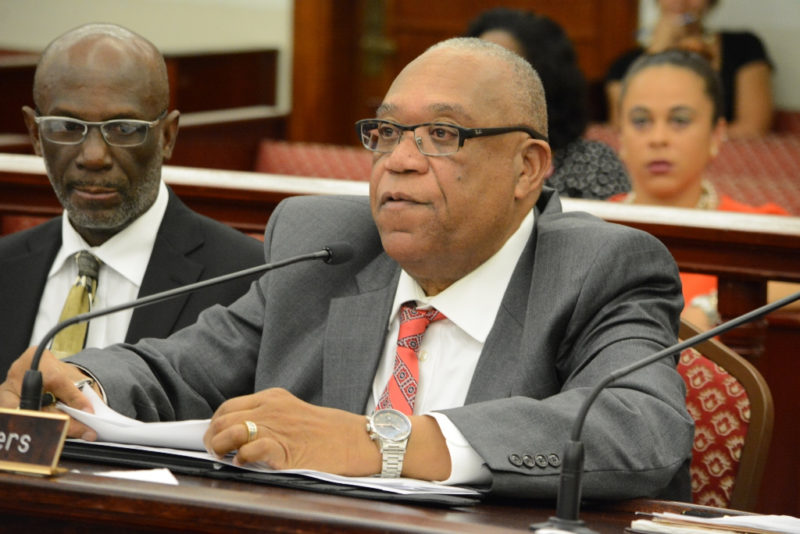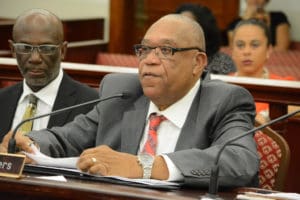 "We can no longer operate without a serious influx of operating cash," Schneider Regional Medical Center Chief Financial Officer Scott Nothnagel told V.I. senators Friday.
The senators met Friday on St. Thomas as the committee of the whole. At the same hearing, Gov. Kenneth Mapp's budget director told senators that the government's budget deficit this year may balloon to $325 million and it planned to cut expenses by $120 million – out of a total budget of $914.8 million.
Even those glum figures assume the territory will get a large disaster relief loan from the federal government to help cover government operating expenses at a time when private lenders have been unwilling to lend.
The chronically underfunded hospital was severely struggling, and talked about forced cuts in services many months before the storms. (See Related Links below) Along with meager government appropriations and a legislative mandate to provide care without regard to ability to pay, the hospital has long had issues with getting money from those who are able to pay. In February, Nothnagel told senators there was a history and culture at the hospital where many patients did not pay. Asked at that February hearing if the issue was patients not paying or the hospital not billing, Nothnagel said "both."
Now, after the two hurricanes, along with severe capital needs to rebuild the hospital, the hospital has lost millions in government funding and patient billing.
"Our ability to bill has been severely limited through the beginning of October," Nothnagel said Friday. Government allotments were behind $939,000 for August and another $1,939,000 in September and "we have been informed these fundings are now lost," he said.
Before the storm, Schneider was already behind in its payroll withholdings. It is behind a total of $5,775,000 in pension contributions, health insurance premiums and payroll tax payments to the V.I. Internal Revenue Bureau, Nothnagel said.
Meanwhile, Wheatley and Gov. Juan F. Luis Hospital acting CEO Richard Evangelista reported that both hospitals are severely damaged after the storm and will need extensive renovations. Roof damage forced both hospitals to evacuate most of their patients, which reduces potential revenue.
"The hospital right now is operating on a limited basis. It is not a condemned building. It is still moving forward," Wheatley said.
Asked if the hospital could be repaired, Facilities Director Daryl Smalls said it was structurally sound, and could be renovated. The first order of business would be to clear every vent and piece of equipment off the roof and replace the roof membrane, Smalls said. After than, much of the furniture, carpeting and even walls, have to go, due to water damage.
The affiliated Charlotte Kimelman Cancer Institute and Myrah Keating Smith Clinic on St. John were also damaged as a result of the hurricanes. However, some of the services are available, including Emergency Services, Cardiology, Hemodialysis, Intensive Care Unit, Maternal Child Health Services, and Laboratory Services.
At JFL, Evangelista reported the roof and the infrastructure of the hospital were severely damaged. Before the storm, JFL was already dealing with a critical sewer system failure underneath the hospital too. Some services are being performed at a temporary tent structure next to the hospital, with help from the Federal Emergency Management Agency and other federal agencies.
Evangelista said the hospital is actively working on a recovery plan "contingent on the availability and allocation of resources to establish alternate locations for patient care."
He said the immediate focus is on immediate short-term locations and in the longer term they are looking at a "move towards a modular option for the hospital."
No votes were taken at the information-gathering hearing. Thirteen senators were present, with Sens. Nereida "Nellie" Rivera-O'Reilly and Janette Millin Young absent.