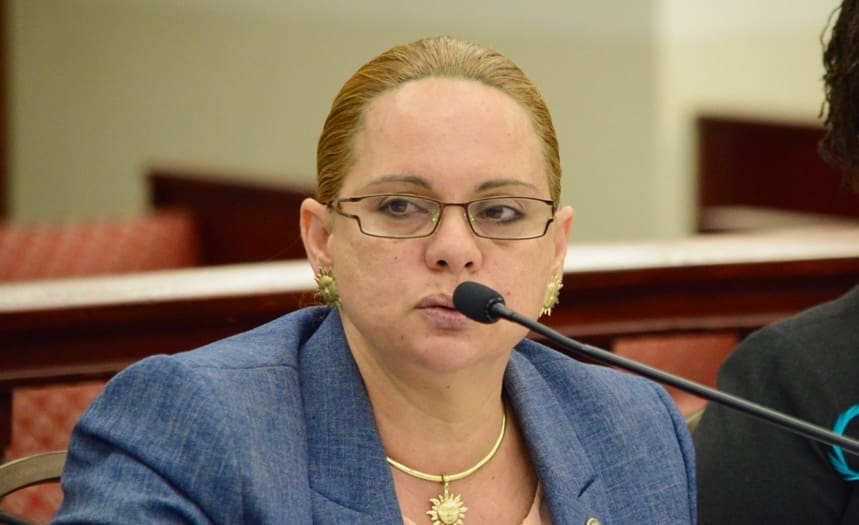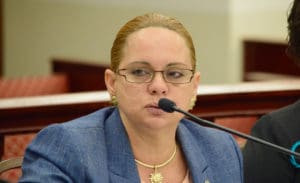 With many Virgin Isalanders unemployed due to the hurricanes and relief distributions drying up, people urgently need unemployment checks in order to meet basic needs, senators told Labor Commissioner Catherine Hendry during a Committee of the Whole hearing Friday.
Two hurricanes, ongoing power outages and water damage to their facilities have complicated and slowed down the process but checks are now coming out and should soon ramp up sharply, Labor Department officials told senators.
Meanwhile, the pace has been slow to date.
Sen. Janelle Sarauw (I-STT) asked how many unemployment claims there had been versus checks mailed. Hendry said there had been 2,781 Disaster Unemployment Assistance claims and re-certifications. That figure does not include regular, non-disaster related unemployment insurance. She testified earlier that from Sept. 15 to Oct. 12, a total of 537 checks had been cut, totaling $366,817. Those checks are being distributed only at their offices locations but they plan to resume mailing checks shortly.
"That is not even a quarter of the claimants," Sarauw said, adding that with the cessation of relief distribution "people need those checks to survive."
Several other senators similarly weighed in, urging Hendry to get checks out faster.
Sen. Marvin Blyden said the number of checks is "unacceptable."
"A hungry man is a hurting man. … They are upset. They need their checks," he added.
While the tone got heated at times, Blyden and others also said there was a lot of stress in the community right now and they were more frustrated than angry.
"I respect you but I am venting also, because I hear it every day myself from my constituents," Blyden told Hendry.
"Something needs to happen and it needs to happen immediately. I don't want to hear about the red tape and all of that," he said.
The server that holds the information for processing unemployment claims was moved to St. Croix after Hurricane Irma severely damaged their St. Thomas offices, and then Hurricane Maria hit St. Croix, knocking out power there, Hendry said.
Labor Department Director of Unemployment Insurance Elston similarly said he understood the frustration, but that the department had to follow normal procedures established by the U.S. Department of Labor or face scrutiny from its inspector general.
The difficulties with the server and with internet connectivity are important.
"The server holds all of our data about all of our wages. We need that connectivity and we need to process every single claim through that server," George said.
"We are mobilizing right now and the numbers will increase, but going through those two hurricanes, it was a start and stop process," he said.
No votes were taken at the information-gathering hearing. Thirteen of the 15 senators were present for at least part of the hearing. Sens. Nereida "Nellie" Rivera-O'Reilly and Janette Millin Young were absent.