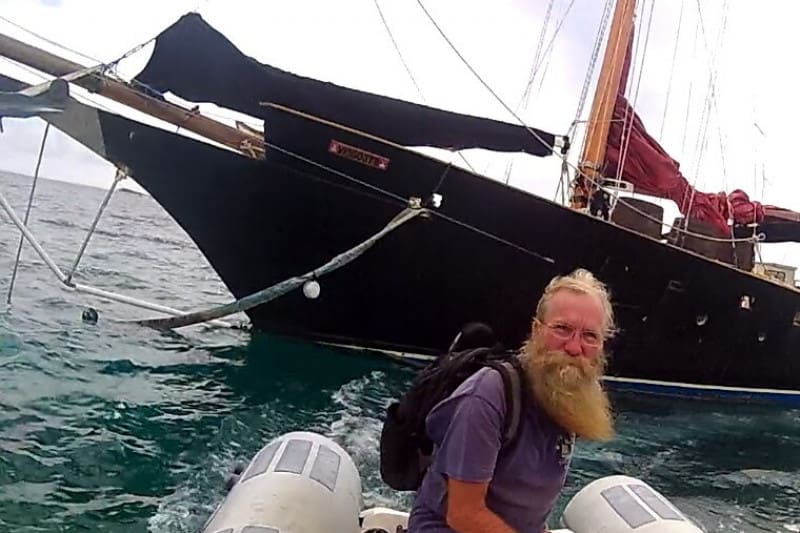 A small circle of family and friends says they're waiting for authorities in the British Virgin Islands to return the remains of St. John charter boat captain Richard Benson. Benson was the last to be identified of four persons counted as fatalities of Hurricane Irma by BVI authorities.
Benson was described as a man who kept to himself but raised a son on board one of his vessels and saw him educated at Antilles School. A man with a passion for sailing and the boats he set sail on.
According to reports carried in press reports, Benson's body was discovered washed ashore on Sept. 7, the day after Irma battered the British territory with 185 mph winds and storm surges topping 10 feet.
Benson's boat, the Goddess Athena – the one he was believed to have last been aboard – has not been found, those reports said.
The captain's remains were identified Oct. 7 by his son, Daniel, 26. Benson's friend and partner, Kris Dougherty, said he last spoke to Benson the morning Irma struck.
"On Tuesday, we took two of Richard's boats, Goddess Athena and Spree 2, and my boat. We left there at 8:30 p.m.. The next morning I talked to him. He had tons of anchors, everything was doing fine," Dougherty said.
As Dougherty spoke, Daniel Benson stood by, quietly, then turned and walked away. Dougherty said his partner's son was still too emotional to speak.
A report carried online at bvinews.com said Benson's remains would be released, pending autopsy results.
"They couldn't get his fingerprints and that, so they might have to do a DNA testing. They're trying to figure that part out," Dougherty said.
Friends say the late Richard Benson was born in Oregon and lived the early part of his life in the U.S. northwest. He came to St. John before 1995 Hurricane Marilyn and made it his home.
On-call deck hand Trista Singlet recalled Benson's fondness for restoration projects on board the Goddess Athena.
"Goddess Athena was a big, old ship, almost 80 feet. Richard had been working on it for many years, bringing it back to its old self. He loved that boat so much, he really did," she said. "My view, from my apartment in Frank Bay was his boat. I loved seeing it every morning."
Dougherty called his lost partner an old salty dog who didn't smile often. But he pulled up a cell phone photo of a bearded, smiling Benson on board Spree 2.
The shot was taken a few months, ago, when the two sailed Spree 2 into the open Atlantic. Those were the times Benson liked best, Dougherty said.
Benson's family, led by his ex-wife Linda Worthington, has started a gofundme page online to raise funds to brings the sailor's body home. Funeral plans, according to thh page, are to cremate his remains and "his ashes returned to the sea that he loved so dearly." Any additional funds raised will go toward St. John hurricane relief, according to the page.
The other three victims of Hurricane Irma in the British Virgin Islands have been identified by the BVI government as Charles Thomas, Derek Ragnar the and Xavier Samuels.