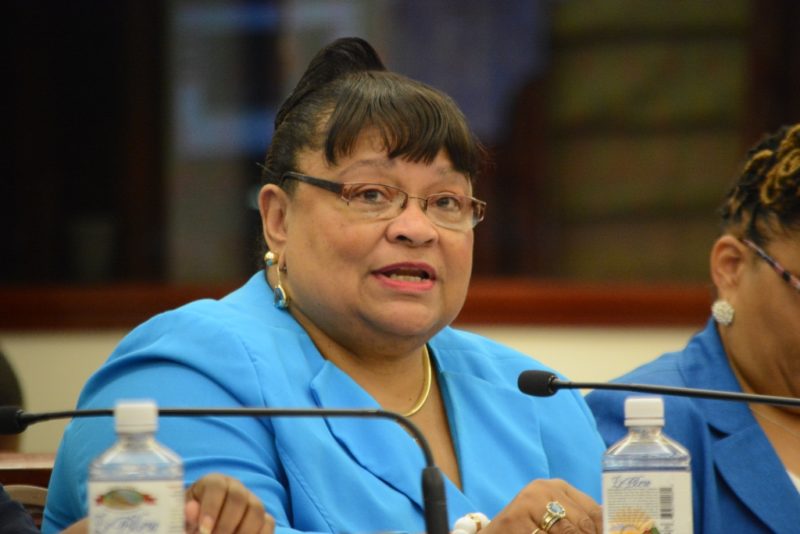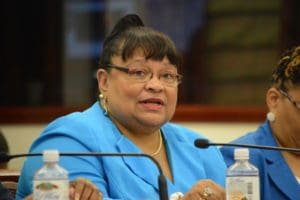 The V.I. Department of Education and the union representing its teachers disagreed on almost everything about the delayed start of the school year when they appeared Wednesday before the Senate Education, Youth and Recreation Committee.
"Our first priority has always been to provide a safe environment for our students, a safe working environment for our teachers and an environment conducive for learning," said Sharon McCollum, commissioner, V.I. Department of Education. "The most significant challenge the department is facing across the territory is roof damage, which continues to allow moisture into the schools. Cleaning contractors completed a thorough cleaning of our campuses post Maria and continue to conduct mold and air quality mitigation every couple of days."
Carol Callwood, president of American Federation of Teachers Local 1825, did not seem reassured.
"Were the schools ready? No. Were the teachers ready? Yes," she said.
This was not the only area of disagreement between Callwood and McCollum. They did not agree that a school calendar that would take school days into mid-July had been properly vetted. Callwood was also upset about the number of days that teachers had worked without students in the class room.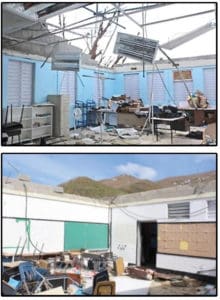 She said teachers had been ordered to work three weeks prior to students reporting. This was unprecedented, she said, and an unproductive use of teachers' time. She said there were no students to instruct and teachers had "nothing to do except watch the water dry on campus."
Sen. Jean Forde, chairman of the committee, noted that there was a communication problem between the teachers and the administration and a meeting needed to be arranged. Before the committee meeting ended it was announced that administration officials would meet with union representatives every Friday.
McCollum said less than 50 percent of the 13,000 students enrolled in territory schools had returned to school so far. Administrators in both school districts said they had received several hundred requests for transcripts for children who are probably transferring to schools stateside. However, they expect the number of students attending territory public schools to increase as more schools open. Fewer students would mean the schools need fewer teachers, but it remains to be seen how that ratio works out. At the beginning of the school year the department had 123 vacancies. Since the storms passed the department has lost around 150 more employees.
Sen. Nereida Rivera O'Reilly asked how the English as a second language program was working. O'Reilly said she had helped many families, who had children that would have fallen into that category, join the exodus out of the territory.
Several senators said they were concerned about how certain schools were chosen to be condemned or re-opened.
"Post Hurricane we have condemned eight schools in the territory; six schools in the St. Croix District … two schools in the St. Thomas/St. John District."
The condemned St. Croix schools are Lew Muckel Elementary, Pearl B. Larsen Elementary, Eulalie Rivera Elementary, Arthur A. Richards Middle School, Elena Christian Middle School, John Woodson Middle School and Alexander Henderson Elementary. The St. Thomas schools are Addelita Cancryn Junior High School and E. Benjamin Oliver Elementary School.
The Curriculum Center and the Procurement Warehouse were also condemned.
McCollum also said in the St. Thomas/St. John District Yvonne Milliner-Bowsky and Gladys Abraham Elementary Schools remain closed due to damage and environmental concerns.
Lockhart Elementary, although it sustained minimal damage, is still not accessible to students because it is still performing as a shelter. McCollum told senators that a contract has been negotiated to house the people remaining at the shelter at Bolongo Bay Resort. She hopes the owner will sign off on the contract quickly and the residents can move from the shelter the end of this week and work can then begin to make the school ready for students.
Getting the schools back operating after the territory was hit by two category five hurricanes has been a tremendous challenge, McCollum said.
"It has not perfect. It is not going to be perfect anytime soon," she said.
Sen. Tregenza Roach directed some questions to Nicole Boothman-Shepard, resilience strategist with AECOM, the engineering firm that helped with recovery in New Orleans after Katrina, and which is now on contract with the Virgin Islands government. Roach wanted to know if it would be more advantageous for the territory to have two declared disasters since it was hit by two hurricanes. She replied that some areas which suffered hits from hurricanes Katrina and Rita did break it into two declared disasters. However, that caused difficulty in the bureaucracy trying to determine to which disaster to attribute what damage, she said.
Forde requested a copy of the contract that the government has with AECOM.
With the work continuing at the Yvonne Bowsky Elementary School, with a price tag of about $400,000 to bring the school in operation, according to McCollum. Estimates are still being prepared for Gladys Abraham Elementary School.
In her opening statement Callwood said teachers were forced to go to work in a school that did not have power. McCollum said that happened because thieves had stolen 500 gallons of diesel from the generator tank for that school. She said that now all tanks are locked.
Other senators attending the meeting were Sens. Kurt Vialet, Novelle Francis, Jr. and Brian Smith.