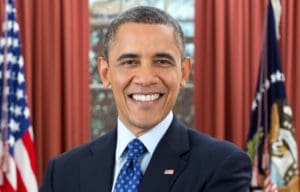 Genevieve Whitaker, co-founder and president of Virgin Islands Youth Advocacy Inc. (VIYAC), has been selected among 15,000 applicants to be one of hundreds of civic leaders from Chicago, the U.S. and around the world to take part in the inaugural Obama Foundation Summit.
The Summit, which will be held from Oct. 31 and Nov. 1, is a two-day immersive event that will be held in Chicago, Ill. During this inaugural summit, leaders from around the world will come together to exchange ideas, explore creative solutions to common problems, and experience civic art, technology, and music from around the world.
Whitaker's application centered on her work in promoting human rights and her work on behalf of VIYAC's political and civic engagement of the young people of the Virgin Islands promoting civic engagement of the community in the decolonization of the territory.
Featured summit speakers and leaders will include former President Barack Obama and former First Lady Michelle Obama, the visionaries behind their "first project as citizens; Matteo Renzi, former prime minister of Italy; Hamdi Ulukaya, humanitarian and founder of Chobani; Bahia Shehab, artist; Tod Williams and Billie Tsien, Obama Presidential Center architects; Gabriella Gomez-Mont, Laboratorio para la Ciudad; Eric Liu, CEO of Citizen University; Elizabeth Alexander, poet and author and Theaster Gates artist.
The closing event, a concert, will feature Chance the Rapper, who is curating the concert alongside, Gloria Estefan, The National and other musical guests.
Whitaker holds a Juris Doctor degree from Stetson University College of law, a Master's Degree in Political Management from George Washington University, with coursework in International Human Rights Law. She is a former lobbyist for Amnesty International USA, served as a 2016 Fellow for the United Nations Office of the High Commissioner for Human Rights Fellowship Programme for the People of African Descent, and she was a board member for the United Nations Association of the USA.
Presently, Whitaker serves as the deputy supervisor St. Croix for the Elections System of the Virgin Islands.
She plans to bring back the knowledge she gains during the summit on topics ranging from motivating young people to choose a civic path to technology's role in creating equitable and inclusive communities in advancing the political, social, economic and cultural right advancement for people of the V.I. She hopes to work with the Department of Education, the Board of Education, Joint Board of Elections, the University of the Virgin Islands, other nonprofit organizations and individuals to promote this cause.