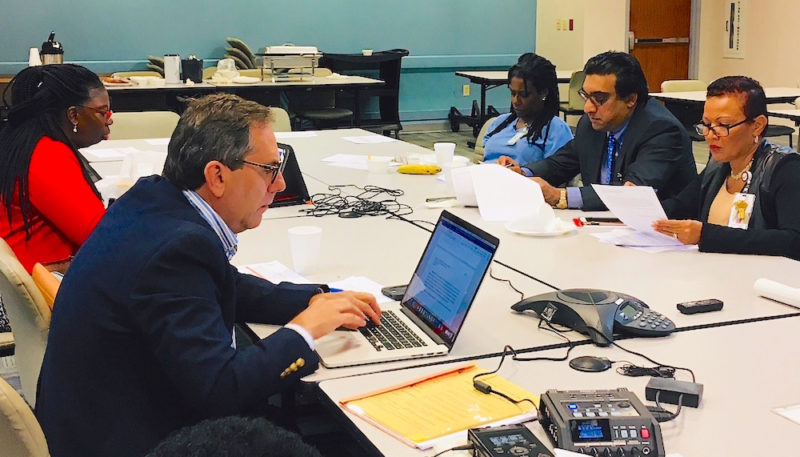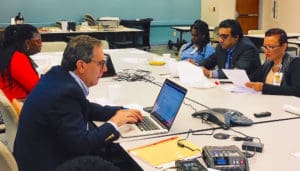 The V.I. Hospital and Health Facilities Corporation Board voted Tuesday to authorize the chairman and board secretary to sign FEMA loans totaling $46 million for the territory's two hospitals, devastated by two hurricanes in September.
The participants at the meeting with only one otem pon the agenday conferred via teleconference at the V.I. Cardiac Center on St. Croix, discussing a $24 million loan for Schneider Regional Medical Center and $22 million for Gov. Juan F. Luis Hospital.
Board member Valdamier Collins, who is also V.I. Finance commissioner, said the community disaster loan discussions with FEMA began Oct. 10 and were finally settled over the last few days. The terms were negotiated by the U.S. Treasury secretary and need to be approved by the V.I. Legislature. The loans are to the V.I. Government but the hospitals will sign the promissory notes.
"A lot of the terms came straight down from the U.S. Office of Management and Budget," Collins said. "Treasury and Finance are trying to get funds into accounts and prevent some losses of revenue."
Collins directed hospital administrators several times to become very familiar with the terms of the agreements because "It's not deficit financing," and there are strict guidelines for using the funds.
Although not set in stone, the current terms indicate both 20-year loans will be payment free for the first two years and interest-only payments for the next three years. After that, the loans will be amortized over the rest of the term at 2.2 to 3 percent interest, depending when the loans are activated, Collins said.
The purpose of the loans, Collins said, is "immediate cash needs" and can be used for a variety of operating expenses, such as payroll, maintenance, materials and supplies. The funds cannot be used for debt service, lobbying, or capital improvements – unless necessitated by hurricane damage.
Board Chairman Nellon Bowry pointed out FEMA grants may be awarded in the future for capital improvements.
Collins also stressed that FEMA may grant future loans as well.
"This is just something to get us started," he said.
The board discussed and then voted unanimously on an amendment to allow Joint Boar Chairman Bowry and secretary Maria Tankenson-Hodge to sign and negotiate loan documents "substantially in agreement" with the terms set fourth during Tuesday's meeting.
Board members attending the meeting were Bowry, Tankenson-Hodge, Collins, Gretta Hart-Hyndman, Troy de Chabert-Schuster, Health Commissioner Michelle Davis, Vera Falu, Cornel Williams, Philip Arcidi and Dr. Olivine Anne Treasure.
The loans will not be finalized until the U.S. OMB approves all the provisions, which Collins called "very stringent."