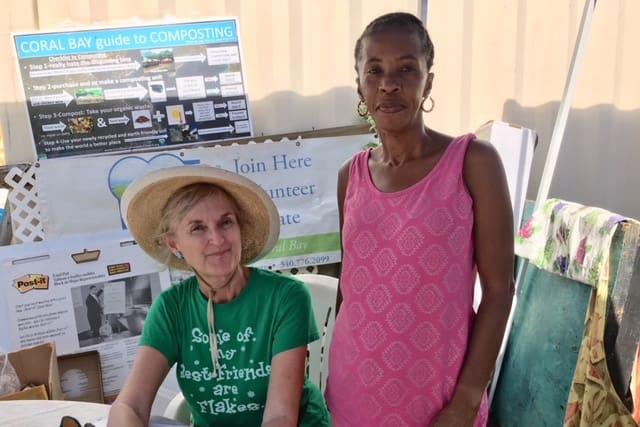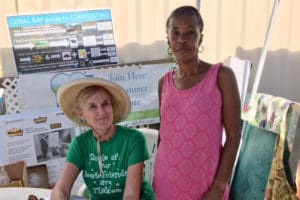 The restoration of power to much of Coral Bay and eastern portions of St. John has provided a surge of optimism among community members, who had been without electricity since Hurricane Irma struck on Sept. 6.
"I just got my power today, so I'm happy," said vendor Karen Samuel as she sat at her table loaded with homemade jams and baked goods.
Samuel was one of nearly two dozen vendors who were selling crafts, food, and sharing information at the annual Bizarre Bazaar held at Pickles Deli on Saturday.
The popular holiday fair was in full swing, although Pickles Deli was still not hooked up to the grid.
"I need to get new WAPA meters," said owner Beverly Melius. But she refused to let the absence of electricity dampen her spirit. "We're celebrating. Pickles isn't open. No power. No water. Nothing but love – that's what made [this event] happen."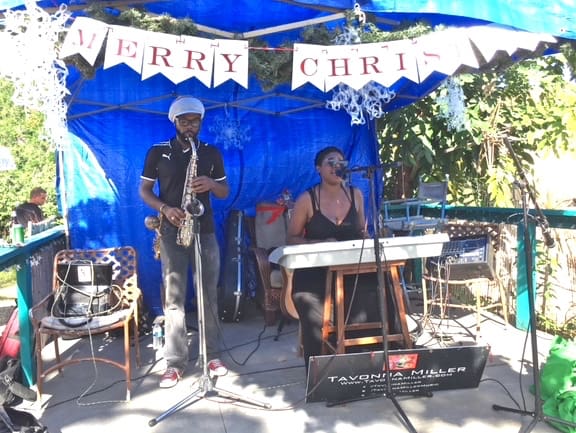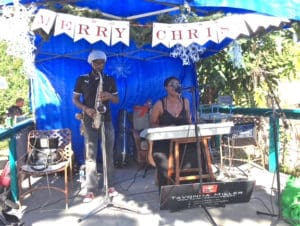 Until Saturday, Coral Bay residents were starting to lose patience with the rate of progress of energy restoration. They had watched Cruz Bay get its first surge of electricity on Oct. 30, and had been waiting more than five weeks to be able to flip a light switch without first powering up a generator.
The sight of stacks of new composite utility poles, coils of wires, and presence of multiple line crews moving throughout Coral Bay were proof that WAPA and visiting line crews from the Missouri-based BBC were doing what they could to meet the governor's goal of energizing 90 percent of the island by Christmas.
WAPA line superintendent Richard Lanclos said the 90 percent goal was feasible.
"We completed the primary phases in Coral Bay. We've got crews preparing to go to John's Folly and to Zootenvaal," he told the crowd at Wednesday's VITEMA briefing in Cruz Bay.
Lanclos said additional crews were working in Catherineberg and Bordeaux Mountain, and other teams were backtracking to hook up homes and businesses that were bypassed because they lacked meters or functioning weatherheads.
The scarcity of high-quality, stainless-steel transformers was limiting power restoration on all three islands, according to Lanclos.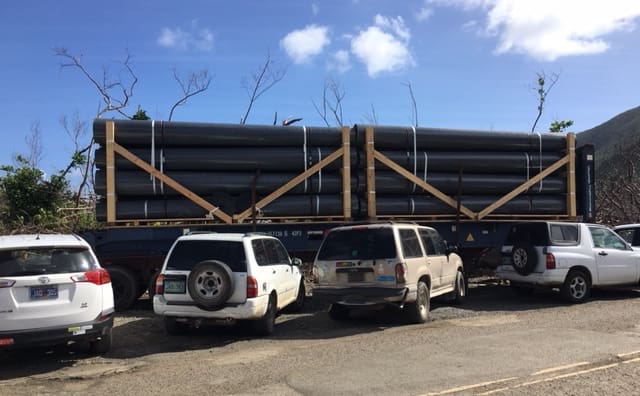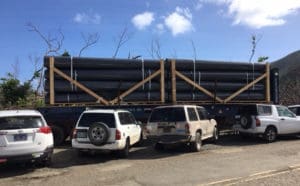 "We have a shortage because of all the storms throughout the year. The suppliers are out. We're flying them in as fast as we can get them. We've got some arriving today on St. Croix that will be coming to St. Thomas and then St. John," he said.
Lanclos said WAPA had already phased out the use of less sturdy transformers, which may have contained more toxic materials.
"We now use the transformers with minimal 'oil.' Guys say you can cook with it, but I wouldn't try."
To show their appreciation of all that the line crews have done, the Coral Bay community is throwing a party for them at Pickles Deli from 4:30 p.m. to 6 p.m. Friday.
"We're starting early because the crews have to get back to Cruz Bay," said 'Prime Mary,' who is organizing the event. "We're serving hamburgers, hotdogs, salads, and cold beer."
Those wishing to contribute are asked to donate cash at the party, she said.
This is the second party Coral Bay residents have thrown for line crews. At the first party several weeks ago, volunteers served lobster roll sliders and handed out paper hearts which read, "We love BBC."
"We want to say, 'Thank you,' and we want them to come back with their families. We're building a new family," said Sharon Coldren, president of the Coral Bay Community Council.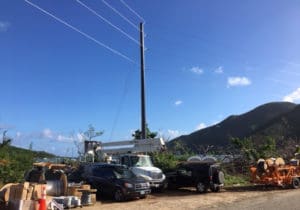 Coldren herself was recognized at the Bizarre Bazaar for all that she and her organization did to share information following the hurricane. Immediately after Hurricane Irma, she provided the one satellite phone in Coral Bay that residents used to make one-minute "I'm safe" calls to family and friends. In the following weeks, she used a bullhorn to hold daily briefings for residents who couldn't make it to Cruz Bay to get information.
Coldren and Ryan West, one of the founders of Love City Strong, who organized similar meetings in Cruz Bay, were presented with the Glen Speer Visionary Award by the Merchants Association of Mongoose Junction.
The party in Coral Bay for the line crews isn't the only celebration this weekend. The Merchants Association at Mongoose Junction is hosting "the Prom," an all-island party starting at 9 p.m. Saturday. There will be music, free hors d'oeuvres, and a cash bar. Dress is "island fancy." The party was first held during the holiday season in 1995 following Hurricane Marilyn. That year, Caneel Bay Resort was badly damaged and unable to host their annual, exclusive "Managers' Party to celebrate the festive season." The Merchants Association of Mongoose Junction decided to give hurricane-stressed residents an excuse to dust off their suits and sequined dresses, and invited the whole island.
In keeping with the adults-only tradition of the event, organizers continue to request that young children and pets be left at home.