"The great force of history comes from the fact that we carry it within us, we are unconsciously controlled by it…. History is literally present in all that we do."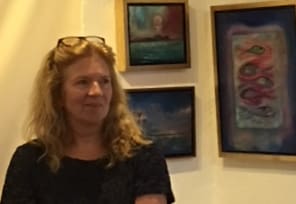 This quotation from writer James Baldwin was projected on the screen prior to the first American screening of the film, "We Carry It Within Us."
The film outlines how Denmark grew to be a wealthy country on the sugar trade, which depended on slavery in the Virgin Islands. But it goes much further. It explores the degree to which the painful past is acknowledged by Danes, and the many ways the legacy of slavery still resonates in the consciousness of Virgin Islanders.
Danish filmmaker Helle Stenum, who introduced the film at the screening at St. John's Bajo El Sol Gallery on Feb. 3, said she made the film partly out of frustration at "the dialogue that was not going on" in her country. A researcher on migrations and cultural history, Stenum said she got involved with the subject several years before the 2017 Centennial, which marked the transfer of ownership of the Virgin Islands from Denmark to the United States.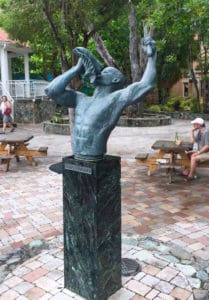 Centennial events, especially those involving the arts, brought into the open the topic of Denmark's slave-owning past, according to Stenum. One work of art in particular has played a significant role, the bronze statue commonly known as "Freedom." That statue, of an African man blowing a conch shell while brandishing a machete, is well known to Virgin Islanders. Made by Ghanian-American sculptor Bright Bimpong, copies of the statue are in prominent locations on all three major Virgin Islands. Thanks to efforts by the V.I. Historical Preservation Commission and the St. John Historical Society, a copy was produced and given as a gift to Denmark. (See link: "Freedom Statues from V.I. Make History in Denmark," in Related Links below.
Stenum's film focuses on artists, students, and historians as they view depictions of the Danish West Indies in art and literature. Some of the images they view appear innocent, such as a painting of a gentlewoman looking coquettishly at the viewer while her dark-skinned servant, who blends into the background, peers from behind the lady's layered white skirts.
A painting of carousing Danish naval officers being served at a table by naked black women is much more disturbing, especially considering recent headlines involving sexual misbehavior by powerful men.
Other images depicted in the film are deeply shocking, like a drawing of slaves, enchained and packed together like sardines, in the holds of slave ship.
"A picture demonstrates how inhumane a practice may be," says Dr. Temi Odumosu, an art historian who teaches in Sweden.
Perhaps most appalling is the 2015 video game designed to increase awareness among young Danes of their colonial past. It asks gamers to pick up pieces of cargo – in this case, slaves –and see how many they can fit into a slave ship.
The film asks us to reflect upon these fragments of a shared colonial past. It follows the journey of St. Croix artist LaVaughn Belle as she travels to Denmark and responds to the images she sees. Belle speaks as a Virgin Islander, as a woman, and as a mother reluctant to show these images to her own young daughter.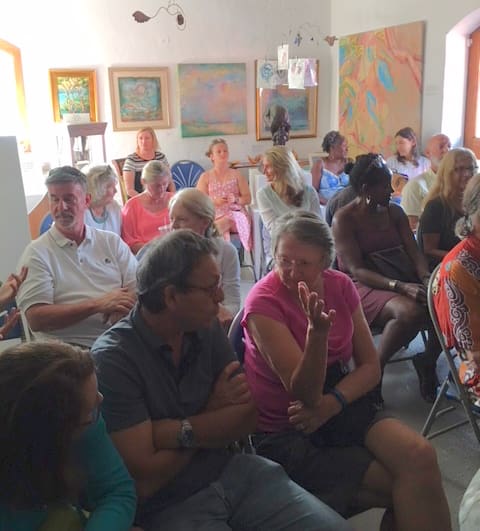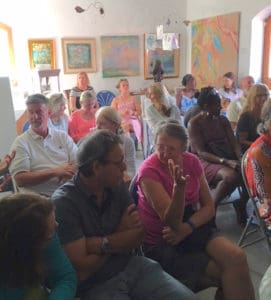 "People don't understand that there was severe damage done to people," she says, adding that providing context for these images is critical.
Viewers see Belle working on her own art, burning patterns into canvas to evoke the searing past of enslaved Africans, or painting huge pictures of broken blue and white colonial plates, locally known as "chaney." Her quiet voice and deep dignity help those who watch the film contain their own rage.
In 1792, Denmark was the first European nation to abolish the slave trade, yet slavery in the Virgin Islands continued until 1848. St. Thomas writer Tiphanie Yanique says in the film that her grandmother always told her that the Danes were particularly cruel and violent in their punishment of slaves. She describes how enslaved Africans would swim from St. John to Tortola in the British Virgin Islands, which had abolished slavery years before Denmark did.
In the film, conflicting versions of history are presented by Chenoa Lee, a 22-year-old Crucian who travels to Denmark and comes to scoff at the sugar-coated story taught to Danes. A clip of her observations is on YouTube.
The film stirs up questions of how to contend with a painful past and continue to move forward.
"The truth of what it means to be a Caribbean person in this era is to be a person who has culturally survived slavery and colonialism," says Yanique. "And though it is a horrific part of my personal and cultural history, I wouldn't be me, and we wouldn't be this really rich, diverse place without it."
Following the film's screening, audience members spoke of the importance of screening the film in high schools throughout the Virgin Islands. Stenum responded that she would be happy to distribute the film when it finishes making its rounds in film festivals.
St. Johnian Kurt Marsh suggested going further and using the film as a springboard for dialogue about the Virgin Islands which is still "owned" by the United States.
Artist Janet Cook-Rutnik spoke of the importance of preserving examples of vernacular architecture, hand-made houses that are even more endangered since being damaged by recent hurricanes in the territory. Stenum agreed.
"We focus on forts and power buildings," she said.
Although the film has not yet been released, the owners of Bajo El Sol Gallery, David Knight and Priscilla Hintz Rivera Knight, have a copy. They've promised to do an encore screening for Transfer Day this year.
Shared content for Virgin Islands Source and St. John Tradewinds.