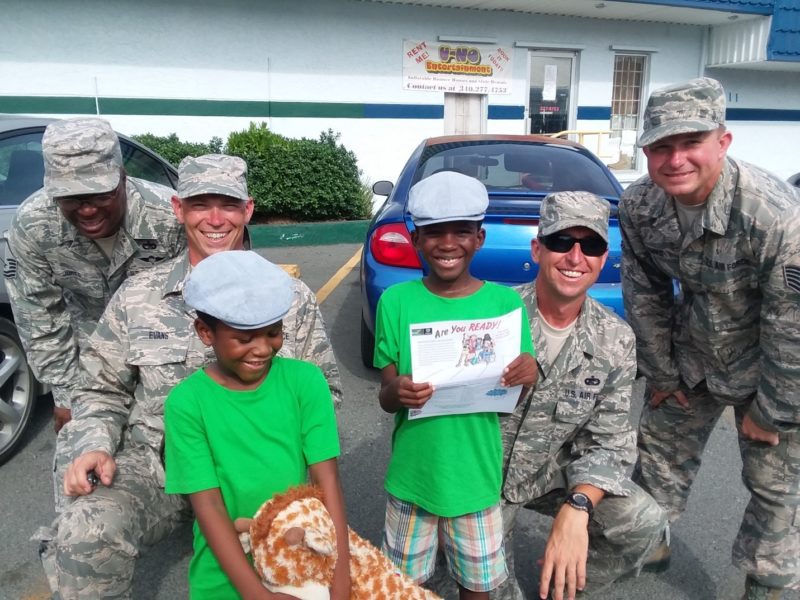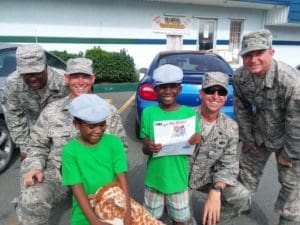 In September 2017 after the passage of Hurricane Irma on St. Thomas, 8-year-old Aidan Morris and his 7-year-old brother Ethan Morris of Frederiksted St. Croix decided it would be a good idea to help educate their classmates at the Free Will Baptist Christian School about the importance of being prepared for hurricanes. The brothers said that they were taught about fire and earthquake preparedness at school but not about hurricane preparedness. They wanted to share what they had learned about hurricane preparedness with their peers from a book that was given to them as a gift by Colleen Clarke.
With the assistance of their parents and a donation of supplies from Master Evworth Charles, their taekwondo instructor, the brothers put together a hurricane information and preparedness packet for kids, which they shared with their teachers and classmates.
The Morris brothers decided that educating their classmates was not enough. They wanted to share this information with other children and the wider the community.
"Disasters affect everyone. And so, it takes everyone – youth, parents and community members — to help prepare. We are Aidan and Ethan Morris. We live on St. Croix, U.S. Virgin Islands, and we are doing our part to protect our vibrant community."
They made presentations to the St. Peter's Episcopal Church Sunday School, the Ebenezer Methodist Church, Foundation Ministries, the St. Croix Martial Arts Centre, the Florence Williams Library, and hotels such as Chenay Bay Beach Resort, the Buccaneer Hotel, the Palms at Pelican Cove, and King Christian and Company House Hotel. The brothers printed and posted flyers in store front windows. They also distributed them at bakeries, barbershops, supermarkets, information kiosk at the malls and restaurants.
They were nominated for the 2017 Youth Service America (YSA) — We Stand Strong against Disasters Awards. They were judged to be one of 12 national finalists, and they eventually topped out in the 2nd tier of winners. This news came a few weeks after their community of St. Croix had been struck by Hurricane Maria.
YSA awarded Aidan and Ethan a $500 grant so they can continue educating children on hurricane preparedness. With this money the brothers were able provide additional hurricane preparedness packets for children on St. Croix, a project that they have recently completed with the distribution of the packets to the Florence Williams Library and the St. Croix Martial Arts Centre.
Youth Service America: https://ysa.org/
Founded in 1986, Youth Service America®, a non-profit organization based in Washington D.C., supports a global culture of engaged children and youth committed to a lifetime of meaningful service, learning and leadership. With half the world's population under age 25, the organization's mission is to help all young people find their voice, take action, and make an impact on vital community issues. Starting in 2016, YSA has focused all its assets and outcomes on achieving the Sustainable Development Goals by 2030.
Through Youth Service America's programs, youth lead community change through:
Awareness (educating others to change behaviors),
Service (using their passion, creativity and idealism to solve problems through volunteerism),
Advocacy (to change policies and laws), and
Philanthropy (generating and donating financial and in-kind support).