The annual Bordeaux Farmers Rastafari Agricultural and Cultural Vegan Food Fair returned Saturday and Sunday, a little late but as popular as ever, two days of local produce, drinks, dishes, art, and hair and beauty products.
The array of handmade crafts and homegrown food drew people from throughout the St. Thomas community.
This is the 21st year We Grow Food Inc., The 50-plus-member coalition of Bordeaux farmers, sponsored the event. The fair normally is held in January, but farmers expressed a need for more time to recover after their farms suffered serious damage following Hurricanes Irma and Maria.
We Grow Food member Benita Martin said the fairgrounds were damaged as well.
"Three major structures in this area took serious damage, and so did the solar-powered system we had set up here. We were able to have enough repaired in time to still host the fair."
The list of rebuilt structures includes the area for the children's activity table, the stage area, and the bathrooms. Funding for these projects came from the community and the Department of Agriculture.
"Carlos Robles of the Department of Agriculture does his best to assist us, but there is only so much he can do. The government has not allocated much funds to the department, and I cannot guarantee that we are all prepared for another hurricane," she said.
"This area is the heart of the farming community. It's clean, and by being in the Virgin Islands, there are very few commercial industries. I hope that people come out and spend money with the vendors."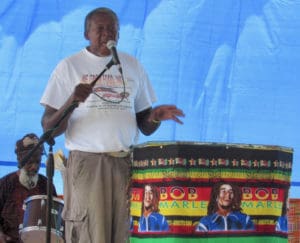 We Grow Food president Eldritch Thomas expressed the importance of the event and of subsistence living.
"We must leave something for the newer generation to take on," he said.
Embodying this sentiment was a booth run by DTC Recycling, a family-owned glass recycling business headed by Clemence Gerry. His family collects glass bottles from restaurants, then recycles them into picture frames and jars.
"My family first started doing this for a short period of time in the 1970s," Gerry said. "I brought it back because I wanted something special for my children, something I could keep for the family."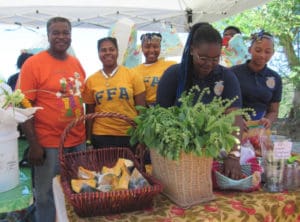 Another group that attended was the Future Farmers of America chapter from Ivanna Eudora Kean High School. Led by former agriculture and aquaponics teacher Kurt Lewis, the group of students sold bouquets and produce to raise funds for a trip to Puerto Rico. Students will visit different farms to learn about commercial farming in Puerto Rico. In the meantime, students will be given opportunities to support the community through volunteering, and also gain farming and leadership skills, according to Lewis.
Other vendors included vegan food stalwarts such as Daniel 'Ras Nashamba I' Crabbe, and newer faces such as Lamarr Rivera and Jason Carbon. The two came over from St. Croix with large fresh pumpkins.
"This is our first time coming here together, but I came over when I was 14 for the first fair maybe 20 years ago, " Rivera said.
"It feels very good to give to the community. I hope that they give back to the farmers and that I enjoy myself while here." he continued.
Tables overflowing with all natural products for hair and skin caught the eye of customers as well. Aquanette Chinnery of JDNatlady's Creations and Ufakobong Utibe-abasi of Victorious African Store Plus were present for their sixth and third Agriculture Fair respectively.
"I think my custom soaps and essential oils sell out the fastest. I hadn't even finished setting up when someone walked up and bought two of my products!" Chinnery said. Her products for sale include hair and body butter, lotions, shampoos and conditioners, all with ingredients that include castor oil, avocado, lemongrass, rosemary and charcoal.
The event also saw performances from the Ulla Muller Panatics, and the Ulla Muller Bamboula Dancers.