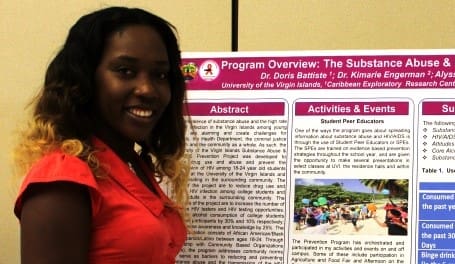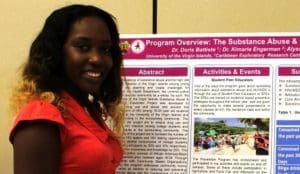 The University of the Virgin Islands (UVI) will host its 7th Annual Research Day from 9 a.m. to 3 p.m. on Friday, April 20, on both campuses: Great Hall on the Albert A. Sheen Campus on St. Croix and the Sports and Fitness Center on the St. Thomas Campus. Research Day provides UVI students, faculty and staff the opportunity to showcase their research, which highlights diverse topics that impact the community.
"One of the goals of Research Day is to share careers with students that they may not have known about. Sometimes the subject that you love can become the future career you didn't know was possible," said Dr. Frank Mills, vice provost for research and public service. "It is truly exciting to see that at UVI our researchers can share information that is truly valuable to the public and the business community. I invite the entire community to visit our campuses."
UVI students and faculty will be on hand with the results of their findings. Some of the research that will be featured include:
Hackers Roam the Cyber World
It takes Resilience: Pests Rise after Hurricanes Maria and Irma
Humanitarian Efforts During Hurricanes Irma and Maria: Saving Lives and Restoring Normalcy
How Safe is Your Drinking Water? Integrating Research into the General Chemistry Curriculum
Drones as a GIS Tool for Surveillance After Disasters
How Affordable was Rent in the U.S. Virgin Islands Prior to the 2017 Hurricanes?
Prevalence of delinquency in St Thomas (USVI)
Creating a Closed Cybersecurity Network: Simulated Malware Attacks and Forensics Analysis
Holistic Green Economics Concept for Global Energy, Water and Food Security
Coaching Styles Utilized by Coaches Have an Impact on a Player' Performance.
Impacts of Hurricanes Irma and Maria on coral restoration and associated fish diversity in St. Thomas, U.S. Virgin Islands
Is the Grass Greener for Virgin Islanders at Home or on the Mainland?
Improvement in Growth Performance of St Croix White Lambs
The Rise and Fall of King Sugar on St Croix
The posters featured on Research Day come from the various schools, colleges and centers at UVI to include the College of Liberal Arts and Social Sciences, College of Science and Mathematics, School of Business, School of Nursing, School of Education, Agricultural Experiment Station, Cooperative Extension Service, Center for Marine and Environmental Studies, Eastern Caribbean Center, Creative Leadership for Innovation and Change — Ph.D. Program in the Provost's Office, and Virgin Islands Caribbean Cultural Center.
"Each year we perceive the growth of research efforts by faculty, staff and students alike," said Dr. Mills. "It is inspiring to witness the improvement in the level of research of our undergraduates and graduates on both campuses, as this is what was envisaged in our current strategic plan 'Pathways to Greatness.'"
This year, the event will offer round-table discussions on both campuses on current social and development topics and feature many demonstrations.
Roundtable topics on St. Thomas include:
Recovery and Resilience: A Discussion on Insurance and Rebuilding
What will be the effect of the invasive seagrass halophila stipulacea on the Virgin Islands?
Signs of the Time: Communication Clashes (Two Case Studies, College Basketball Coaches and Players versus Caribbean Dialect Speakers and Critics)
Roundtable topics on St. Croix include:
Introducing Home Languages in the English Classroom: A Search for Identity
Education, Music and Language: Researching Aspects of Culture and Traditions of St. Croix, Africa and The Caribbean Diaspora
Multidisciplinary Views on Prison Re-entry and Recidivism
Innovative Humanities and Communications Research: Discourse on the "A" in STEAM
Artificial Intelligence — Are You for Real?
This year's UVI Research Day will also feature the UVI Planetarium, which will allow attendees to see or experience the night sky.
Since 2012, UVI has been following its strategic plan titled "Pathways to Greatness." Bearing in mind this mission, UVI Research Day has become a cornerstone of the university for students and faculty alike.
Research Day is an opportunity for the general public to learn how UVI students, faculty, and staff are staying actively involved in a variety of areas including education, economics, and environmental research that impact the U.S. Virgin Islands and beyond year-round.
For more information, visit http://researchday.uvi.edu