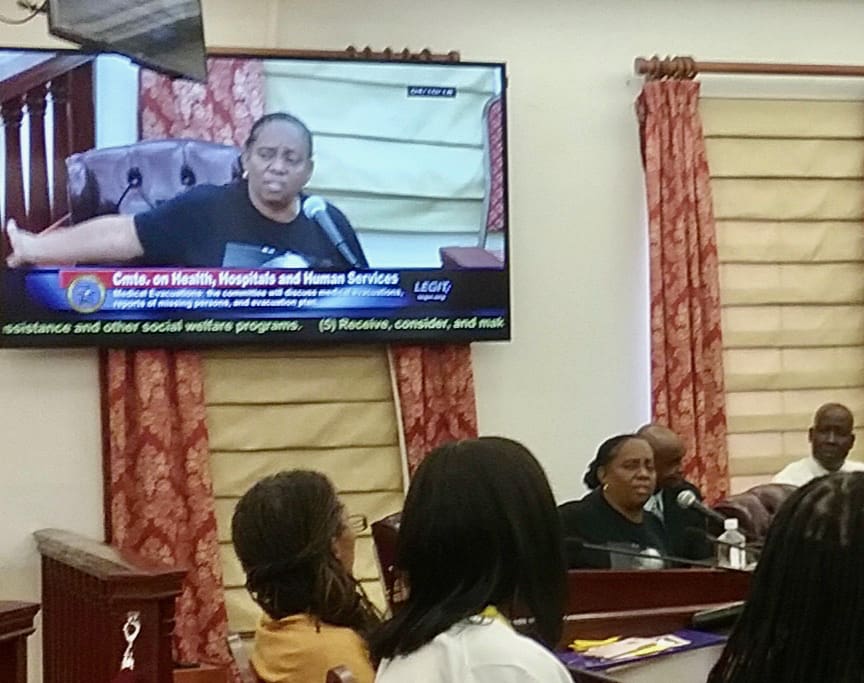 Lawmakers joined health and hospital officials at a Tuesday hearing that took a look at what went wrong with the evacuation of medical patients during last year's hurricane season.
The discussion, which took place in the Earle B. Ottley Legislative Hall on St. Thomas, pointed to multiple failures and a disorganized system of sending patients away and tracking their care while abroad.
Officials from the Department of Health, the Virgin Islands Emergency Management Agency, the Juan F. Luis Memorial Hospital and Schneider Regional Medical Center appeared before the 32nd Legislature's Committee on Health, Hospitals and Human Services.
Over the course of five hours of testimony, they described a system where hundreds of patients were handed off to the military and other federal emergency responders.
"When we went over to the airport, it went over to FEMA. We stopped there. We didn't move forward. They gave us numbers to give to the family members. We lost our patients there," JFL Chief Executive Officer Wanda Rueben said.
After that, testifiers said, they weren't sure what happened next. Further testimony revealed that seven months later, health and hospital leaders are still unclear about the status of the medical evacuees and are not prepared to receive those who make their way back.
In fact, one lawmaker recently returned from a fact-finding trip to Atlanta, and Health Commissioner Michelle Davis said many Virgin Islanders taken off island now say they don't want to come back.
Others, according to lawmakers who have travelled to meet with constituents, couldn't come back even if they wanted to. Homes have been destroyed, emergency cash cards have run out.
Some caregivers have lost jobs while they were away with loved ones. And some patients, according to one health official, are sick with multiple ailments and cannot be properly cared for.
Health Committee Chairman Nereida Rivera-O'Reilly called the Tuesday hearing to reconsider a previous bill that called for creation of a registry for the elderly and the disabled, and to discuss medical evacuations, missing persons and the territory's evacuation plan.
O'Reilly was joined at the hearing by Sens. Sammuel Sanes, Janette Millin Young, Dwayne DeGraff, Novelle Francis and Marvin Blyden. Committee Vice Chairman Kurt Vialet was absent.
To date 796 people have left the Virgin Islands as either medical evacuees requiring extended care or treatments the storm damaged hospital system can no longer provide. That figure includes 48 people serving as caregivers to ailing friends and relatives. According to Davis, V.I. medical evacuees are currently found receiving care in Georgia, Florida, Mississippi, Louisiana, South Carolina and Puerto Rico.
The commissioner also told the committee that figure includes 49 people who died "from causes related to the evacuation," although one member of the committee recently returned from a fact finding trip disputed that figure.
One evacuee is currently on life support, said Sen. Dwayne DeGraff. DeGraff recently returned from a trip to Atlanta. Another, said O'Reilly, may be a St. Thomas man reported missing by his relatives after Hurricane Irma.
The senators were told 112 patients are receiving dialysis treatments, and 536 patients have been released from the emergency health care system, but officials said they cannot account for their whereabouts.
In her testimony, SRMC Chief Nursing Officer Darice Plaskett described some of the challenges facing hospital officials as they began the rapid removal of patients needing hemodialysis and those in need of extended care. Evacuations began Sept. 7, she said, one day after the passage of Hurricane Irma. At the time the windows on the fourth floor medical ward had imploded during the storm and hospital personnel spent the night moving patients to safer areas in the hospital and, later, off island.
Juan Luis Hospital CEO Wanda Reuben said she thought hospital officials lost track of their patients during the handoff to officials from the Department of Defense and the Federal Emergency Management Agency. Once patients left the island it became difficult to tell loved ones where they went or how they were.
These details became public at a time when one lawmaker said displaced patients are now under pressure to return to the V.I.
Plaskett, who testified on behalf of SRMC CEO Bernard Wheatley, gave a similar assessment. She said the medical center's Social Service Division is now increasing its outreach to evacuees as the federal role is winding down.
The nursing chief for the St. Thomas hospital said officials were told once patients were loaded onto aircraft, federal authorities took charge of their welfare.
But, as sometimes painful testimony revealed, it didn't go particularly well. Testifier Ruby Simmonds Esannason offered accounts of 12 evacuees and their harrowing experiences. Some were sent with incomplete medical records printed on pieces of paper that got wet in transit and became unreadable.
Esannason said she attended the hearing to speak on behalf of those who told the stories and some who wanted to come but could not, "the way they were evacuated, the lack of communication by the government to the patients and their families and the general lack of order in this process."
In brief, she called the process "sheer negligence."
Then came testimony from Ruth Correra Chesterfield, who described the last days of her father, an elderly man suffering from Alzheimer's Disease. The day the family prepared him to evacuate, they dressed him in a red shirt because, Chesterfield said, that was his favorite color.
A few days later, and out of concern because little word was reaching her about his condition, the daughter said she went to Puerto Rico to see for herself.
"When I saw my dad in Puerto Rico, he was covered in bed sores. It was unbelievable. Unbelievable. They didn't change his clothes, they didn't give him a bath. Nothing."
By then, she said, her father, who was relatively able despite his Alzheimer's, was lying unresponsive in a hospital bed, breathing with a ventilator.
She added that signs of carelessness and neglect followed him as he passed away. The death certificate had the wrong date. Chesterfield said she knew that because another relative visited him – alive – in the hospital on the date that appeared on the certificate.
The daughter told her story while two relatives sat dabbing tears in the gallery. In one painful recollection, searching for her father's whereabouts in Puerto Rico, Chesterfield heard someone call him a refugee.
"Even though my father spoke Spanish, was born in Vieques, Puerto Rico, my father was treated like an animal by his own people." she said.
Davis at Health was identified as the official in charge of managing medical evacuees.
Midway through the hearing it became clear to lawmakers that leadership was being conducted remotely. O'Reilly has in the past complained that Davis was unresponsive to concerns she passed along from constituents. At the hearing Millin Young raised communication problems of her own, leading to a dispute between the lawmaker and the commissioner.
Millin Young told fellow lawmakers she was discouraged from visiting evacuated patients in Atlanta. She said Davis told her the patients were not animals in a zoo and were not there for viewing.
When it was her turn to speak Davis gave her version of the story. The comment was not directed to Millin Young, she said, but instead referred to unknown statesiders who were dropping in on evacuated patients, unannounced.
Davis added that actions designed to assist evacuees were not getting the attention they should because Davis herself had been ill for a month and was not reporting to work.
Even appearing before the committee was perhaps more stressful than her doctor would recommend, she said.
With that, the health commissioner left the committee room early. On her way out she was asked by a reporter if she felt able to bear the responsibility of assisting medical evacuees or if it would be better to resign or take a medical leave or her own.
"No," she said. "Everyone has health problems."
But it did not seem that everyone with medical problems were getting attention. O'Reilly referred to a young man, reported missing by his family, receiving mental health services. The man's name was not mentioned at the hearing.
At one point, relatives of the missing man were told he was taken off island as an evacuee, O'Reilly said. But when they returned for more information, another hospital official said no.
None of the testifiers representing SRMC could answer the chair's question – Why?
During his turn to pose questions, Francis pointed to an obvious communications breakdown surrounding the evacuees.
"I don't think people in authority here intended for them to leave here and to have them forgotten," he said.
Sanes was less understanding towards explanations of what went wrong. He demanded health officials present a plan to the Senate describing how they will proceed.
"We, as a government have been in existence for decades We should already have a plan," Sanes said. "To not have a plan, there's no excuse for it. By the end of the month I expect – I demand a plan."
Testifiers told lawmakers there was a plan, although parts of it were formulated as recently as February. A medical evacuee task force was formed. Davis had set in place five criteria patients must meet in order to come home and receive continued care.
VITEMA Director Mona Barnes weighed in by way of teleconference. When she meets with local emergency teams on April 19, a new set of protocols will have to go into place.
Prior to the storms, Barnes said, VITEMA worked with checklists telling them what to pay attention to before and after the event. Now, she said, a third checklist should be added, one that tells managers what to pay attention to as the disaster is unfolding, "so that the problems that arose in the last disaster do not come up again."