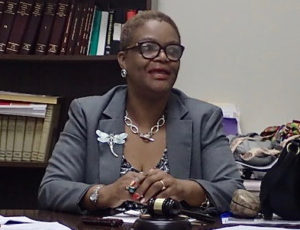 A Superior Court judge is expected to rule on a challenge to laws passed by the Senate last year restructuring the entities that oversee the conduct of elections in the Virgin Islands.
Judge Denise Francois heard testimony and legal arguments over the matter Monday on St. Thomas.
A decision could come by the end of April. Attorney General Claude Walker filed a motion for declaratory judgement on April 11. That motion seeks enforcement of Acts 7982 and 7892. Passed during the 31st Legislature, the acts call for the elimination of two district elections boards and the joint board of elections. In their place the acts seek to establish a single, territory-wide board.
The civil lawsuit accuses members Lilliana Belardo de Oneal, Glenn Webster, Adelbert Bryan, Raymond Williams, Ephiphane Joseph, Lisa Harris-Moorehead, Arturo Watlington Jr., Lydia Hendricks, Carla Joseph, Maurice Donovan Jr., Alecia Wells, Diane Magras-Urena and Ivy Moses of failing to convene as a single elections board by July 31, 2017, as called for by law.
But a private attorney hired to represent elections officials told Francois that 7892 and 7982 are defective. Attorney Julita de Leon pointed to a number of defects in the law, including portions that contradict the Revised Organic Act of 1954.
Because the U.S. Virgin Islands does not have its own constitution, the ROA serves in place of one. Section 20 of the ROA calls for creation of two district elections boards.
At one point deLeon asked former Joint Elections Board Chairwoman Barbara Jackson-McIntosh if she realized lawmakers amended Act 7982 to reinstate district boards. McIntosh was one of three board members testifying at Monday's hearing.
The joint board chairwoman resigned her post April 13. On the witness stand she said she did so because her fellow board members voted to table the agenda until the court ruled on Walker's motion.
Assistant Attorney General Ariel Smith suggested the reinstatement took place to allow for certification of a 2017 special election for a Legislative seat.
De Leon argued that if that were the case, the revised bill would have included a sunset clause, which it does not. The board's lawyer also told the court Acts 7982 and 7892 do not lay out an elections process to fill seats on the single board it calls for.
McIntosh's term on the Board of Elections runs until the end of 2018, but others, like that of testifier Lydia Hendricks, extend into 2020. If the law were enforced in its current state, Hendricks said, it would cut off part of her term.