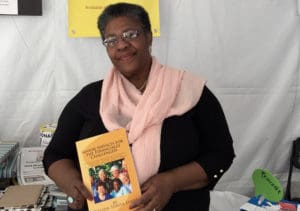 Writer Davida Siwisa James had no idea what to expect when her 87 year-old father asked to move in with her. She had no concept of a caregiver's full responsibilities.
An off and on resident of St. Thomas, James had lived apart from her father most of her life. Nevertheless, she understood that he was beyond the point of living alone.
She and her husband Robelto opened their arms to David "Turk" McNeil, already in the early stages of dementia. They moved him and his abundance of "stuff" across the country from Philadelphia to their home in California's Mojave Desert.
Life with Dad in the house proved tricky.
"People want you to tell them what a joy it is," James said in a telephone interview. "I try to caution them. I try to tell them what they're really getting into as caregivers."
And she wrote a book about it.
"Senior Services for the Financially Challenged," self-published and released on Feb. 27, is available through Amazon and Barnes and Noble. In it, James talks about caregiving and provides information on free social services for low-income seniors, their families, and their caregivers.
She dedicated her book to "caregivers the world over who truly do provide loving, selfless care to those who no longer have the physical or mental capacity to care properly for themselves. Yours is a thankless job. I applaud you answering the call …"
A second dedication goes to her father who, at 93, is alive and kicking in Pasadena.
While the material in the book is public information, James spares readers frustrating groundwork.
"You get turned around, you have to keep asking questions," she said.
James' 110-page book, a roadmap to senior social service programs, is a result of her dogged research. She counsels caregivers to "do the research."
Although she encountered misinformation and public servants who did not know the extent of social services available, James pressed on with relentless inquiries.
She learned that caregivers can sometimes get paid for their work.
She also discovered the Assisted Living Waiver Program, by which Medicaid (Medi-Cal in California) supplements the cost of an assisted living facility or nursing home.
"I was really blown away to discover this," James said. "I just asked an enormous amount of questions."
The waiver program varies from state to state and in the U.S. territory. It may not be offered everywhere.
"Make sure your loved one is Medicaid eligible. If the person needs assistance, Medicaid pays the greater portion of the costs of care and board," James said.
After her father had lived with her for four and a half years, James found a lovely little studio for him. Medicaid supplemented the cost.
Some things she learned the hard way.
"If you move your loved one from one facility, you only have 30 days to re-establish them in another facility or you lose the waiver and have to begin the application all over again," James said.
No one had mentioned this particular waiver rule to James.
As her father's dementia progressed, he required a living arrangement more suitable to his worsening condition. But James had not lined up a new facility, and she lost her Assisted Living Waiver. It took her 15 months to reapply and re-situate her father with assistance from Medicaid.
In "Senior Senior Services for the Financially Challenged," James also covers legal steps, supplemental security income, in-home support services, transportation, long term care, and hospice care. She provides links to websites, offers caregiver resources, and includes a definition of terms.
While James is straightforward in explaining her approach and outlining services available, she also shares snippets about her dad. David "Turk" McNeil, a snappy dresser, tended bar in Harlem and knew all the musicians. He shot the breeze with jazz greats, she said.
Readers see him in 1960 with his girlfriend, a gorgeous Radio City Music Hall Rockette from Cuba, and in 1947 wearing a fancy straw hat, shot glass close at hand. One photo catches him in a velvet skull cap and shades in the African Pavilion at the 1964 World's Fair.
James attributes her appreciation of jazz to her father.
"We lived five blocks from the Apollo, and my friends and I would walk up there. Uncle Honi used to let me sit back stage with his niece," she said. Her father took her to the Apollo, too, but she preferred to go with other teenagers. Those were the days when Aretha Franklin, James Brown, Gladys Knight and the Pips, and Smokey Robinson might all play on the same night.
A Californian now, James was born in Philadelphia. She has lived in New York City, Los Angles and on St. Thomas.
"You know that song called 'I Left My Heart in San Francisco?' Well, my heart will be in St. Thomas always," she said.
James first moved to St. Thomas in 1976. She arrived without a job but within two weeks signed-on with the College of the Virgin Islands, as UVI was called then. She worked in the business office with Malcolm Kirwan and helped build the Reichhold Center. Once it was opened, she ran the box office there.
"The Reichhold began my life in the arts," said James.
She loved those early days on St. Thomas.
"It was a magical place in the '70s; it really was a paradise. Fewer people, fewer cars, only about 30,000 people at the time. A woman could hitchhike at night and never worry," she said.
James said she wept over the damage done by Hurricanes Irma and Maria. With family on St. Thomas and St. Croix, she and her husband sent down 20 boxes of batteries and supplies. Robelto James came for a month to help.
James left St. Thomas in 1978, then returned in 1994 and worked again with the Reichhold Center. In time, she became the public relations director for the university. She freelanced for the Virgin Islands Daily News and wrote fiction.
Her short story, "The Commute", won the Marguerite Cobb McKay Prize in 2001. Published first in The Caribbean Writer, Volume 14, a Pushcart Prize winning edition, the story was reprinted in 2005 in "Seasoning for the Mortar; Virgin Islanders Writing in The Caribbean Writer V 1-15."
Since then, James has written an autobiography ("Imagined Lives"), a memoir with large chunks about life on St. Thomas ("The South Africa of His Heart,") a short story-poetry collection ("Life in Brief") and a play ("Just a Note".)
She has worked in arts management at UCLA and written movie reviews for the Virgin Islands Source.
Now retired, James is the founder and executive director of Wordsmith Productions, a 501c3 arts nonprofit that focuses on literary programs. On April 21 and 22, Wordsmith Productions had a table at the Los Angeles Times Festival of Books, the largest book fair in the country.
"It's a beautiful feeling to be surrounded by people who love the written word," James said.
She hopes to attend the USVI Literary Festival and Book Fair in 2019.