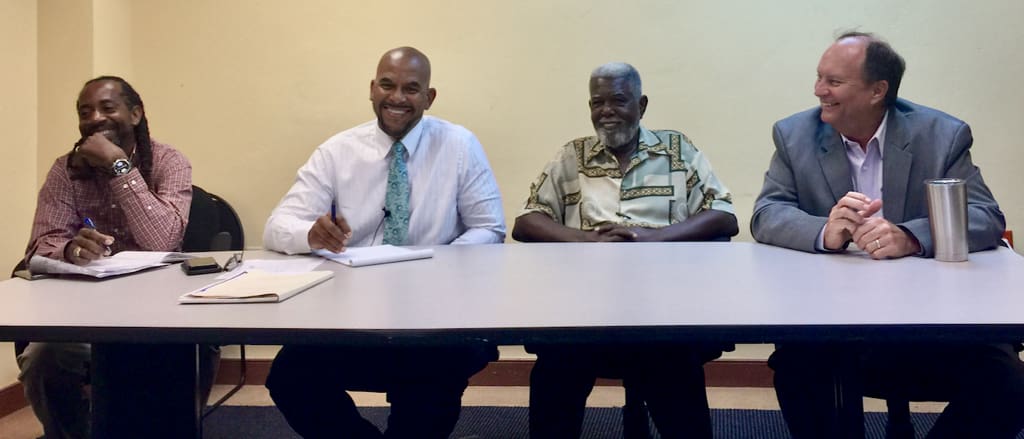 Officials from the Department of Public works fielded questions Monday evening from the St. Thomas community about road reconstruction and safety in light of the approaching hurricane season and influx of federal funding earmarked for road repairs.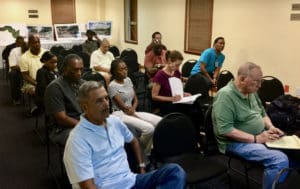 DPW Commissioner Nelson Petty, Jr. led the town hall at the West Indian Company Ltd.'s conference room in Yacht Haven, encouraging the 15 attendees to ask questions about their community's roads and to provide constructive criticism about how his department could improve.
Since Gov. Kenneth Mapp announced that the territory would have access to $1.2 billion to overhaul all of the territory's main roads over the next three to five years, many questions have surfaced about when repair projects would begin and how long they will take to complete. According the DPW, the first phase of that process is already underway, backed by $530 million recently approved by a range of federal agencies.
Alan Feming, a resident of St. Thomas, expressed concern over how narrow streets are in the lower part of Estate Solberg down towards Western Cemetery. He said it makes it difficult for waste haulers and emergency services to access the area. It's also nearly impossible for him to give directions, he said, since two-way streets become one ways when cars park on the road shoulder.
Petty said his department would look into the issue to see if the road could be widened in the future or if street parking should be restricted.
Another resident, who lives on Scott Free Road, asked when the run down, pothole ridden street would be fixed. Petty responded that his department is doing construction on a bridge that nearly collapsed on that road and that the rest of the repairs will be completed in phases.
Federal Highway Program Manager Jomo McClean said that after the bridge is completed the second phase of the project will go to bid in the fall.
A couple attendees also asked about when the rest of the territory's streetlights will be fixed. Petty explained that a number of areas on the U.S. mainland and in U.S. territories are currently in need of streetlight infrastructure, so it's taking several months for orders to be filled. In the meantime, undamaged lights have been taken from local intersections to be used in areas that receive more traffic.
McClean said that infrastructure ordered in January should be delivered in June or July, so the territory should expect to see more functioning streetlights this summer.
"The congressional act afforded us the opportunity to rebuild – we're using the opportunity to rebuild stronger and more resistant," Petty said, explaining that a good part of the funding for road repair comes from funds approved by the U.S. Congress.
Petty said that drivers should expect to see more signage going up and drainages being cleared in the coming months. He added that the washed out section of road near the "pink whale" sign and St. Peter Great House and Botanical Gardens would soon go to bid, in addition to parts of the main roads that go through Estates Mandahl and Fortuna.
Using funding from the Natural Resources Conservation Service Emergency Watershed Protection Program, Petty said, 28 drainage areas, including guts, would start getting cleared in the coming weeks in preparation for hurricane season.
To address recurring pothole issues in main intersections such as Nisky Center, McClean said the roads would be reconstructed with concrete instead of asphalt and that drainage issues would be addressed.
William F. McComb, a project manager with construction engineering firm CDR Maguire, Inc., recommended that DPW use the most updated stormwater runoff data for each area in the territory. He said the National Oceanic and Atmospheric Administration put out new stormwater data about five years ago that can aide with road construction, citing the bumpy road that runs around Gallow's Bay as a prime example of an area that could benefit from such data.
Other questions were raised about seemingly stalled construction projects. Petty and Roan Creque, assistant commissioner of DPW, admitted that many local contractors had taken on more projects than they had manpower for after the storms. In an effort to get larger road projects completed in a timely fashion, Petty said his department would aim to attract larger contractors in the future by putting $20 to $30 million projects up for bid instead of typical projects which are usually around $5 or $6 million.
After answering questions from residents, Petty spotlighted upcoming projects that are central to what he called "the revitalization of downtown Charlotte Amalie."
Started in January of this year, Petty said the Main Street project will be completed in the summer of 2019. He said crews are working at night to replace the wastewater systems and put power lines underground.
According to Petty, the Veteran's Drive project will be completed in about five years with the first phase, which runs between the Lucinda Millen Home and the Legislature Building, expecting completion in three years. In addition to the waterfront road being expanded to two lanes in both directions, the pedestrian experience will be improved by incorporating trees for shade and better sidewalks.
Dennis Chance, DPW's deputy commissioner of transportation, said the territory would also be making significant investments in public transit to include a new website that updates bus arrivals in real time and the construction of modernized bus shelters.
Following the twin hurricanes of September, the government assessed all 1,273 miles of public roadway throughout the territory, but discovered there was no criteria or specs laid out in the law about how to construct or repair them. Putting their heads together in December, Public Works and Federal Emergency Management Agency top brass designated all roads be constructed according to federal Transportation Department standards, which includes putting in the proper foundations, drainage, widths, striping, reflectors, signaling and crosswalks, among other things.
"For the first time we know what our infrastructure looks like and what it needs and the full scope of work it will take to repair it," Petty stated.
From that assessment, it will cost: $330 million to bring 353 miles of public roads on St. Thomas up to standard, $87 million for 124 miles of roadway on St. John, $8 million for 11 miles of road on Water Island and $706 million for 785 miles on St. Croix. Overall, the total is $1.2 billion. Gov. Mapp has said the first phase includes:
St. Croix
Queen Mary Highway
South Shore Road
North Shore Road and Salt River Road
East End Road
St. Thomas
Bordeaux to UVI
Frenchman's Bay and Bolongo Bay
St. Peter Mountain Road and Skyline Drive
Hull Bay Road
Mandahl Road
St. John
Entire Centerline Road
All of the 11 miles on Water Island will be done as single project.
Of the $530 million set aside for the first phase, $100 million in Garvee bond proceeds already authorized and pledged for road projects will be used, along with: $80 million from FEMA's Public Assistance Program, $100 million from FEMA's Hazard Mitigation Grant Program, $40 million from the Federal Highway Emergency Road Repair Program, $205 million in Housing and Urban Development Community Development Block Grant Disaster Recovery (CDBG-DR) funding, and $5 million approved from the Department of Interior.