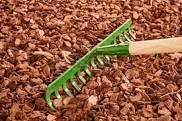 Chipped vegetative hurricane debris is now available for pick-up in the Estate Bordeaux farming community, just north of the bus turnaround, on St. Thomas. Mulch can be picked up from 9 a.m. to 3:30 p.m., Monday through Friday, beginning Monday, June 1, until the supply is exhausted, according to the V.I. Department of Agriculture.
Residents must bring their own truck, shovels and other necessary equipment for pick-up. A release of liability must also be signed before mulch collection.
Residents are advised that the location for mulch distribution on St. John has moved to the Department of Agriculture in Coral Bay. Mulch will be distributed from 8:30 a.m. to 4:30 p.m., Monday through Friday, starting Wednesday, June 6.
Commissioner Carlos Robles will soon provide Information on the availability of chipped vegetative hurricane debris on St. Croix.
For more information, contact Raymond Thomas at 423-9022 on St. John or Manley James at 423-9021 on St. Thomas.