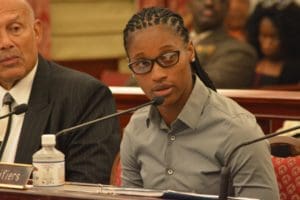 Decisions on who gets what from an estate when the owner dies are made in in the Probate Division of the V. I. Superior Court. The decisions don't take forever. It just seems that way sometimes.
Sen. Janelle Sarauw said she "stumbled" on problems in Probate shortly after she assumed office last year. Speaking Saturday at a town hall meeting sponsored by her office and the V.I. Bar Association concerning the probate process, she said her team had come up with an economic plan but could not execute it because "everything was in probate."
Her first response was to draw up a bill she thought could streamline the process. She heard from the V.I. Bar Association and felt compelled to get more public opinion, hence the town hall in the Capital Building in Charlotte Amalie.
Five attorneys gave an overview of the probate process and tips on how a resident can make the process run smoother.
"Not enough people are aware of how important probate is," said panelist Richard Bourne Vanneck.
However, many residents learned how important having a clear deed to their home was in the aftermath of last year's hurricanes. More than 1,000 residents ran into problems trying to get emergency assistance from federal agencies because they could not prove home ownership.
Attorney Carol Rich said a temporary solution was arranged to get help for those families, but it was just temporary and she urged residents who did not have clear deeds to go through the probate process "to get control of their property."
She said, if a person does not have a clear title, they cannot use the property as collateral for loans.
Attorney David Bornn said "one of the big reasons" why old property was not probated was "money." But he warned the longer one waits, the more complicated and more expensive the process gets.
"It takes money to probate," he said.
One way to pay for the probate is to sell some property from the estate. Probate does not just cover property; it covers other valuables such as jewelry and automobiles.
Bornn gave an example of where the process can be improved. He said every estate over $500 now has to go through the probate process. He said a person could die and leave an automobile to a relative and it take two years for the probate to run its course, in the driveway the car sits, and by that time the automobile no longer runs. He said making the requirement for a probate process higher than $500 was a section of the code "ripe for action."
Probate petitions can take four different forms. Some processes are simpler than others. Which process is necessary depends on factors such as: did the decedent leave a will, are all the parties involved residents of the Virgin Islands, and are debts involved. Checklists on what petition would be necessary in a specific case are available on the Superior Court's website.
Panelist Aliya Charley said the code concerning probate was "antiquated," but residents still needed to go through the process. She said she could understand how some people could "feel defeated before they even start."
The panelists said people making wills should make sure that someone knows where that will is. Wills can be filed with Clerk of the Court.
Charley gave a breakdown of the probate process. She listed four steps:
1 – File a petition with the court.
2 – Send a notice and inventory to all parties. It is an itemized list of all things owned by the deceased.
3 – Payment of expenses. This step includes paying for all expenditures concerning the property.
4 – Distribution of assets or putting everything in the hands of the rightful owner.
Panelist Steven Hardy said, "It is essential that probate involves identifying people involved in the property."
Bourne Vanneck said he would not have the process streamlined to the point he might hear someone say, "They got this done and I lost my inheritance."
He also referred to the problem of there being so many heirs to one property that no consensus could be found and nothing could be done with the property. For example, if the parents die and leave a property to five children and one of them dies and has five children those five grandchildren also become heirs. If another heir dies and also has five children you have another five heirs (the total quickly becomes 13 heirs).
Bourne Vanneck said that it not uncommon to have 100 people with interest in a single property. He pointed to St. John and said, "This is some of the most valuable land in the Virgin Islands. And much of it is unsaleable because of the fractionalized ownership."
An attorney in the audience said that was also a problem that resulted in so many rundown and unused buildings in Frederiksted and Christiansted. He suggested that the government charge much higher taxes for buildings not being utilized.
"This will show the people you are serious." If the taxes were not paid the government could take ownership."