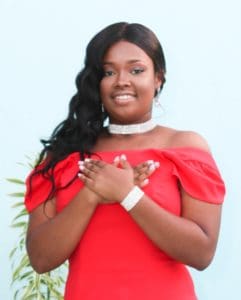 Intelligent, shy and polite are three words that describe this year's Belle of the Ball, Ketura Harrigan, a 17-year-old honor student who is graduating 15th in her class from Charlotte Amalie High School. She became the seventh graduating senior within the past four years to win the title.
She was chosen from 15 applications submitted by students from St. Thomas and St. John. Harrigan's impressive essay, her dedication to her studies and involvement in extracurricular activities made her stand out as a well-rounded candidate.
Former Miss Virgin Islanders, Aniska Tonge and Taiesa Lashley, are passionate about service and worked diligently with sponsors to make this year's Belle of the Ball prom experience magical.
Once selected, Harrigan was gifted a designer dress and accessories sponsored by Tonge and Ashley. A day prior to prom, she enjoyed a manicure sponsored by a manicurist. Usual sponsor Bolongo Bay Beach Resort was unable to assist because of damages from the hurricanes. Tonge and Ashley knew that a huge part of the experience is being able to relax and be pampered prior to prom, so after calling multiple resorts, they were able to book a room at Pavilion and Pools, where Harrigan was able get ready for her magical evening.
After she was pampered by makeup artist Johanna Johnson and stylist Christie Brooks, sponsor Cliff Franklin of Precious Moments Photography took stunning photos of her. Then a limousine, sponsored by Presidential Limousine Service of VI, whisked her away.
The 4Her Foundation navigates young women through life by providing the tools necessary for positive progression academically, socially and personally. It is the foundation's belief that if the right traits are nurtured, genuine love of self will follow. From scholarships to community service, fostering healthy relationships and serving as a gateway out of bad ones, 4Her Foundation also serves as a liaison to services for domestic and/or relationship abuse and suicide prevention.
If anyone is interested in assisting in any future projects, email founder Aniska Tonge at [email protected]
VI Pageantry is not limited to solely pageantry and seeks to leave a mark on the community through several other initiatives such as Project We Care VI and Operation Uplift. Visit their official FaceBook page at www.facebook.com/VirginIslandsPageantry to keep up with projects and royal ambassadors.
If interested in assisting with any projects, email Taiesa Lashley at [email protected].