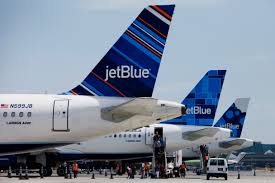 JetBlue has announced a collaborative initiative between the JetBlue Foundation and the Organization of Black Aerospace Professionals (OBAP) to introduce aviation careers to students traditionally under-represented in the field. This summer both organizations are working together to increase awareness of aviation-related careers through hands-on learning for minority students and girls, ages 14-18.
Students will learn directly from pilots and other aviation professionals at JetBlue's airports, hangars and flight training centers in Boston, Mass.; Fort Lauderdale, Fla., Long Beach/Los Angeles, Calif.; New York, N.Y.; Orlando, Fla.; San Juan, Puerto Rico; and the U.S. Virgin Islands.
OBAP has facilitated the Aviation Career Education (ACE Academy) program for several years. With the help of a grant from the JetBlue Foundation, OBAP is able to bring the program to additional cities this year, introducing even more students to careers above and below the wing and in the airline's support centers.
Nearly 200 students across JetBlue's six focus cities and the U.S. Virgin Islands will be introduced to aviation. JetBlue pilots volunteer their time to coordinate these initiatives. In fact, many of the pilot coordinators and advisors were once students in ACE Academy initiatives and credit the program as the spark that ignited their interest in aviation.
"Many students are often discouraged from even dreaming about careers in the cockpit," said Eric Poole, assistant chief pilot at JetBlue and director of the JetBlue Foundation/OBAP ACE Academy initiative. "The key is access. OBAP and the JetBlue Foundation are working hard to increase access by introducing aviation to students, starting with a strong STEM base, as early as possible. We're trying to add diversity to the future talent pipeline."
The JetBlue Foundation is a STEM (science, technology, engineering and math) education-focused entity that furthers its efforts to place aviation top-of-mind as a career choice for students. OBAP is a nonprofit organization dedicated to the encouragement and advancement of minorities in all aviation and aerospace careers. The JetBlue Foundation and OBAP are both committed to developing the next generation of aviators and doing their part to help diversify the aviation field.
According to the Bureau of Labor Statistics, currently 93 percent of aircraft pilots and flight engineers are white, and African-Americans only make up three percent of airline pilots. Yet African-Americans account for 13 percent of the U.S. population. Additionally, only seven percent of U.S. pilots are women, per Women in Aviation International and FAA's Civil Airmen Statistics. The JetBlue Foundation's mission is to introduce students from traditionally underserved communities to STEM and aviation and help increase these numbers.
"We are excited to have the sponsorship of JetBlue and the JetBlue Foundation," said Carl Osborne, National ACE Program Director, OBAP. "The collaboration with JetBlue in the Caribbean is significant. The San Juan ACE Academy is being held at Inter-American University School of Aeronautics where students will be exposed to the college environment throughout the week. Over the years there [have] been several ACE students who have matriculated to university here. In addition to the JetBlue Gateway program at Inter-American, OBAP's ACE Academy is a natural pipeline to exposure and careers in aerospace and aviation. We are thrilled for the growth of this program."
The JetBlue Foundation/OBAP ACE Academy schedule includes:
● New York, July 9 – 13, 2018
● Orlando, Fla., July 9 – 13, 2018
● Fort Lauderdale, Fla., July 9 – 11, 2018
● San Juan, Puerto Rico, July 9 – 13, 2018
● St. Croix, U.S. Virgin Islands, July 9– 13, 2018
● Boston, July 23 – 26, 2018
● Long Beach/Los Angeles, July 23-26, 2018
Each ACE Academy includes a curriculum complete with:
● Presentations by aviation pioneers such as those from the Tuskegee Airman Experience, and aviation professionals from a wide range of industry careers and airlines
● Special field trips with hands-on flight training from pilots and aviation professionals, certified FAA Flight Instructors and more
● A program completely run by pilots and other volunteers
Admission is offered to high school students, ages 14-18 years old who have an interest in learning about aviation. Applicants are competitively ranked based on cumulative GPA and an essay portion.
For more information, interested organizations can visit www.jetbluefoundation.org/grants. Grant recipients in Puerto Rico will be announced in fall 2018.
Later this summer, JetBlue will serve as a sponsor of the Pioneers Breakfast and Recruiting Fair being held at OBAP's 42nd Annual Convention & Career Expo in Houston, TX. For more information on OBAP, visit OBAP.org.
Beyond just grants, the JetBlue Foundation provides in-kind support, mentoring, internships and much more to make a difference for the next generation of aviators, engineers, dispatchers, schedulers, aircraft mechanics and pilots.
Over the past five years, the Foundation has built ongoing relationships with nearly 40 aviation and STEM-focused programs and provided more than $750,000 in grants to help these programs take off and soar.
The JetBlue Foundation is currently accepting applications for the next round of grants. For grant criteria or to submit an application, go to www.jetbluefoundation.org. Visit the site for more information.