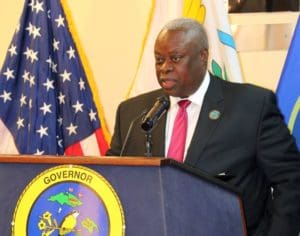 While correcting what he called "misinformation" that has been circulating about the government's partnership with ArcLight Capital and Limetree Bay Terminals, Gov. Kenneth Mapp announced Monday that a portion of the revenues from the agreement would be put toward salary increases for government employees.
At a press conference on St. Thomas, Mapp announced that he had signed an executive order, which goes into effect Aug. 1, that raises the minimum wage of all executive branch employees to $13 per hour and increases the base salaries of several groups of government employees in an attempt to keep pace with the current cost of living and to boost recruitment efforts.
Most notably, the governor spoke about bumping the starting salary for teachers up to $44,000, which some local American Federation of Teachers officials said is the same as what is offered to veteran educators with at least eight years of experience.
To remedy that, Mapp said Monday those situations will be remedied in upcoming collective bargaining negotiations. Otherwise, current employees making below the new base salary levels will be automatically moved up, he said.
According to Mapp:
– Starting Fire Services recruits will enter with a salary of $33,000, moving up to $38,000 after completion of a probationary period. Firefighters below the rank of captain who complete and maintain an EMS certification get a $4,500 salary addition and $500 stipend to maintain their EMT bag;
– Base salary for Bureau of Corrections cadets will move to $35,000, then to $40,000 after a probationary period is completed. The additional $4,500 increase for EMT certification also applies, along with the $500 stipend;
– Registered EMT recruits will start at $35,159, intermediate recruits at $37,100 and paramedics at $41,140;
– Health Department environmental officers will start at $37,100;
– Planning and Natural Resources environmental officers will start at $33,000 as recruits then move up to $38,000 after a probationary period is completed;
– DLCA environmental officers will start at $33,000, then move up to $38,000 when a probationary period is completed;
– VIPD recruits will make $35,000 during their probationary period and $40,900 after completion;
– The Social Worker I position under Human Services will begin at $45,000 followed by $49,455 for Social Worker II, $54,183 for Social Worker III and $57,395 for Social Worker IV.
Meanwhile, the governor added that the minimum wage in the public sector hasn't increased in more than 10 years, while private sector employees have had theirs bumped up to $10.50 per hour. The wage increase outlined in Monday's executive order will bring the hourly pay for government workers to $13 per hour, or $27,040 per year.
Funding the increases is a portion of anticipated refinery revenues and sustained, Mapp said, through the corresponding economic growth that comes from restarting the refinery. The goal is to be "churning" product out by 2020, and Mapp said that as work on the facility ready ramps up, an anticipated 1,400 construction and 700 permanent jobs that will be created.
"We want to be very clear that our work with ArcLight Capital is one of a continued agreement to generate significant revenues to the government, generate jobs and economic activity to the public and to generate an environment where people can go into business and have those businesses supported by the operations of the Limetree Bay refinery and storage terminal facility," Mapp said.
With that end goal in mind, the governor disparaged what he said were remarks recently made by two senators about the lack of taxes expected to be paid by the refinery. Describing the agreement with ArcLight and Limetree as "no different" than any other tax exemptions given to businesses coming into the territory, Mapp also explained that in its entire relationship with the V.I. government, taxes remitted by the refinery's former owners over more than 30 years amounted to a "mere" $331 million.
During that time, Hovensa – a joint venture between Hess Corporation and Petroleos de Venezuela – generated 615 barrels of oil per day, and generally paid $14 million per year in lieu of taxes.
"Hovensa's relationship with the government was a taxing relationship," Mapp said. "Only when the refinery made a profit was the government able to collect corporate taxes on those profits."
In contrast, he said, the current agreement with ArcLight is a revenue sharing one that is expected to yield $40 million alone in base payments for the terminal's storage facility, along with a potential $70 million a year in refinery revenues. A portion of the revenue will also be pumped into the Government Employees Retirement System, adding another five years of solvency.