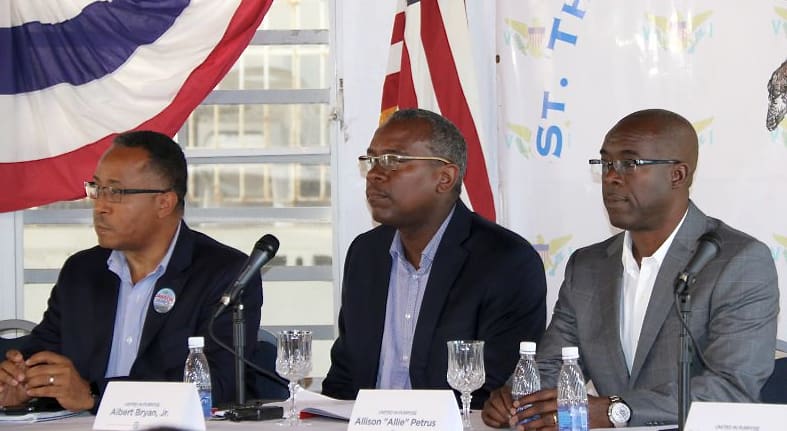 Pledging support for party unity and a new "decade of prosperity," former political rivals Angel Dawson, Jr. and Allison "Allie" Petrus rallied Wednesday around the new Democratic nominee for governor and encouraged voters throughout the territory to do the same.
"Because we believe in a better tomorrow, we are now officially 'all in' to 'change course now,'" said Petrus, echoing the slogan of Albert Bryan, Jr. and Tregenza Roach, who are still leading the pack in the gubernatorial race according to the unofficial primary election results.
According to Petrus, who spoke to voters and the media at a news conference on St. Thomas, having the three teams join together will achieve one collective result: to push the Virgin Islands in a better direction.
"In the last presidential campaign, Bernie Sanders (I-Vt.) lost and people were emotionally hurt," Petrus said. "And a lot of them stayed home, didn't vote and because of that, today we have Trump."
On the national scale, the impact will be felt with the president's nomination of potentially three U.S. Supreme Court justices. At stake in the Virgin Islands, "it is basically our life we'll be dealing with," Petrus said.
"It is that important, it is that grave," he added. "The bigger picture here is how we move the Virgin Islands forward and, unequivocally, I know the people that he (Bryan) is competing against, they are not good for the Virgin Islands. I'm asking people who supported me, who supported Dawson, to come out and participate. Don't stay at home."
Sharing similar sentiments, Dawson later praised Bryan and his campaign and likened the three teams to those of former governors Melvin Evans, Cyril E. King and Alexander Farrelly, who faced each other in the political arena in 1970. Each subsequently had the chance to serve, and Dawson said the trio's continued support for one another helped bring about years of change throughout the territory.
"Losing isn't easy, but I have to say, if I had to lose to anyone, you are the man to have lost to," Dawson said to Bryan. "We truly believe in a better tomorrow, and we truly believe you and Tregenza will bring us that better tomorrow."
Bryan, too, pledged his commitment to bringing about change and asked voters in the room to, over the course of his team's toward the Nov. 6 general election to remember one word: historic.
Along with working with his opponents to unify the party – which several speakers said hasn't been done in decades – Bryan said his camp is also going "to do what we say we're going to do, and complete the things we say we're going to do." That includes upholding promises for equal rights, be the voters' "voice for change" and respect the voice of younger generations, who he said would be given a chance to lead.
Discrimating against voters who didn't support his campaign would also be a thing of the past, Bryan said.
"We can all disagree without fighting because it's OK to disagree," he said. "We don't have to be angry with one another. You don't have to be discriminatory because someone didn't support you. None of us work for a governor, we work for the people of the Virgin Islands."