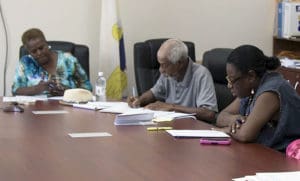 Try as they might Monday, V.I. Joint Board of Elections members couldn't pull off a final certification of the Aug. 4 primary. With nine members attending a tele-conferenced meeting at both district headquarters and eight needed to certify, the board still came up a signature short after St. Croix members Adelbert Bryan and Jevon Williams walked out the room.
Joint Board chair Arturo Watlington, Jr. said there is still some time available: by law, the board has up to 10 days after the final votes – including mail-in absentee ballots, which came in Aug. 14 – are counted to certify an election. A majority of members, in this case eight, are required to certify and as of Monday night, that hadn't happened.
According to board members, the bone of contention for Bryan is the denial of a residency challenge against St. Croix Senate candidate Allison DeGazon, who is currently the second highest vote getter in her district. The challenge filed against DeGazon centers on a business she owns based in Georgia, and questions, according to residency guidelines in the V.I. Code, her presence in the territory for the past three years.
While Elections Supervisor Caroline Fawkes laid out in a letter last week how DeGazon has satisfied local residency requirements – including filing tax returns from 2013-2017 – Bryan has argued that questions remain. In her letter, Fawkes added that DeGazon was up front about her business, and provided the license, issued by the V.I. Licensing and Consumer Affairs Department.
Attorney General Calude Walker on Monday issued a statement saying the challenge lacked merit. (See Related Links, below.)
With Bryan and Williams out, St. Croix members certifying the primary election documents Monday were Raymond Williams, Glenn Webster and Lisa Harris-Moorhead. Signing on St. Thomas were Watlington, Robert "Max" Schanfarber, Alecia Wells and Lydia Hendricks.
Speaking over the phone Monday night, Watlington said part of the challenge of convening as a joint territorial board is operating between districts. With some members off island and others not voting, Watlington said the election was not completely certified Monday, but that he "has no doubt" it will be by the deadline.