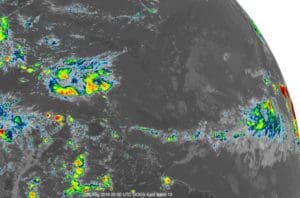 St. Thomas and St. John were under a flood advisory for much of Thursday, and some weather systems raise flags for upcoming weeks as the hurricane season enters its most dangerous month.
Local weather conditions are being influenced by a tropical wave that is currently over the Virgin Islands, Puerto Rico and Hispaniola. Satellite photos indicate quite a bit of shower and thundershower activity associated with this wave. Immediate tropical development remains extremely unlikely as the wave is being impact by strong wind shear.
A flood advisory for St. Thomas and St. John ended at 3:45 p.m. but moderate to locally heavy rainfall will continue to affect the northern Virgin Islands. Rainfall totals are around two inches so far and more rain is expected.
Storm system development in the eastern tropical Atlantic continues to be a strong possibility over this weekend, with additional development by late next week. There are a few weather systems of concern.
The first is a strong tropical wave that is located over western Africa. The National Hurricane Center forecasts it will almost certainly become a cyclone but will not affect the USVI. It should push off the African coast by Friday, and environmental conditions are favorable for the development of a tropical depression or a tropical storm sometime this weekend, once the system nears the Cape Verde Islands.
Most of the forecast models call for significant intensification, yet they all agree in forecasting the system to move to the north and out into the open Atlantic somewhere between 40 and 50 degrees West by one week from today. Given how far north this wave will be when it pushes off the African coast, there is certainty that it will curve safely into open Atlantic waters.
The system that requires a closer look is a second tropical wave forecast to push off the African coast around Tuesday or Wednesday of next week. This wave may wait to develop, and may be able to push fairly far to the west and closer to the Caribbean islands, based on information from several sources, including the Weather Channel, National Hurricane Center and Crown Weather Services.
A third tropical wave is forecast, by at least one model, to emerge from the African coast around Sept 7 or 8. It may also have the potential to push fairly far to the west and closer to the major land areas in the eastern Caribbean. There will be significant time to closely monitor the behavior of these tropical weather systems.
Finally, while the tropical wave currently over the Lesser Antilles is showing some increase in shower and thundershower activity, immediate tropical development is extremely unlikely due to high levels of wind shear. This system is of greater concern to either the Bahamas this weekend or the Gulf of Mexico during the first half of next week as conditions in there are more favorable for tropical storm development. This wave could bring showers and gusty winds to the Virgin Islands area late tonight, Thursday, and Friday.
So far, August has had less cyclone activity than average, thanks to persistent wind shear. But shear is forecast to decrease in the weeks ahead, leaving open the possibility for more powerful storms.