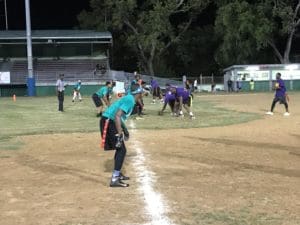 The final week of the men's flag football regular summer season concluded Saturday night with the Canes coming out victorious in the first game and the Sharks completing their domination of the season with a perfect record.
The Canes were able to hang on late to secure a .500 record for the regular season with a 22-18 victory and dropped the Dynasty to 0-6.
The Canes got on the board early in the second quarter, taking advantage of the field position gained by a Tristan Benjamin interception, when Jmoi Gibbs ran in his first touchdown of the game.
They extended their lead to 14 before halftime when quarterback Sebastian Silva found Ryean Dowling in the end zone.
Gibbs ran for his second touchdown of the game on the first possession of the half to make the score 22-0.
The Dynasty came roaring back in the second half with three straight touchdowns, only to see their valiant effort come up just short in a 22-18 defeat.
In the second game of the evening, the Archers got on the board quickly when Shaquille Richardson picked off a pass and ran it 40 yards for a touchdown in the first quarter.
Cursim Hansen found Julio Hodge for two straight touchdowns to give the Sharks a 12-8 halftime lead.
Julian West came up with a critical sack on the last play of the first half after the Archers drove the length of the field to keep a slim halftime lead.
The Sharks were able to extend their lead by six after Lon Garfield found Corey Hodge in the end zone for a 15 yard touchdown.
The game's last score was a play that the Sharks strung together from multiple laterals to round off their 24-8 victory.
The playoffs will begin on Saturday, Sept. 8 when the Sharks (6-0) take on the Dynasty (0-6). The Canes (3-3) and Archers (3-3) will face off in the other semifinal match up.