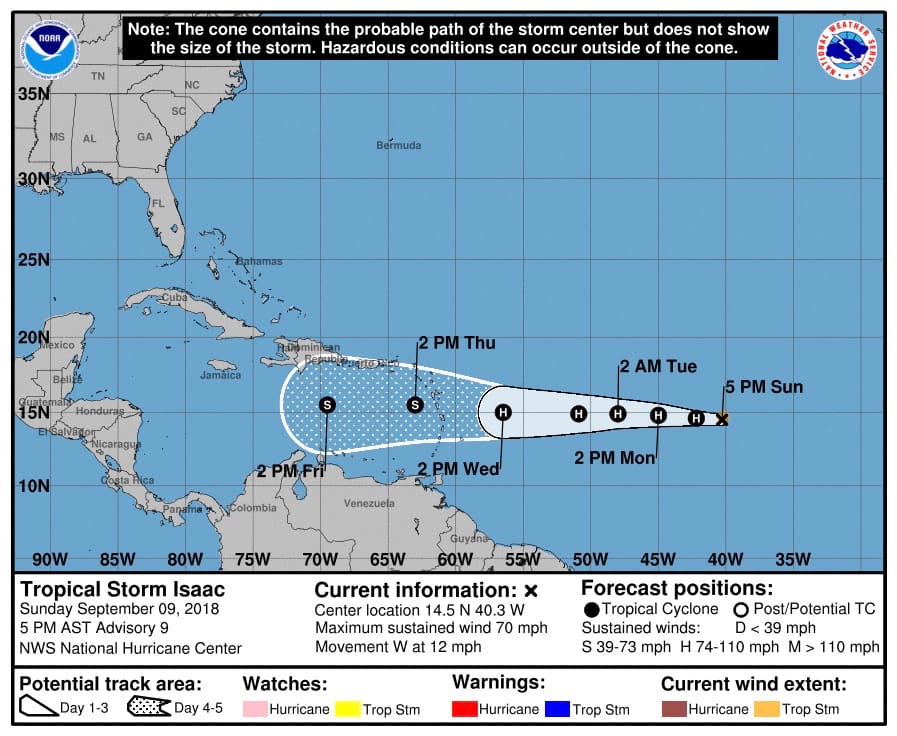 Tropical Storm Isaac is nearing hurricane strength and is on a track that will bring it into the Caribbean, with its closest pass to the USVI expected to be 144 miles south of St. Croix on Thursday night.
According to the National Hurricane Center's 5 p.m. Sunday update, the storm has picked up power and speed, tracking west at 12 miles per hour.
At its closest approach to the territory, it is expected to be a tropical storm with top winds of 65 miles an hour.
Isaac could be upgraded to a hurricane tonight, but some weakening of the system is expected to take shape by mid-week. Tropical storm force winds extend outward up to 45 miles from the center.
Isaac is a "tiny tropical cyclone," the NHC said, and that size couple with an environment of low shear and warm sea surface temperatures, could lead to rapid development over the next 36 to48 hours.
However, the NHC the cyclone's tiny size will likely also be to its detriment after 48 hours when northwesterly vertical shear is expected to develop.
While Isaac is forecast to begin weakening by Tuesday as it approaches the Lesser Antilles, it is still expected to be at or near hurricane intensity when it reaches the islands, and the uncertainty in the intensity forecast is higher than usual. Interests in the Lesser Antilles should continue to monitor Isaac during the next few days, the NHC said.