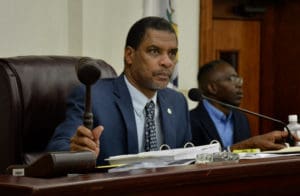 The Finance Committee addressed 28 budget bills Wednesday, sending forward an array of appropriations and bills transferring money from one fund to another, codifying Fiscal Year 2019 budgets for executive agencies and semi-autonomous entities like the University of the Virgin Islands.
Gov. Kenneth Mapp presented the budget in late May and agencies and departments have been appearing before the Finance Committee all summer.
The bills go to the Rule and Judiciary Committee Thursday and Friday of this week before final votes in legislative session. The actions mark the final stages of the budget process.
Completing the budget bills marks a return to normalcy, after the hurricanes interrupted the budget process last fall.
Finance Committee Chair Kurt Vialet (D-STX), said the senators engaged in the markup, a line by line review of each measure, on Monday. Those budgetary decisions were done behind closed doors without public notice, although V.I. law requires that "(a)ll meetings of a governmental agency or of a subdivision thereof authorized to take action on behalf of the agency shall be open to the public."
"When you look at the final numbers you will see we are a bit below what was recommended by Government House," Vialet said. The senators cut funding for vacant positions, he said.
"A lot of those vacancies we reduced by 25 percent," he said.
The budget year starts Oct. 1 and if vacancies remain empty until Jan. 1, that time frame represents a quarter of the fiscal year, so agencies should still be able to fill vacancies, Vialet said.
Sen. Novelle Francis (S-STX) said he supported cutting the budget based on vacancies because in previous years funds allocated for that were misused or redirected to other areas by the departments.
"By eliminating funds for vacancies, it will hold each agency accountable for monies expended," Francis said.
In addition to addressing vacancies, lawmakers took an in-depth review of miscellaneous funds, capital outlays and financial challenges affecting the government. Sen. Marvin Blyden (D-STT) said.
"Although the government has debt, collections for outstanding accounts has improved overall," he said.
One of the bills sent Wednesday appropriates $19 million to help pay past-due employer contributions to the Government Employee Retirement System and to start paying increased employer contributions.
"We don't believe at this juncture it is wise to continue to give the retirement system more money without paying down the debt we owe the system," Vialet said. The government currently owes about $36 million, he said.
The budget bills were not available online Wednesday and it was unclear if they include funding for recently promised government pay raises that have already taken effect.
As initially presented in May, Mapp's FY 2019 budget proposed total spending of $1.28 billion. That included $851.34 million in local funds and $238.66 million in federal funds.
That was about $6.5 million more than Mapp's FY 2018 budget, which totaled $1.22 billion with $1.03 billion in local funds and $196.5 million in federal grant funds.
The largest item is the Education Department, which has a $172.7 million budget for fiscal year 2019, almost $150 million of which is for wages, employee taxes and benefits.. With another $32 million in federal funds and a bit more from various other sources, the schools were budgeted at $207.1 million; down about $5 million from FY 2017 but virtually unchanged from FY 2018. Final numbers will be somewhat different from this initial proposal, with the Legislature's markup and at some point, the impact of pay raises at the government agency with the most employees.
Waste Management is getting $25.4 million from the government's General Fund – several million more than the $21.4 million in the proposed budget. WMA also anticipates funding from several other sources, including its own fees.
The Mapp administration has touted some good budget news due to revenues from post-storm reconstruction, a slight increase in federal rum taxes and hopes for a restarted refinery on St. Croix. But agencies painted an often bleaker picture during this summer's budget hearings.
For example, WMA officials told senators they did not have enough funding to fulfill their mission and owed $16 million to vendors and major contractors for trash hauling and sewage treatment. They said they could use an additional $40 million.
Labor Department officials said they owe millions of dollars in workmen's compensation payments and are short-staffed.
Both hospitals testified to severe financial woes and each owes more than $10 million in past-due bills to the Water and Power Authority. Schneider Regional Medical Center's chief executive officer said the proposed budget leaves it with a $4.5 million shortfall.
The government as a whole owes $41.2 million in past-due utility bills to the publicly-owned WAPA.
The government still owes about $44 million in past-due tax refunds, IRB Director Marvin Pickering told senators on Sept. 4.
(See Related Links, below)
All the budget bills were forwarded to the Rules and Judiciary without opposition. Present were: Vialet, Francis, Blyden, Sen. Neville James (D-STX) and Dwayne DeGraff (I-STT). Committee members absent were: Sens. Nereida Rivera-O'Reilly (D-STX), Tregenza Roach (D-STT) and Brian Smith (D-At-Large).