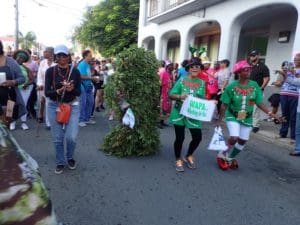 Just as the sun was rising Thursday, people, some in hilarious holiday get-ups, gathered at Bassin Triangle to wait for the start of the Crucian Rican Tramp and Breakfast. When Stanley and the Ten Sleepless Knights' moving stage arrived and played the first notes, the crowd woke up, started dancing and didn't stop until they reached the Shan Hendricks Vegetable Market in downtown Christiansted to feast on a traditional local breakfast.
The Knights' lively quelbe music is known and loved by Virgin Islanders, and many people sang along with each song. Others blew whistles or waved white kerchiefs, and everyone danced to the fast-paced tunes. There were lots of hugs and kisses as friends greeted each other with wishes for a happy new year.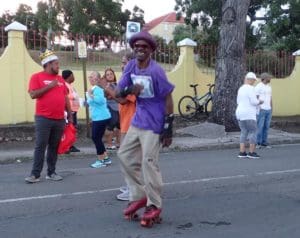 As the crowd neared the historic market, mouth-watering aromas of roast pork filled the air, especially enticing to the hundreds of people who had danced their way through Christiansted for three hours.
Since the start of the event 13 years ago, a group of Crucian tradition bearers have organized the breakfast – which has evolved into lunch also. Wanda Belardo, Arthur Petersen, Gloria Joseph, Shadrach Gill, Eleanor Johnson, Jane Myers, June Belardo, Rena Brodhurst, Dedrick Carver and others have used their connections in the community to gather donations of cooked food and money.
"Everything is donated – food, money and time. Everybody gets together like a family," Wanda Belardo said.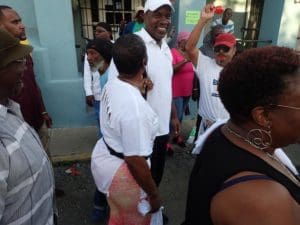 In addition to the dozens who donate, Belardo said around 50 volunteers prepare and serve the food at the open-air market. And people don't mind braving the long lines to enjoy everything from hard-boiled eggs, wilted spinach and roast pork to beef, chicken and red pea soup.
Since the beginning, Jane Myers has donated homemade fruit juices and then spends the day serving passion fruit, sorrel and tamarind juices along with ginger beer, lemonade and fruit punch. She grows all of the fruit except ginger and has been preparing the beverages for the last five days. She admits it's "a lot of work" and even 60 gallons is never enough for the thirsty crowd.
Shadrach Gill is another generous soul who makes food and then serves it to hungry dancers. He is known for his cornmeal pap – a Christmas breakfast cereal "from old times." His version is concocted of cornmeal, milk, sugar and spices. Gill's talent is making the smooth, creamy porridge just sweet enough and served at a perfect temperature. He said it takes around six hours to make the 60 gallons he serves at the breakfast. He doesn't sell the pap anywhere so the only place to experience the creamy goodness is at the Crucian Rican breakfast.
When the band and revelers arrived at the market, people stood in long lines and waited patiently to carry away big plates piled high with hot food. The camaraderie continued and after everyone had enjoyed the repast, the music started again and the dancing continued into the afternoon.