Water and Power Authority Executive Director Lawrence Kupfer said Thursday at a WAPA board meeting that he felt "semi-confident" that senators would support a bill giving WAPA $2.9 million at a hearing later this month.
The report came during a WAPA Finance Committee meeting held at WAPA's Sunny Isle office.
The bill (Bill No 33-0072) takes more than $39 million in retroactive federal funds awarded to the V.I. Medical Assistance Program and distributes the funds among various government agencies – including WAPA.
Senators reproached WAPA officials at a June 5 Senate hearing after Kupfer testified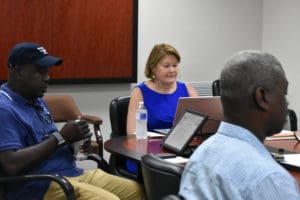 the $14.2 million appropriated for the authority would not be enough to cover the government's debt to the utility. According to Kupfer, outstanding bills from the territory's hospitals has played a role in WAPA's current debt of $202 million. The government-owned hospitals alone actually owe $22.9 million for water and power services, he said.
But several senators pointed the finger back to mismanagement at WAPA. They also criticized WAPA for requesting to increase rates, interpreting the request as one to put unnecessary burden on residents who still rely on the authority for electricity.
But many of the same senators who expressed skepticism were "calm" and "asking good questions" during a meeting earlier this week, according to Kupfer. The meeting came after Sen. Alicia Barnes (D-STX) extended an invitation on Friday, he said. By Monday, Barnes, who is one of the V.I. Medical Assistance Program bill's sponsors, and eight other majority senators met with WAPA officials to learn more about the authority's conditions.
The VIMAP bill was tabled back in May for further review. Kupfer described the Monday meeting with senators as "productive" and said that the leaders there committed to making a decision on the bill by the end of the month. He said he was fairly confident that the authority would receive the $22.9 million they'd requested.
"They understand that we need it and why we need it," he said Thursday. "We told them that we're working as hard as we can to minimize the rates."
According to Clinton Hedrington, WAPA's chief operating officer of electric systems, one of the ways WAPA is working on being more energy efficient is via Aggreko generators. The generators seem to be even more efficient than they originally thought, he said Thursday.
This could potentially lower Levelized Energy Adjustment Clause rates, but WAPA is still working on figuring out exactly how much of a reduction it would be, according to Hedrington. They plan to report those details to the Public Services Commission by Monday, he said. LEAC pays for fuel so lower fuel costs mean lower LEAC rates.
In a separate meeting held by WAPA's Planning and Economic Development Committee, members voted to purchase 18 new transfer-switch generators for $609,700 via an Environmental Protection Agency grant.
Committee members also approved a $606,800 contract for safety training services for linemen and other WAPA personnel. These services include training for rescue and work in confined spaces such as manholes and trenches.
Also on the committee agenda was a $350,000 Wärtsilä payment – $150,000 for a time-delay breach in contract and $200,000 for road pavement to correct an issue with EPA compliance. After some debate over this item, the committee ultimately approved it. WAPA purchased several generators from Wärtsilä in 2018.
WAPA Governing Board Vice Chair Hubert Turnbull voted "no" while Noel Loftus abstained from voting. Anthony Thomas and Cheryl Boynes Jackson voted "yes".
The actions taken during these committee meetings are all tentative since the entire board will have to vote on them at a later meeting next month.
The board also held a special meeting on Thursday, but at the start of the meeting, the board went straight into an executive session that lasted about an hour and a half. During executive sessions, members of the public and media are not allowed to be present.
According to Board Secretary Juanita Young, the members discussed "personnel issues" and "took action on adding a new executive level position" during the private session. No further details were given on the new position's job description or which entity would oversee the position. It is also unclear what "personnel issues" refer to.