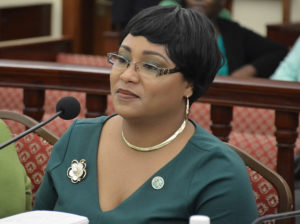 There was good news and not-so-good news in the latest data on the proficiency of V.I. students, as measured by standardized tests. At a Tuesday news briefing, officials from the Department of Education chose to celebrate the gains.
According to Education Commissioner Racquel Berry-Benjamin, who delivered the results at the news conference, based on the assessment of the 2019 testing year, the territory's public school students, grades 3 through 11, improved their performance in language arts and mathematics. But when compared to national averages, Virgin Islands students still have a lot of work to do.
After skipping one year of testing because of a catastrophic 2017 hurricane season, measurements of student achievement resumed the following year. According to the results, students overall improved their language skills – including reading comprehension – by 4.3 percent over the previous testing year.
Math proficiency, although improved, lagged behind, with students in grades 3 to 11 demonstrating 10.1 percent proficiency. The commissioner said that math proficiency increased 1.6 percent over the last testing period.
The National Association of Education Progress – considered the gold standard of assessments – issued its annual report, "The Nation's Report Card." On Tuesday, the V.I. Department of Education presented the VIDE 2019 Report Card. The eight-page report said student achievement for grades 3 through 8 and 11 increased in all subject areas. There were also measurable improvements in students with disabilities and students whose first language is not English.
But data presented as part of the report told a different tale. Eleventh grade test results in both language arts and mathematics declined. Math scores dropped among third grade students in 2019, compared with the previous test year.
Alexandria Baltimore-Hookfin, state assessment director for the Education Department, helped decipher the test results, explaining that the 2019 results would normally be compared with test results from 2009. But midway through that period, the standardized test was based on a national initiative called No Child Left Behind. After 2015 the national standard changed to one called Common Core, with a standardized test called Smarter Balanced.
That switch, she said, made the comparison more complex because the two tests measured different sets of outcomes. No Child Left Behind measured what students were expected to have as basic knowledge by the time they left school. Smarter Balanced measured fewer aspects, but chose the ones that showed how well a students was prepared to take on higher education.
When asked to draw a comparison between Virgin Islands students' test performance and students in other jurisdictions, Baltimore-Hookfin said it can't be done, because different school districts use different standards.
In the 2019 VIDE Report, Education officials said online learning programs offered to teachers helped improve test scores. However, reports appearing online showed one of the programs used to enhance test preparation of students in math had come under criticism in another U.S. school district for failing to show educators how students responded to test questions.
"Moving a student who is performing below grade-level standards to proficiency requires an unyielding focus to understand the student's needs and applying effective strategies to address these needs. It is important to note that it may take several years for students falling far below proficiency to meet grade-level targets," the Jan. 21 report said.
To try to make more than incremental improvements over the long run would produce less desirable results, the commissioner said.
Education officials were asked how the information from the test assessments help the average parent understand how well their students are doing in school. Public Information Officer Cynthia Graham said the department's website includes links to help parents understand what the test scores mean in terms of individual achievement.
Parent-focused information includes a guide that's found online.