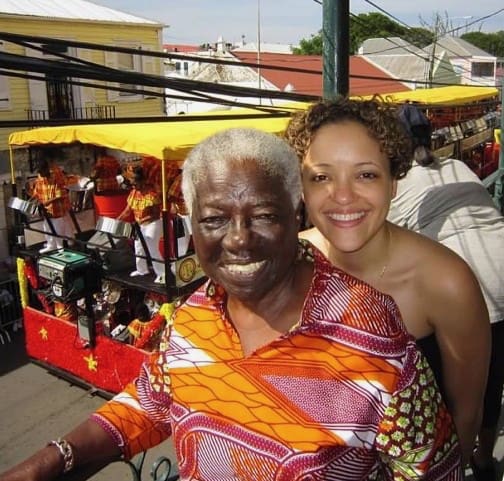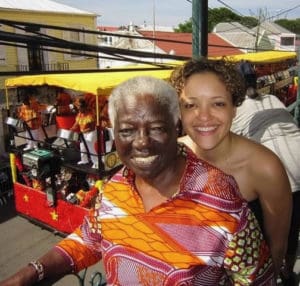 Throughout her life, many stories have been written about St. Croix icon, Ann Abramson, the lady who could get things done, and did just that. But few have told the story of her remarkable life through the eyes of her family.
In a recent interview Rhea Abramson, the granddaughter of the St. Croix cultural matriarch, shared her impressions and insights into the woman she called Grandma.
On April 7, 1924, Ann Elizabeth Christian Abramson was born on the island of St. Croix, the youngest of 15 children. Her parents, Peter and Wilhemina Christian expected much of their children, even the baby of the family. In addition to household chores, Abramson helped in the family business and maintained good grades in school, according to Act 6401, the 1994 legislation that renamed the Frederiksted pier in Abramson's honor.
As a teenager, Ann was forced to interrupt her high school education to help take care of her ailing father. Two years later she returned to St. Patrick School to complete her studies and receive a high school diploma.
A devout Catholic, Abramson loved St. Patrick's Church and credited the nuns of the Immaculate Heart of Mary for instilling in her a strong work ethic, Rhea said.
"The Sisters of the I.C.M. were the primary guiding force in Ann's life, second only to her parents. The nuns taught her excellent life skills and took care of her when her parents were not able to, a debt she repaid throughout her life with service. She often told me that they did for her when her parents could not and so she would do what she could to help them." (Note: ICM are Latin initials for the Sisters' order.)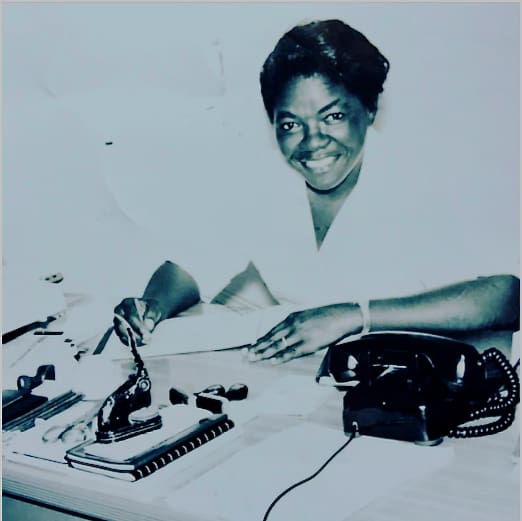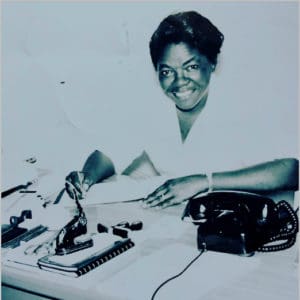 After high school graduation Abramson attended business school to study typing, stenography and other office skills. Soon afterwards, she began working as an executive secretary at the V.I. Department of Welfare and later at the Department of Health. Always thinking ahead, she started a side business, teaching those very same secretarial skills to others and selling baked goods.
"My grandmother believed in hard work and making money. She refused to empathize with people who didn't want to try to help themselves. She always expected you to be doing something useful with your time, with your life."
During an era in which woman were expected to focus on domestic life, Abramson set about making her mark in business and civic affairs. In 1949 she became the first woman in the V.I. to start a taxi service – with one used car. By 1957 she was operating a fleet of 16 taxis. In the same year she purchased two buses and began transporting students attending St. Patrick's School. A year later, as president of Abramson Enterprises, Ann was awarded a contract by the V.I. government to transport children to local St. Croix schools. The company employed as many as 50 people.
Throughout the interview Rhea interchangeably referred to Abramson as "Ann" or "my grandmother," and yet the love, respect and admiration was always apparent when she spoke of her, regardless of the term of address,
"Even though many people, especially women, saw Ann Abramson as a feminist, I don't think she saw herself that way. She had a great visionary capacity and inner strength. Her love for St. Croix and her belief in herself, propelled her forward, to accomplish all of the things she did."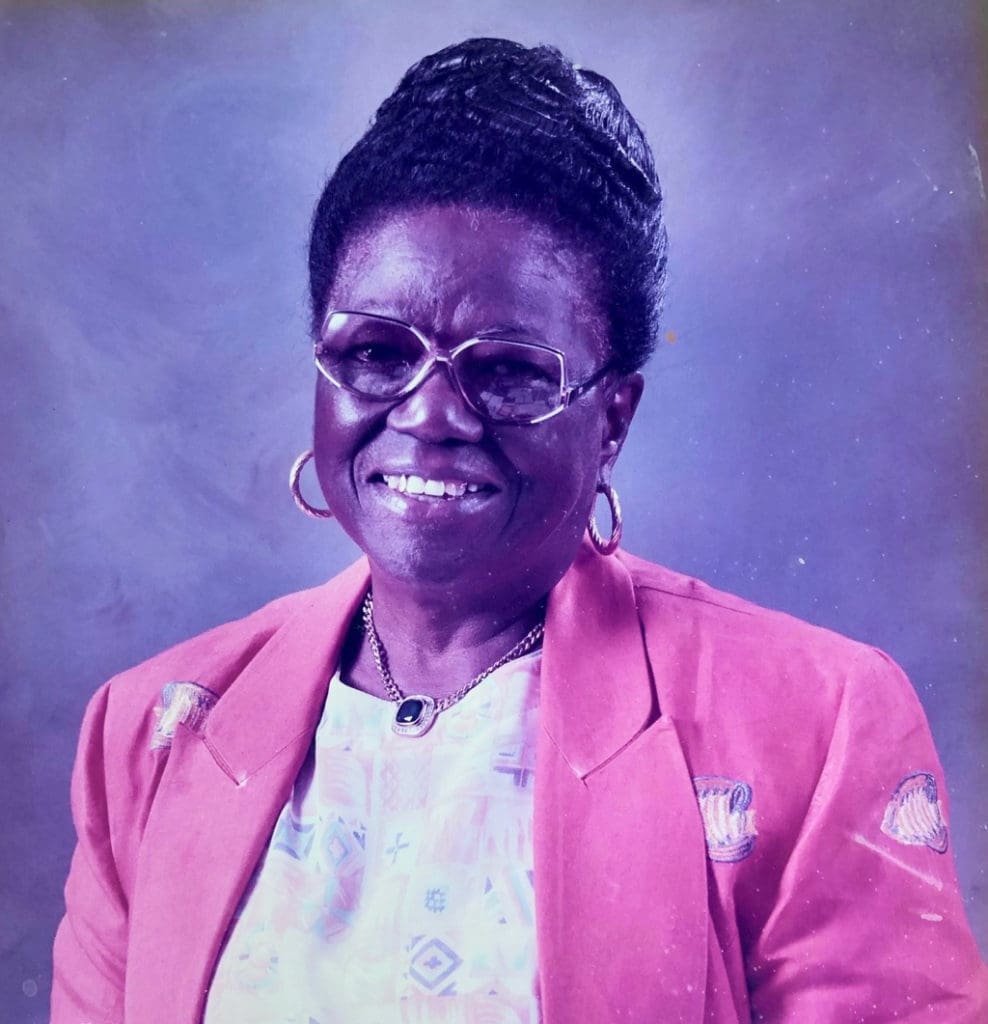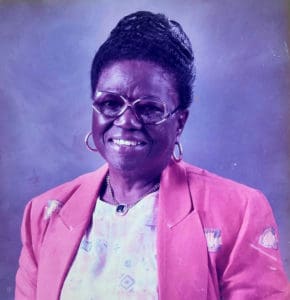 In addition to the taxi and school bus companies she was so well known for, Abramson was president of a heavy equipment rental company that installed public water lines, constructed roads and built schools. She was also the chief contractor employed to clear the first 800 acres upon which the Hess Oil refinery on St. Croix was built.
Other businesses owned by Abramson were the Spic N Span Laundry, The Ram Inc. (a construction firm), Tranberg Tour and Travel, Royal Frederik Shops (gifts and liquors), and AAA Consultant Services, a consulting firm that advised companies throughout the territory and the eastern Caribbean. Hannah's Rest Properties, a commercial and residential real estate company, continues to play an important role in the Frederiksted business community to this day.
"My grandmother saw every endeavor as a triumph. Even those that were less successful. She relished the challenges and was committed to overcoming adversity, in any shape or form and never did anything she didn't want to do. Ann helped a lot of people during her lifetime, from all walks of life."
Nicknamed the "Iron Lady, for her no nonsense and uncompromising approach to her work, Abramson was a strict taskmaster who expected nothing less than the best from her employees and wasn't shy about expressing her wishes.
"Ann Abramson was a woman who knew what she wanted and was known to possess a fiery temper, yet she held no grudges. As quickly as her anger was ignited, it was extinguished. She had a gift for letting things go. Once she said what she had to say, she moved on to the next thing."
Over the course of her career, Abramson wore many professional hats. As a civic leader, she served as the only woman in the Ninth Municipal Council and was appointed by Gov. Archie Alexander to complete the term of Senator John D. Merwin, who resigned from the Legislature to accept another government post. Abramson chaired the Territorial Committee of the Republican Party and served on the governing board of the V.I. Port of Authority, and as a trustee on the boards of the Department of Health and St. Croix Hospital.
Abramson was the founder of the St. Croix Chapter of the USO and was an active member and supporter of other business and community organizations including the Frederiksted Civic Association and Our Town Frederiksted, the Girl Scouts of America, the Women's Coalition, as past president of the St. Croix Chamber of Commerce, and numerous other local organizations.
As a young girl growing up, Rhea says she spent a lot of time at her Grandma's L-shaped house at No. 1 Estate Whim in Frederiksted.
"I always preferred to be at Grandma's house because that was where the action was. I loved all the activity. It was a like a revolving door of politicians, government officials and business leaders. Her house was the center of the universe to me."
All of her life, uplifting Frederiksted was Abramson's primary focus. She lived and breathed St. Croix. and wanted everyone to come to know and discover her island home.
"For many years Ann E. Abramson, as tour promoter and taxi commission representative was successful on countless occasions when she traveled at her own expense to mainland U.S. to collaborate with cruise directors and executives of major cruise lines to lobby and cajole them into including St. Croix as a port of call in their itineraries."
For these and other tireless efforts on behalf of St. Croix, the VI Legislature enacted Act 6041 in 1994 to rename the Frederiksted Pier in her honor.
Trustee of Abramson's estate and a daughter of Abramson's only child, Rudy (who runs the school bus company and other business interests), Rhea says she and her grandmother enjoyed a very special relationship and saw themselves in one another. Theirs was a bond that she will treasure for the rest of her life.
"Even during her later years, Ann Abramson never considered herself retired. She went to work every day until Hurricane Maria in 2017, so you might say she retired on September 19, 2017."
Looking back on her grandmother's life, Rhea believes that the three great loves of Abramson's life were church, business and St. Croix.
"Ann Abramson worked hard and played hard. She was an avid baseball fan and a loyal supporter of her favorite team, the New York Yankees. She also loved to unwind by playing the slots when opportunity permitted."
As Rhea reminisced about the special connection she shared with the lady she would grow up to emulate, the granddaughter offered one more tidbit about their relationship.
"Once Ann stopped working, she went to the Richmond Senior Center each day to give me orders about what she about what she wanted done. LOL! I could never say no to my grandmother."
Funeral services for Ann Elizabeth Christian Abramson will be held at St. Gerard's Hall in her beloved Frederiksted, on Tuesday, Feb. 11. Viewing will take place from 9 to 10:30 a.m. with the service following.