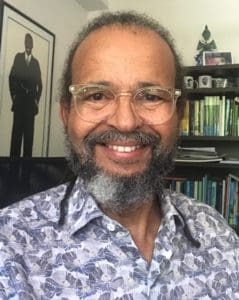 As Virgin Islanders, we are all too familiar with devastating natural disasters, yet the coronavirus is a different kind of disaster that no one living has experienced before. We are all worried given the uncertainty that comes with something this frightening and widespread. While this concern is understandable, let's take a moment and think clearly about what we are facing and the challenges ahead.
We at UVI and VITEMA who are in the role of preparing the territory's next Hazard Mitigation Plan have a responsibility to help the territory prepare for and reduce the risks posed by the more familiar natural disasters, such as hurricanes or infrequent ones like tsunamis. The coronavirus – and the disease it causes, COVID-19 – is completely new, but it already has become a national and global disaster. Our Virgin Islands will be hit hard by its direct and indirect impacts.
One reassuring fact is that our collective experiences dealing with the hurricanes of 2017 can help us deal with the coronavirus. Below, I draw upon some of the insights of Bryan Norcross, a television meteorologist and hurricane specialist in the United States who works in Miami. He identified a number of similarities between the coronavirus crises to a hurricane emergency that I believe are relevant to the Virgin Islands, and I've added some from my own experiences:
Small odds add up. The odds of catching the virus on any one day is low but as the virus spreads, those odds increase. Much like going through a given year without a hurricane, the odds are low, but if you live in the V.I. long enough, the chances of going through a major hurricane are likely. So, to everyone, let's follow the guidelines: wash hands, clean hard surfaces and maintain social distancing. If you don't, you are gambling with your health and the health of those who come within six feet of you.
Each Virgin Islander can make a difference. We know from experience that being prepared for a hurricane results in better outcomes afterwards. If you had a plan, there's a chance that you did much better than those people who gambled and hoped that the storm wouldn't come or waited until the last minute to buy supplies. The situation is the same with the virus. You can make a plan in case you or a person close to you gets sick.  Make a plan with your family members if someone needs attention or gets quarantined, ensure you have all your medications refilled. Create a list of emergency contact numbers, talk to your neighbors (at a safe distance) about their planning, etc.
The past is a reality check. The pandemic is a new experience for virtually everyone, but our history books reveal that pandemics are not new. In 1853-1856, a cholera outbreak killed thousands in the V.I.  In 2005, a dengue outbreak infected hundreds on St. Croix and killed one person.  In 2009, at least one person died in the V.I. during the H1N1 (swine flu) outbreak, and earlier this year, many were worried about a dengue outbreak. And we all know about the hurricanes and tsunamis that killed hundreds.  The fact that near-catastrophic events don't happen very often doesn't mean they can't happen now or in the future. These past events provide evidence that we have survived and that we will overcome this COVID-19 challenge as well. We need to remain strong, vigilant and positive.
Working together is critical. We should still remember, following the 2017 hurricanes, how communities and neighborhoods came together to clear roads and driveways, locate missing friends and pick up food and medicine for those who couldn't. For the virus, this might sound crazy given the government's requests for us to not meet in large groups or maintain social distances of 6 feet. However, we have neighbors and friends – especially older ones – who really need to avoid the virus. Call them and offer to pick up medicines or groceries for them. Stand outside on their porches or in their yards and have a conversation with them. It will help to reduce the loneliness, isolation and stress that come with such severe changes in our social routines. Or reach out to nonprofits like Catholic Charities, My Brother's Workshop or the St. Thomas Recovery Group, among many others, to see how best to help.
Be creative in developing solutions. After the 2017 hurricanes, volunteers here in the V.I. self-organized to help with the response – especially with food, water, clothing and medicine distribution. These volunteers filled critical gaps in the services that the local and federal government couldn't address. With the virus, the largest impact may likely be the economic losses to our tourism sector and government tax base. There will be many layoffs and significant income losses in the hospitality service sector. Our schools are closed, and children who rely on free school lunches are at risk. Meanwhile our taxi drivers are sitting around waiting for customers. We have chefs and cooks out of work from our local schools, restaurants and hotels. Why not see if the government or donors can figure out how to hire them to prepare meals and have the taxi drivers and a properly equipped food server deliver them to neighborhoods where kids or family members could pick them up, keeping in mind the need for social distancing. This is just one idea, and I'm sure others have suggestions as well that might help to mitigate some of the impacts of the virus. These ideas could be shared on the local radio talk shows during a call-in.
Information alleviates fear and stress. After the 2017 hurricanes, one of the biggest challenges we faced was the lack of information. We had no electricity and virtually no telecommunications, so informing friends and family of our situation was difficult and nerve-wracking for all. Life with the virus pandemic is also stressful. We all have questions and concerns about COVID-19. Fortunately, we have access to a lot of information from public health experts from around the world. Information for multigenerational households, information for explaining the virus to children, information for reducing risk from the virus and much more. Those of us who know these resources or where to find them need to share them with others. Below is a list of links and websites that you can turn to for the latest information and tools to reduce the uncertainties surrounding this pandemic. Share with others so they can better understand the virus and its consequences with facts and not rumors or gossip.
Some useful links for more information
U.S. Centers for Disease Control and Prevention (CDC) is a reliable source for a wealth of information:
https://www.cdc.gov/coronavirus/2019-ncov/faq.html
https://www.cdc.gov/coronavirus/2019-ncov/prepare/get-your-household-ready-for-COVID-19.html
Tips to keep children healthy while school's out:
https://www.cdc.gov/coronavirus/2019-ncov/prepare/children.html
Coronavirus disease Checklist for Older Persons:
https://www.cdc.gov/coronavirus/2019-ncov/community/retirement/checklist.html
People who are at higher risk for severe illness:
https://www.cdc.gov/coronavirus/2019-ncov/specific-groups/people-at-higher-risk.html
For mental wellness and anxiety concerns:
https://www.washingtonpost.com/lifestyle/wellness/anxiety-coronavirus-mental-wellness-tips/2020/03/16/f187faf2-67b8-11ea-9923-57073adce27c_story.html?utm_campaign=wp_the_optimist&utm_medium=email&utm_source=newsletter&wpisrc=nl_optimist
for parents in need of some relief and advice https://www.nytimes.com/2020/03/18/parenting/parents-need-stress-relief-too.html?referringSource=articleShare
Kim Waddell, Ph.D.