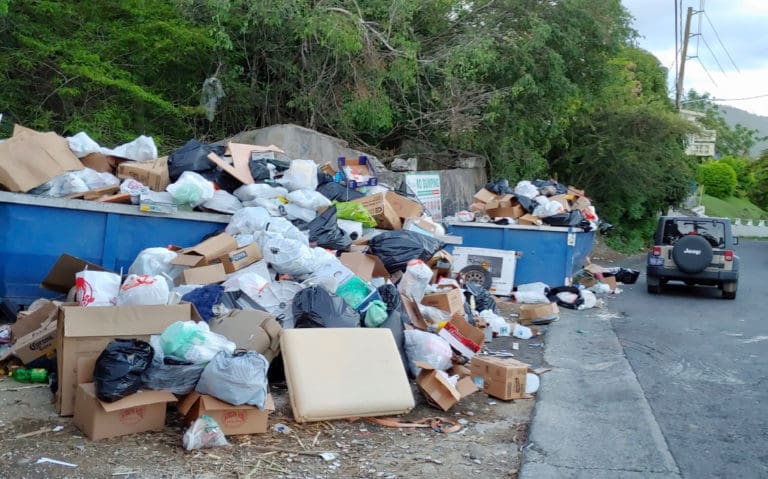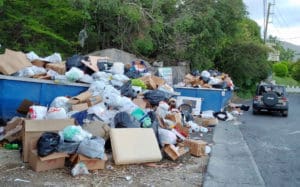 As the bins overflowed at waste collection sites across St. Thomas, V.I. Waste Management Authority released a statement asking the community for "patience" as it worked to resolve issues that halted bin site collection and house-to-house trash pick up.
"It is an ongoing problem," VIWMA spokeswoman Melody Rames said in a phone interview Sunday. "We owe them money, and two of the trucking company employees walked off the job after they were threatened [with violence]."
The St. Thomas community has been in shock and calling for action after the brazen daylight killing of two people – one of them 14 years old – while one of them operated a backhoe at a bin site at the abandoned Tutu Hi-Rise housing community a week and a half ago. The backhoe operator was employed by VIWMA contractor A-9 Trucking.
The weekend stop work action was by Sleepy's Trucking, VIWMA's largest contractor.
Rames said Gov. Albert Bryan Jr. was personally working with Sleepy's to resolve the issues.
The Authority is committed to providing reliable services to the public and would like to thank the community for their patience and cooperation, the statement read.
Additional information is available by contacting the Division of Education and Communications Management at 340-513-4171 or sending an email to communications@viwma.org. The Authority is also on Facebook.