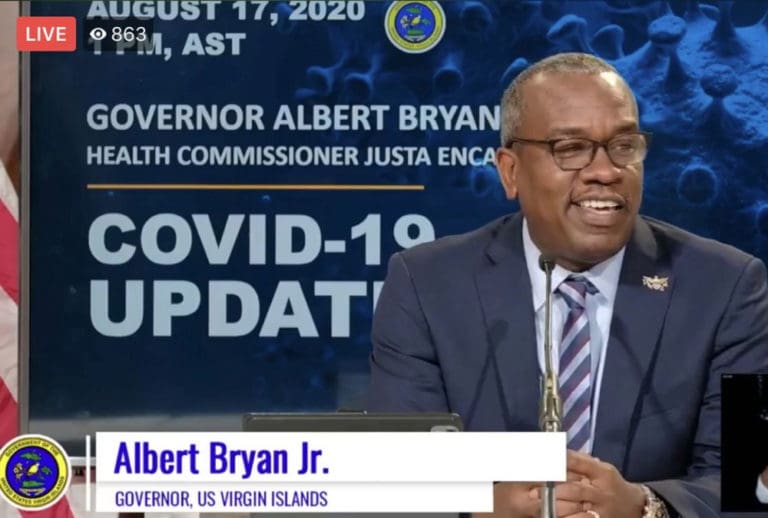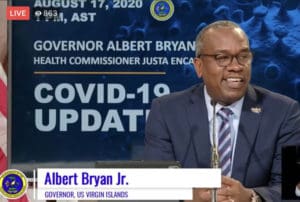 As tighter "stay at home" restrictions went into effect Monday, Gov. Albert Bryan Jr. told residents that following them would help the territory return to normal more quickly and prevent new protocols – such as a 24/7 shutdown of beaches – from going into effect.
At a news briefing Monday, Bryan said the decision was necessary to protect the health and safety of the community.
"We rolled back to certain restrictions to prevent people from congregating and to stop and slow the spread of the virus in the community," he said.
During Monday's session, Bryan also announced that the government will issue $20 million in outstanding tax refunds this week, covering the remainder of fiscal year 2017 and the beginning of 2018.
Last week, while discussing the spike of COVID-19 test results on St. Thomas and infections noted in the prison and a St. Thomas senior living facility, the governor announced that the territory would move from the blue "open doors" phase to the yellow "safe at home" phase. During the next two weeks, non-essential businesses were asked to close and non-essential workers asked to stay at home, while restaurants reverted to takeout or delivery service only. Churches were asked to limit congregations to 10 people, and mass gatherings were limited to the same number, while all schools were asked to close for in-person learning.
Hotels, Airbnbs and other reservation systems were prohibited from accepting new reservations, and on Wednesday they will also not be able for 30 days to check-in any new guests, barring business travelers, emergency responders and government workers with authorization.
Beaches will also be closing at noon on weekends and holidays, with the governor saying that only fishermen will be allowed out.
"Please don't make me close the beaches 24/7," Bryan said Monday. "Just comply with the order. We're asking for your cooperation so that we don't have a prolonged shutdown again. If we can all work together to follow these guidelines, we will make progress, but we won't if we don't change our behaviors. Just do the right thing. All we are trying to do is stop the flow of people in the territory for two weeks."
As of Monday's news conference, the government was tracking 226 active COVID-19 cases out of the total 760 positives. Of that number, there is one patient on a ventilator at the Gov. Juan F. Luis Hospital on St. Croix, and three out of seven patients at Schneider Regional Medical Center are on a ventilator. A total of 12,429 individuals have been tested, he added.
Bryan said 500 out of the 760 positives have recovered. (As of Tuesday morning, the Department of Health reports 796 positive cases, with 533 recovered, 254 active cases and nine fatalities.) Seeking to eliminate sources of congestion, Bryan added that the Bureau of Motor Vehicles will allow residents a six-month extension on the renewal of driver's licenses and will continue online vehicle registrations with some flexibility on insurance renewals.
Tickets will still be issued for vehicles months or even a year behind, and for deficiencies – such as busted head and taillights – that are in violation of the law, he said.
Meanwhile, in anticipation of the reopening of restaurants, Bryan said Health Department teams will inspect sanitization and dishwashing equipment to make sure that glassware and regular utensils can be used. Businesses that pass the inspections will be certified to do so, he added.
Bryan wound up the session by announcing that the government will issue $20 million in outstanding tax refunds this week, covering the remainder of fiscal year 2017 and the beginning of 2018. The importance of renewing the public's trust in government, which he said in large part stems from the government's inability to pay its financial obligations, pushed departments and agencies to "tighten" its belts and "cut, snip and hack" where they could to free up some money.
"As we send this money out, it is also a message to the public that we are committed to their health and well-being during the pandemic and committed to making sure every V.I. family has food on the table," he said.
Residents should also note that the financial effect of the public health crisis on the territory is still "in its infancy," the governor said, so having residents wear masks, socially distance and "shore up" in order to get healthy and flatten the curve would ensure that businesses can open and money can start to circulate again, the governor said.
Editor's note: The Department of Licensing and Consumer Affairs has provided the following cell phone numbers where residents can report activity that is against the law, including violation of the governor's executive orders, that may put others at risk or in danger. Information, photos or videos can be texted to the following: The general number is 340-725-5129. The other two numbers are 340-727-7226 on St. Croix and 340-771-7226 on St. Thomas. You can also call 911 to report serious crimes.