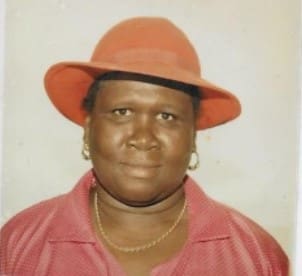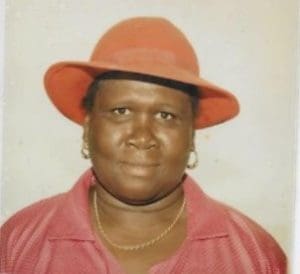 Gwendolyn S. Moses died on Oct. 11.
She was preceded in death by her mother, Marion Stapleton; father, Johnny French; son, Lesroy Huggins Sr.; sisters: Celina Caines, Rosalind Stapleton-Leader and Violet Stapleton-McCall; brother-in-law, Rupert Caines; nephew, John Caines; and grandson, Issachar Tigre Chinnery.
She is survived by her husband, Dalma Moses Sr.; sons: Alford Sr., Elvis Stapleton, Anthony Allen Jr., Dalma Jr. and Samuel Moses; daughters: Sarah Stapleton-Maddicks, Bernadette Gonsalves-Williams and Carmen Huggins-Folkes; adopted daughter, Glenda Stapleton-Moses; sisters: Ellen and Doreen Stapleton, and Mary Stapleton-Fox; brothers: Roosevelt, Nathaniel, Roy, Clement, Alfred Sr. and George Stapleton; sons-in-law: Marvin Maddicks Sr., Alex Folkes and Glenn Williams; and daughters-in-law: Janice Stapleton, Gail Romney-Moses and Vanessa Shaw-Moses.
She is also survived by sisters-in-law: Gizelle, Brenda and Deloris Stapleton; grandson-in-law, Akin Garfield Sr.; nieces: Ida, Veronica, Dorsella, Patsy Caines and Sherille Nisbett, Sherry, Shenetta, Shakeba, Kishma, Shanika Stapleton and LaVida Lima, and Gwenneth McCall; and nephews: Clinton, Alfred Jr., Sean, Glenford and Sheldon Stapleton, Melwyn, Myron and Marlon Fox, Ulric, Norval and Sean McCall, Ramon Lima, Winston Caines and Jamey Mills.
More survivors are grandchildren: Samantha Garfield, Isah, Ishani and Isemilla Shemyra Chinnery, Lucien, Louvina Maddicks, Lesroy Jr. and Martin Huggins, Erika, Ashleigh Roebuck, Joy and Joseph Allen, Samalon, Ahnejah, Malachi Moses, Lavida and Elsie Querrard, Makesha, Tyresha, Tasheem, Stapleton, Dante, Bianca, Daliqua, Taliqua and Shadi Moses, Serene Stapleton-Frett,  Alford Jr.,  Dennis Sr., Kevin Sr., Serenity, Montreal, Aaron, Azariah, Ureen and Arleen Stapleton.
Other survivors include great-grandchildren: Samaurah and Reumoi Forbes, Akin Garfield Jr., Mariah Carty, Jahleah Greenaway, Sinai Crenshaw, Onye Chinnery,  Kaiden and Liala'h Maddicks, Kion Bartlett, GeQuan and Genese Aubain, Anai Frett, Kevin Jr., Ayden, Akyla, Alayna, Ketamine, Adrionna, Dennis Jr., Kamiah, Zeriah, Landon, Carter, Amani and Xamora Stapleton, Isaiha, Joshwa and Jazmine Huggins; special friends: William and Kerena Martin, Blondina Freeman, Eileen Morris, Alphenice Lewis, the Bovoni Church family; as well as many other relatives and friends too numerous to mention.
The first viewing will be held from 3-5 p.m., Friday, Oct. 30, at Turnbull`s Funeral Home. The second viewing will be held at 9 a.m. followed by a funeral service at 10 a.m., Saturday, Oct. 31, at the Bovoni Baptist Church. Interment will be at Eastern Cemetery, Smith Bay.