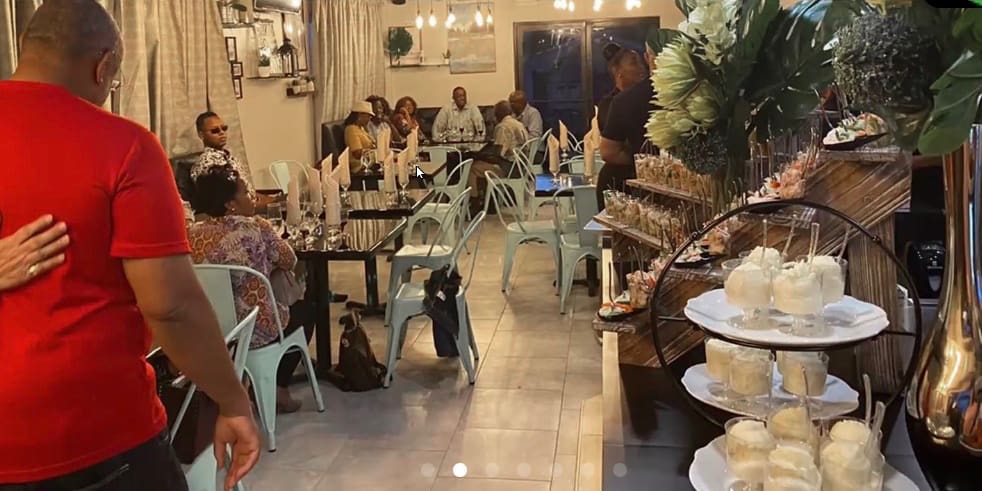 Just when the Blyden family thought they found the perfect tenant for a building they have owned for generations in the St. Thomas historic district, the law intervened.
After years of disappointment renting out the three-story structure in Market Square to a series of ne'er-do-wells, they resolved to leave it empty – until Lemmond Luciano came along with plans for a Caribbean restaurant.
"We are trying to improve the area of Market Square. It's not a bar. It's not a strip club," David Blyden Jr. told Department of Licensing and Consumer Affairs Commissioner Richard Evangelista at a virtual public hearing on Thursday to determine whether Luciano's House Caribbean Restaurant should receive an alcohol license.
"He's trying to run a fine business and upgrade the area," said Blyden. "We'd rather keep the property closed than put in a bar or a strip club. We really like Mr. Luciano and what he is trying to do with his family."
According to the government, the restaurant, which encompasses the Rothschild Francis Square podium where senators once came to do their politicking, is 100 feet or less from Christ Church Methodist, necessitating a notice to neighbors – none of whom spoke out at Thursday's hearing – of the bid to serve alcohol.
However, attorney Iver Stridiron told Evangelista that Google Earth calculations show the distance from the front gate of the church to the door of the restaurant is 149.26 feet and 177.35 feet from the middle of the sanctuary to the center of the eatery.
"We determined that the building and restaurant is beyond the 100 feet limitation," said Stridiron, a former senator and attorney general who is married to Priscilla Blyden-Stridiron, sister of David.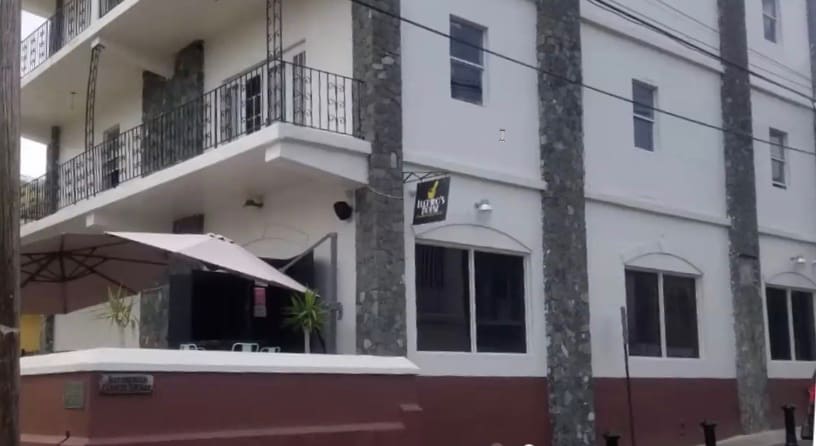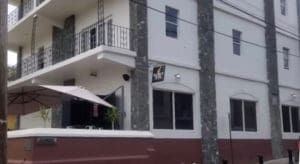 Distance issues aside, the building has long housed restaurants, including when it was the Blyden family home and they ran Blyden's Barn Restaurant, said Blyden.
"The only time that building was not a restaurant and bar was when my sister had a business there," he said.
(For more about the history of Market Square see: Market Square 'Open for Business')
Blyden-Stridiron said she gave up on that business after 18 years because the government's revitalization of Market Square never produced the promised parking spaces or police presence, and vagrants and vandals turned it into a smelly and unsavory environment as they urinated and defecated all over the place.
"The area became an eyesore and a blemish in the heart of downtown," said Blyden. "We tried to remove a blight from the downtown Market Square area" by leasing the first floor of the building to Luciano. He has poured hundreds of thousands of dollars into remodeling, including new tile and paint, a state-of-the-art kitchen that comprises about one-third of the space, security cameras, bollards along the perimeter to deter loitering and an adjacent lot for parking, said Blyden.
"His success is our success and the area's success," said Blyden.
"The first place I reached when I came to St. Thomas was Market Square," which at the time was derelict and dirty, Luciano told Evangelista. While he has run a successful marble and tile business for 16 years, he envisioned opening a Caribbean restaurant, he said.
"People say, 'You going to lose your money,' and I say, 'No, I'm going to make it work,'" said Luciano.
The restaurant, including a deli and ice cream bar, opened on Feb. 12, just in time for the COVID-19 pandemic shutdown a month later. While that has presented its challenges, not being able to serve patrons wine, beer or a mixed drink along with their lunch or dinner has compounded the hardships, the Luciano family said.
"This is a restaurant. I never intended to put a bar. We want to complement [meals] with alcohol. This is a family place," said Luciano, who opens on Sundays so members of Christ Church Methodist can simply walk across the street for brunch.
Photos of the building and restaurant inside revealed a warm and intimate eatery and ice cream bar, with a few stools at the counter area that at lunch serves as a deli.
"If you look at it, it's not set up for a bar – there is no heap of bar stools," Blyden said.
"We're asking that you give Mr. Luciano a chance to succeed," he said. "Without being able to serve drinks with lunch and dinner, he is not going to succeed."
"This is exemplary – this is what the community needs. This could be a shining example of what could be done," said Evangelista as he viewed the photos, to the agreement of his DLCA colleagues who also attended the Zoom meeting.
However, businesses must follow the law, Evangelista said.
"I am aware that there are establishments that got liquor licenses that should not have them," he said, adding that he has the power to revoke those licenses if businesses are engaging in unethical behavior or in other ways that are reprehensible to the community.
A decision on Luciano's House Caribbean Restaurant's alcohol license application will be rendered soon, Evangelista said, before adjourning the hearing.