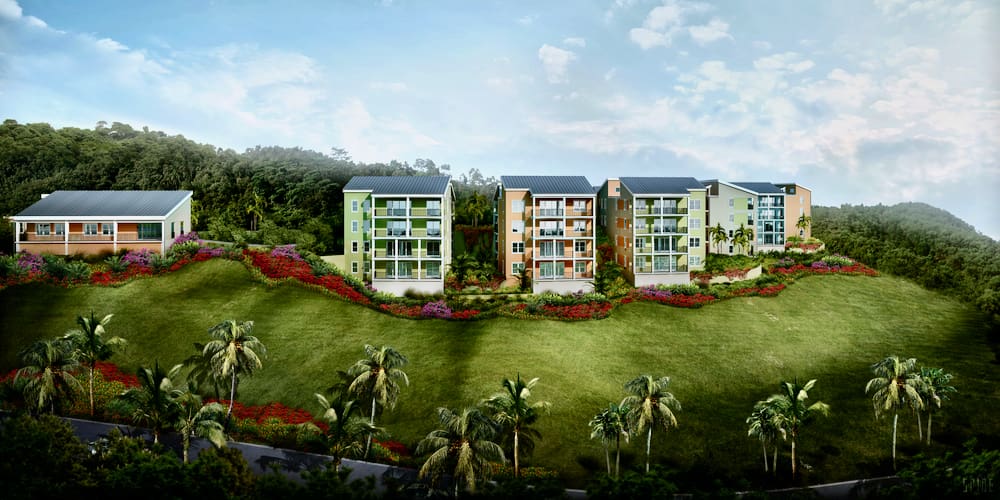 Putting the first of many shovels in the ground Thursday, V.I. dignitaries helped to kick off a redevelopment that officials said would replace and "completely reinvent" the former Tutu High Rise and Donoe public housing complexes that were torn apart by hurricanes in 2017.
"This project is the first step by which the V.I. Housing Authority will be renewing its entire public housing portfolio through new developments and complete renovation – a $1.1 billion undertaking – over the next three to 10 years," said Lydia Pelle, the Housing Authority's chief operating officer, during a ceremony on the site. "These units will be hurricane safe, energy-efficient and something we can all be proud of."
Co-developed by the Virgin Islands Housing Authority and Pennrose LLC with development consultant Jackson Development Company, the Estate Donoe redevelopment will occur in three phases. The first, in Estate Donoe, offers 84 apartments in 14 buildings on 10.6 landscaped acres that officials said are located near schools, job centers, the public library, pharmacies, grocery shopping, banks and public transportation.
Former residents of Tutu and Donoe will be given the first opportunity to occupy the new apartments when completed in December 2022, according to Pelle.
Designed to National Green Building Standards, Estate Donoe will feature open floor plans and large rooms, Energy-Star appliances and lighting, low-water usage fixtures, high-efficiency air conditioning units in the bedrooms and an onsite micro-grid with a solar photovoltaic system and micro-turbine battery back-up system that will eliminate residents' electrical bills.
"The plans incorporate sustainable design standards and local architectural influences, which ensure that upon its completion the Donoe development will transform the face of public housing," said Darin Richardson, acting executive director of the V.I. Housing Finance Authority. Richardson said 60 of the 84 replacement housing units will be serving households earning up to 30 percent of the area median income while the remaining 24 will be available to households earning up to 16 percent of the area median income.
"Thus, 100 percent of the units will serve low-income households," he said.
Almost $27 million in low-income tax credits for the Donoe project were allocated by the V.I. Housing Finance Authority, which also administers the Community Development Block Grant-Disaster Recovery Program in the territory. VIFA has committed $29 million of U.S. Department of Housing and Urban Development funds in support of the redevelopment, which is budgeted for $57.7 million.
Hunt Capital Partners provided $26.95 million in 9 percent of federal low-income housing tax credit equity. Estate Donoe will also be financed with a combination of a construction loan from Banco Popular and Federal Home Loan Bank-Affordable Housing Program funds, as well as Community Development Block Grant-Disaster Recovery funds, solar tax credits and deferred developer-fee funds.
The Housing Authority will lease the land to Pennrose, which will own the improvements. In return, Housing Authority will maintain a controlling interest in the community's operation and management, enabling all 84 apartments to be subsidized with HUD Project-Based Vouchers. VIHA will enter a Housing Assistance Payment Agreement that ensures their affordability for 20 years, with an option to renew the contract.
Built in the early 1970's, the original Donoe community housed 1,000 people in 300 apartments that officials said were plagued by structural damages from past hurricanes, adding to the 10 percent of the V.I. Housing Authority's public housing stock that has been destroyed with no capital to replace them.