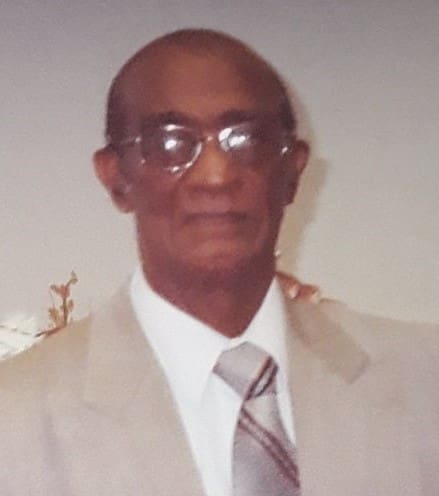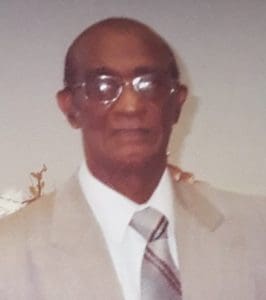 The Hobson family regrets to announce the passing of Charles W. Hobson Sr., who died in Atlanta, Ga., on Feb. 3 at the age of 94.
Mr. Hobson retired from the Virgin Islands Department of Health on Dec. 31, 1991. He also worked at the Virgin Islands Department of Finance and the Virgin Islands Department of Education for more than 25 years serving the Government of the U. S. Virgin Islands.
Charles leaves to mourn his sons: Desmond Hobson Sr. and Charles Hobson Jr.; daughters: Hilarie Hobson-Berry, Julie Hobson-Sabino, Lucille Hobson, Avernelle Hobson and Sandra Hobson-Soberanis; brothers: Theodore Hobson, Frederick Hobson, Ira Hobson and Kenn Hobson; sisters: Doria Hobson, Violet Hobson-Wade and Amorelle Hobson-Peters; sons-in-law: James Berry and Joseph Sabino; brother-in-law, Newton Peters; sisters-in-law: Beverly Hobson, Daphne Hobson, Judith Hobson and Yvonne Hobson; and grandsons: Caydien Hobson, Colin Hobson Jr., Derrick Hobson Jr., Desmond Hobson Jr., Dikembe Hobson, Maliki Hobson, Yan Hobson and Steve Soberanis Jr.
He is also survived by granddaughters: Gloria Berry, Melany Berry-Williams, Randi Foy, Chantelle Hobson, Ebony Hobson, Katie Hobson-Lake, Naimah Hobson-Khemalai, Nandi Hobson, Natasha Hobson, Sharon Hobson and Nicole Warrington; great-grandsons: Alfonzo Berry, Tristian Dollar, Derrick Hobson, Josiah Hobson, Kamari Hobson, Messiah Hobson, Ryan Hobson, Ziare Hobson, Sierge Lake, Ashton Parker, Christopher Parker, Jordan Parker, Nicholas Parker, Maddox Soberanis, Stefan Soberanis and John Williams Jr.; and great-granddaughters: Lianna Franklin, Khyia Harris, Rachel Hobson, Isabel Lake, Ashlee Parker, Londyn Soberanis and Jazmin Williams.
Other survivors include great-great-grandson, Anthony Parker; great-great-granddaughters: Ava Berry, Amayah Cash and Arianna Parker; nieces: Ann Marie Hobson-Holder, Brittany Hobson, Denise Hobson, Farida Hobson, Jeniene Hobson, Monique Hobson, Denise Meade-Hill, Marcella Meade, Joanne Peters-Arneman, Joyette Peters-Gaines, Junenette Peters, Beverly Wade, Joy Wade-Lennon, Lesley Wade and Sharon Wade-Taylor; nephews: Cabral Hobson, Justin Hobson, Richard Hobson, Rhondi Hobson, Carlstein Meade, Sylvester Meade, Esly Peters, Ethan Peters, Edward Reid Jr., Rodney Reid, Roger Reid, Ian Wade, Gary Wade and Melvin Warner.
The funeral service will be held at 1 p.m., Saturday, Feb. 13, at Legacy Funeral Home Chapel, 8968 Fayetteville Road, Jonesboro, Ga., with Pastor Julie Sabino officiating. The first viewing will take place from 9 a.m. to 6 p.m., Friday, Feb. 12. The second viewing will take place at 9 a.m., Saturday Feb. 13, until the hour of service. Interment will be at Camp Memorial Park.
All funeral attendees must wear a mask and follow social distancing guidelines.
Funeral arrangements are entrusted to Legacy Funeral Home Inc.